Did you know Chrysler was in the air conditioning business? It's true. Walter P. Chrysler wanted to cool the soon-to-be-finished Chrysler Building (completed in 1930). Yet, the cumbersome heating, ventilation, and air conditioning (HVAC) systems of the time and the associated high costs led him to find an alternative that was less bulky and more cost-effective.
Chrysler hired Charles Neeson and utilized the Chrysler engineering department to establish a more efficient HVAC system. Neeson and the engineers developed a high-speed radial compressor, which was smaller, more efficient, and less expensive than any system on the market. Soon after the development, the Airtemp Corporation was incorporated in 1934.
By 1938, the company, now a subsidiary of Chrysler, was renamed the Airtemp Division of the Chrysler Corporation. Airtemp quickly became an engineering leader in residential air conditioning systems. However, a select few 1942 Chrysler and DeSoto models were equipped with a mobile version of the Airtemp air conditioning system.
WWII interrupted the installation into a more significant portion of automobiles. Instead, during WWII, Airtemp focused its engineering on hospital air conditioning and refrigeration of supplies critical to the war.
After WWII, Airtemp returned its focus back to industrial and residential air conditioning. By the earlier-to-mid 1950s, Chrysler embarked on its first large-scale use of Airtemp systems in several Chrysler and DeSoto models. The systems used Freon R-12 refrigerant (although early systems may have used ammonia or R-22).
As the Airtemp systems began showing up in cars, Chrysler's service reference books and film strips (in-dealership technician training) began covering the air conditioning systems. The Airtemp Car Air Conditioning (1954 – session 79), Air-Conditioning Service (1956 – session 104), and Air-Conditioning Service (1958 – session 123) provided overviews and updates of the systems.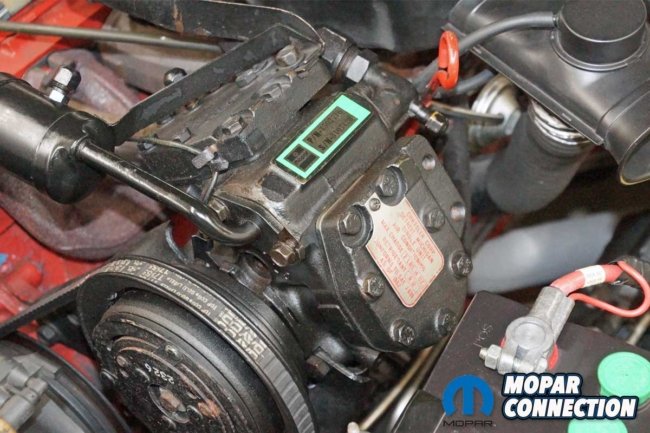 Top: Chrysler's Airtemp RV2 compressor was a workhorse. It was used from 1964 to 1979 (1980 for trucks). The design consisted of two large pistons arranged in a V shape. Above Left: For several years (until the mid-70s), all the air-conditioned Mopars received a passenger quarter window sticker, which proudly listed Airtemp by Chrysler. Above Right: In the 1950s, Chrysler made a considerable effort to add air conditioning to their Chrysler and DeSoto model lines. To keep the technicians up-to-date, Chrysler developed in-dealership training booklets and filmstrips.  
Airtemp continued to innovate, adding residential slim-line "slender" units and high-volume furnaces in 1959. As stated in Time magazine dated June 28, 1968, for fast relief, Airtemp is the prescription. The best years for Airtemp were 1969-1971, but Chrysler's financial woes, along with the competition catching up with Airtemp's technology, pushed Airtemp's bottom line into the red. Airtemp lost $20 million in 1975, and in 1976, Chrysler sold the Airtemp Division to Fedders, its number one competitor. After more than four decades, Chrysler was out of the air conditioning business.
By chance, the same year Chrysler sold Airtemp, Jack Chisenhall founded Vintage Air. The original emphasis of the business was to install air conditioning systems in late-model vehicles. The company continued to grow, and Vintage Air began developing kits for street rods and muscle cars. During the last several decades, Vintage Air has expanded its product line with Original Equipment Manufacturer (OEM) components to assist the auto industry with performance climate control systems.
Above Left: Vintage Air's SureFit Series is a complete air conditioning system that fits most Mopar b- and e-bodies. The kit is engineered to actually fit without cutting up the vehicle. Above Right: The Vintage Air systems utilize Sanden compressors. They are constructed of aluminum and have multiple pistons operated by a wobble plate. The compressor is lighter, operates smoother, and is more efficient than the RV2 design. 
Vintage Air has several SureFit Series options for the Mopar b- and e-bodies from '66-'74. The SureFit Series is the most complete "bolt-in" HVAC system on the market for our muscle car Mopars, as well as street rods, resto-mods, and trucks. The Airtemp systems used a cast iron, two-piston V-design compressor (RV2 or the predecessor V2), which was decent for the time. However, Vintage Air's SureFit Series benefits from a modern aluminum Sanden compressor.
The Sanden unit is a multi-piston, wobble-plate design that is physically smaller, provides a smoother and quieter operation (reduced pulsation harshness), and is more efficient than the RV2. Vintage Air didn't stop there. It improved the evaporator and condenser designs, resulting in significant increases in heat movement compared to the decades-old Airtemp technology. Additionally, the newer components operate with greater efficiency using the more environmentally-friendly R-134a refrigerant.
Suppose components, rather than complete systems, are required. In that case, Vintage Air produces the Builder Series, heaters, accessories, brackets, hose and fitting kits, cooling fans and controllers, pulleys, thermal shielding, and alternators that can be picked up to complete a project. Vintage Air has even taken the time to develop the online Vintage Air University, which covers essential air conditioning topics and includes "how-to" videos.
To check out the Vintage Air products in action, Mopar Connection Magazine took some time to install a complete SureFit Series kit on a 1967 Satellite. The components fit perfectly, and the cooling performance was exceptional. If air conditioning is a consideration for your ride, take a few minutes to read the installation story and check out the HVAC components and complete kits from Vintage Air.