Sometimes the best shops with the most outstanding reputations keep a low profile, letting their work – and word of mouth – build their business. This is the case for Motech Performance in Murrieta, California, about 60 miles southeast of downtown Los Angeles and 60 miles northeast of San Diego in Southern California's Inland Empire. For almost a decade Motech Performance has built up an enviable reputation with a loyal customer base that won't take their Mopars anyplace else.
Owner Chris Field, who founded Motech Performance (41715 Elm St #301 Murrieta, CA 92562) with a partner back in 2010, now occupies a total of six units in a medium-sized industrial park just minutes north of Temecula off of Interstate 15. All the space now totals over 15,000 square feet, a far cry from Motech's start nine years ago with just 2,880 square feet.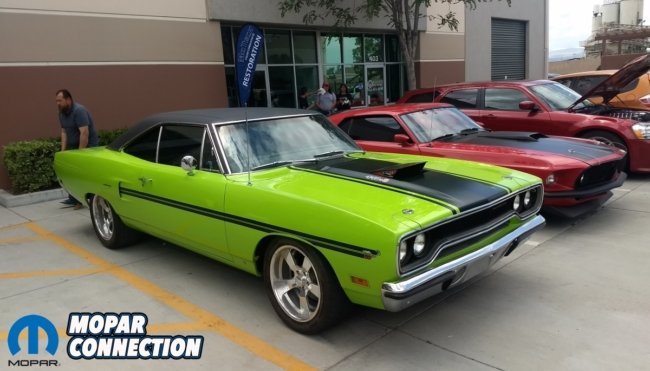 We arrived just after noon when show-goers were eating a catered lunch – salads, pizza, cookies, cannolis, and soft drinks – so we were able to grab shots of all the cars on display as well as touring all the Motech buildings. Noteworthy was the paint shop where we spied at least a half-dozen cars in primer, awaiting paint. Other buildings house the main shop as well as workshops for a wide variety of mechanical and restoration work. What gives Motech a huge advantage among its competitors is that among their 15,000 square feet of shop area is a fully equipped fabrication shop.
One car that caught our eye was a 1970 Hemi 'Cuda in red with a white interior and body-color elastromeric bumpers, a Shaker hood, and on the inside it featured an overhead console but no floor console between the bucket seats; an unusual combination. Two lifts down was a 1965 Valiant station wagon. The engine compartment was refinished but the exterior patina of its light blue color will likely be left intact.
Among the cars that caught our eye was a 1968 Hemi Dart tribute owned by David Dempsey. This Dart is typical for a car in Motech's bays in that the car was built somewhere else but was brought to Motech to get properly sorted out. And it is equipped with a Vintage Air setup, offering a way to make the car comfortable, as David told us, "For my wife to take it to the supermarket, Walmart, or Kohl's to go shopping." The car gives new meaning to the term "grocery getter." It's great to see a car like this, driven even though it's wearing in-period racing slicks.
For A-Body fans another noteworthy car at the Motech open house, nearing completion is a B5 Blue 1969 Barracuda fastback. Now owned by Angel Garrido, it was purchased new by his dad in 1969 and has been in the family ever since. We can't wait to see it when it's finished when all the NOS and restored trim is reinstalled. On the inside its blue vinyl interior looked factory-fresh.
Another equally eye-catching A-Body was the 1972 Dodge Dart Swinger owned by Zach Rumpilla. In red with black masks and black wheels, it had a sinister, ready-to-race, almost a Trans Am look. Walking down the display line, we saw vintage A-, B-, and E-body Mopars along with late-model Mopars – Challengers and Magnums – along with a few non-Mopars thrown in for good measure.
Speaking with Chris after the show, he put the event in its proper perspective. "Despite the threat of rain all week, this year's show turned out bigger than ever. The weather was beautiful. We had around 35-40 cars and 150-200 people. The show always brings a wide variety of cars. From Hemi cars to Slant-6 Valiants. I even spotted a 1969 383, 4-speed Barracuda. The most significant ones are any of them that are driven! After all, what fun are they if they're not used? The open house gives us a chance to say thank you to our past and current customers and fans. It also showcases the type of work we do. It is not uncommon for us to hear ,'I never knew you guys were here or I didn't know you guys were this big.'  It helps us get our name out there a little more."
Motech Performance is well known in the Southern California Mopar community as they support and participate in many regional Mopar-focused events each year like the Spring and Fall Flings in Woodley Park and the annual Canyon Lake Car Show, which is a well-attended local event. Its reputation for the highest-quality restorations along with being the go-to place to get cars up to their full mechanical potential will keep Motech Performance front and center for Mopar enthusiasts in Southern California. And while their focus is on Mopars, there is no shortage of owners of other marques who bring their cars to Murrieta for the Motech touch.
For more information on Motech, including a gallery of their many recent projects, visit the Motech webpage, their Facebook page, or give the Motech team a call at (951) 813-3550.