I leaned over the Super Stock hood of a gorgeous two-toned '68 Barracuda fastback admiring half a dozen "Hot Rod Power Tour" banner decals adorning the windshield. The owner, a few steps away noticed and joked, "Yeah, it was fun but it was expensive." Of course, that same sentence could be said for most anything affiliated with hot rodding, right? The owner of a scattered 1,500-horsepower engine, staring at a fractured engine block spilling its internals could utter the same words. But why was Power Tour so? We chatted as the sun crept higher over Bowling Green even as cars continued to fill the back field of the Warren County Regional Airport.
"It all adds up," he sighed. "Hotels, gas, food. But it's the repairs. You're always breaking something." And he was right. Even in the hour's trip from Nashville, Tennessee to Bowling Green, we had drained our battery down to a paltry 8 volts as we crept through Friday afternoon traffic and a near-stand still rate, all under 96-degree temperatures. The big Spal fans kept Project Brazen from overheating, but the slow creep and the beating sun was too much for our wimpy factory alternator to keep up. It wasn't a problem until we tried to leave the convention center where we signed in.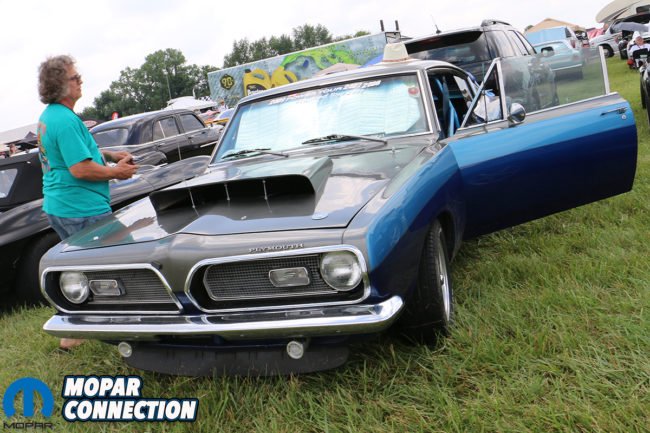 After picking up our credentials and climbing back into the quickly-heating cabin, Brazen turned over, fired, and struggled to idle before coughing and dying. Second and third attempts fared worse. The fuel pump was dead – or so it appeared. Pushing the car into the shade and giving myself a minute to actually think, I realized that my battery indeed was drained, which was why the fuel pump wasn't humming when I turned the key, and all that was needed was a jump and some time spinning the alternator up. A helpful Power Stroke-equipped F-250 provided the extra volts to fire up and Brazen was alive and well… that is until we had to limp a couple of miles to the airfield in the blazing heat.
Our "nothingburger" of a breakdown paled in comparison to the array of failures experienced by those who attempted the entire trip. Burned clutches, tire blowouts, stuck valves and worse were a daily occurrence and those who completed the entirety of the trip with or without failure truly earned their "Long Hauler" status. It truly was a badge of honor – particularly for those driving classic cars. Not to take away from others, but rolling in a modern Skat Pak Charger or Viper (apart from some comfort issues) enjoyed relative luxury to those broiling in the black vinyl interior of a '70 Challenger or diagnosing fuel delivery issues over three states (and often on the side of the road), like the owner of a '69 Road Runner admitted.
Considering their woes, I refused to apply my "Hot Rod Power Tour" windshield banner to Brazen considering it a bit of stolen valor. I hadn't suffered like they had. My wallet wasn't emptied and credit card maxed just to attend a week's worth of cruising, stretching from Kansas City, Missouri to Bowling Green, Kentucky. No, I was a poseur and just needed to keep my mouth shut. Wishing my new friend luck on his way home (because Power Tour doesn't end on Friday. You still need to get home to wherever you started from and for many, that's another few days' worth of driving, hotels and breakdowns), we walked from the general show field to the vendor display paddock.
Visiting with friends and staff at the Holley Performance booth, QA1 trailer, the massive traveling Edelbrock rig, and Comp Performance Group 18-wheeler was great. If they weren't giving stickers and swag away for free, T-shirts, hats and (for some, very gratefully) performance parts were all on sale. Each of them had a story to share. "I heard somebody did an EFI swap half way through the tour," TCI Transmissions' Will Vance laughed. "You need to find that guy. That's gotta be a heck of a story." The guys at American Powertrain had slaved for weeks to transplant a Gen 1 392 Hemi into a slightly younger '66 D100 before conceding to defeat only to bring back a previous Tour veteran, their '59 Edsel Villager.
Upon arrival, Jack Silver, head honcho at Silver Sport Transmissions coaxed me into driving Brazen in between the cones and parking at their booth given our use of their A41 4-speed overdrive automatic transmission, which I was more than happy to do. Equipped with only a can of gas cleaner, I did my best to wipe down Brazen's body with the one clean towel I had in the trunk. I wasn't prepared to have the '69 Charger on display. We cleared out the empty water and Gatorade bottles and tidied up before walking the show. While perusing the various cars on display, we wondered upon "General Mayhem" of Roadkill fame. As I snapped a few pictures, I eavesdropped two men talking, hearing one say, "I dunno. I like the other Charger over there more [motioning at the SST booth]." That might not mean much, but I'll take that as a "win."
Many were still pouring into the field as the day carried on, some taking a slower route to take in various sights, others needing to make stops to make repairs. Those in attendance carried bags crammed with coozies, keychains, catalogs, decals, and more. Music blared out of overhead speakers and announcers provided interviews, chatter and humor as thousands milled about. Having to leave before the final award ceremony and the close of the 'Tour was another nod that we were not "Long Haulers." On our drive home we were followed by a inky black WS9 Trans Am, the couple pulling alongside to give us a thumbs up and a smile before speeding off in a blur – I was driving 80mph at the time. I came away thinking maybe Power Tour was a "new car's game" or maybe a classic a little less race-ready as Mopar Connection's 10-second '69 Charger. Then again, people do this all the time for Drag Week. What was I complaining about?