During the 60s and 70s there is no doubt that Chrysler, Dodge and Plymouth had some of the wildest, and in our opinion coolest stripes, decals and paint schemes of any brand of that time period. From Twister Dusters to AAR 'Cudas, they all had a unique look and plenty of options to choose from. Other brands had a few special addition cars that you could say rival some of the iconic Mopar style, but there were still not many. Although there are many ways to customize and make a car unique, one of the easiest ways to give your car a unique spin is by adding decals. The popular stripes and decals that made Mopars stand out from the crowd back then were no more than vinyl decals. With advancements in technology and materials, adding vinyls to your car today is easier than ever. We were looking to give our Project Orange Crush a new look and turned to M.A.D. Graphics in Columbus, Ohio.
With the various events that we run Project Orange Crush in, we wanted the car to stand apart from the rest. Despite being the only Mopar at many of these events, you would think that a bright orange Dart would be memorable but you would be surprised. We also wanted to be able to showcase all of our advertisers and sponsors that have helped made the car a corner carving beast. We sat and looked through hundreds of pictures for months trying to come up with an idea for a layout.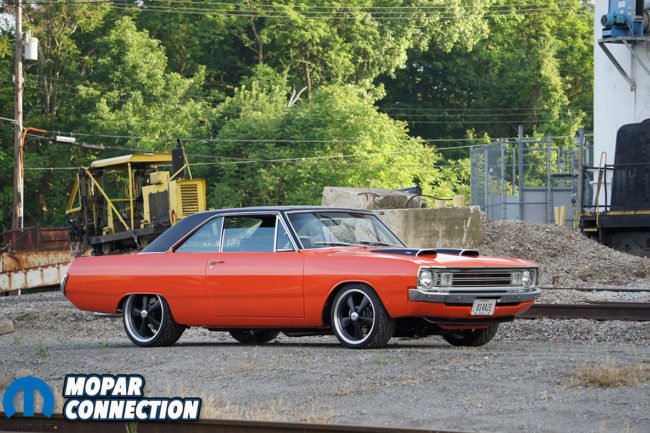 Although there are many talented artists out there that could go through a full rendering process, come up with ideas for us and make them come to life on paper, we didn't have the funds to afford multiple renderings on top of the expense of getting decals placed on the car. We wanted the car to still have a Mopar feel to it but be custom and something that you wouldn't see anywhere else. We found a few pictures of nostalgic Mopar race cars and sent them to Seth. We explained what we were aiming for. Seth requested a side shot of our car and he would send us a sketch
Thinking up an idea in your head is one thing, but having someone like Seth at M.A.D. Graphics turn it into a reality is another. Seth created a couple sketches of what the car could possibly look like. We immediately fell in love with the big stripe that had some Duster and AAR 'Cuda resemblance. It definitely stood out and we knew it would grab some attention. We didn't have some of the small details worked out yet, so we decided to leave it in the hands of Seth and the crew at M.A.D. Graphics.
While we had an idea of the outcome of the car, it was still a difficult decision to make. Just like many of you that have restored a classic Mopar, there is a lot of blood, sweat and screaming that goes into building a car. Not to mention Project Orange Crush has had the same color combo for almost 15 years! The great part about the newer vinyls and adding large graphics like we did, is that the work is completely reversible. The perfect paint under the vinyls is preserved and if we choose to remove the graphics at a later date, they will easily peel off with a heat gun. Seth told us that the graphics will stay on the car permanently if proper care is taken. Some of you might be asking about fading and leaving discolored areas. If the car sat in direct sunlight for years straight that could happen but with the car is garage kept, it would take many years before the paint would fade.
We dropped the car off for a couple days prior to our latest event for the graphics to be applied. This isn't ideal, as Seth suggested that they like to see the vinyl sit untouched on the car for a couple of days to allow for curing. We were crunched for time unfortunately and didn't have a couple of days to let the car sit. Unlike other decals that you buy and are precut, our stripe was hand laid on the car as if they were going to paint it. This process allows for a better look and exact fit to your car unlike a universal type decal. The process took 2 full days to complete. When we went to pick up the car we were stunned at the outcome. Despite seeing a rough sketch of what the car would look like when finished, actually seeing it come to life first hand was quite the experience.
When we walked into the shop to see the car for the first time, we were stunned. The stripe, numbers and logos were spot on. As car guys, we can be very critical but we couldn't find any flaws with the vinyls. The sponsor logos were straight and mirrored perfectly on both sides. They even left us  plenty of spots to be filed with future advertisers and sponsors. The satin black vinyl they used is a great quality produced by 3M and wont fade over time. At pick-up they crew went over best care practices. They explained that the biggest mistake many people make is scrubbing hard over top the vinyls, as it could scratch them or potentially cause them to start to peel up. They suggested that the ideal maintenance was just using a waterless wash or detail wax with a microfiber towel to gently clean the car.
Mopar Connection Magazine couldn't be happier with service and outcome of the new vinyl graphics that M.A.D. Graphics applied. The day after the installation we had the car at the Motorstate Challenge and got nothing but compliments on the new look. Even off the race track it turns heads everywhere we go and will be remembered by many. We also want to thank American Powertrain, Edelbrock, Flaming River, Reilly Motorsports, B&M Racing, and QA1 for all their help with Project Orange Crush. If you have an idea for your car or just want to freshen up the look of your care go see M.A.D. Graphics and let them work their magic.