"There's just not any good performance swap meets around here," Kirstin Stone smirked. Stone was newly relocated from her Southern California home to Memphis, Tennessee. Sharing a bit of pseudo-snobbish homesickness we reminisced about early mornings walking the aisles of the Long Beach Performance Swap Meet and Pomona's always massive swap field. I stood beside Stone as she was cheerfully tending the check out stand that Saturday morning at the Speed Parts Grand Opening Cruise-In & Swap Meet, ringing up the early birds who came to pounce on the day's deals.
Inside of the massive Speed Parts warehouse in Olive Branch, Mississippi, all were safe and warm as the silver skies drizzled on the cars and trucks parked outside. The day was unique (apart from the swap meet) as it marked the grand opening of the retail store of the official warehouse distribution partner for COMP Cams, TCI Automotive, FAST, RHS, ZEX, Inglese, Lunati, Driven and RaceQuip. All of the products laid out at the Speed Parts event were all "overstock" items, discontinued part numbers or discounted previous edition products that have since been superseded by new designs.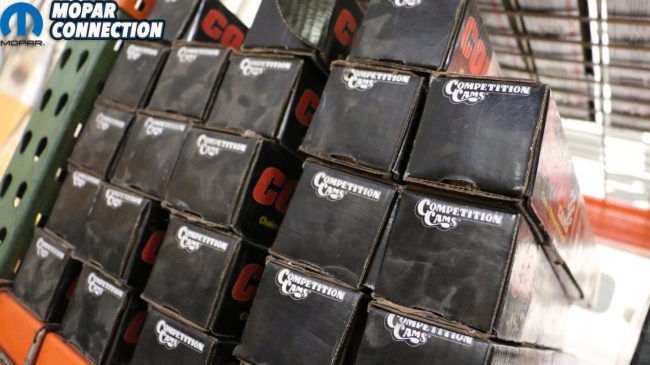 Visitors were given free admission to both peruse the rows of double-head-high racks, tables and pallets of products. While studiously looking over various cam grinds, cranks and ignition items, the furthest wall drew our attention as it was lined with engine hoists, stands, bench grinders, drill presses and other machining tools. Additionally, in a cordoned-off corner were rows of engine blocks in various stages of disassembly, and well as a complete 5.0-liter Coyote drivetrain and engine cradle (replete with control arms and rack & pinion).
Large boxes advertised FAST fuel injection systems, Lunati crankshafts, Crane ignition boxes, and even rows of very vintage COMP valve springs and cams (take a look at the early 1980's logos in the images). Of course, being a Mopar enthusiast, pickings were rather slim for Dodge/Plymouth variety – save for a solitary engine block perched in the corner. The HP440 casting was from the early 1970s and sat strapped to a pallet together with two small block Chevrolet blocks and a 302 Ford. We inquired about the RB block and was offered a tempting price, but only if we took the whole pallet. Seeing no need for 3 boat anchors, I passed.
As the skies cleared the parking lot out front began to fill. The forward lot was reserved for those daring enough to drive their prized machines in the dampness. Amid the Mustangs and Camaros a fine '69 Road Runner swathed in 1970 Lime Light green with blackout stripes was parked front and center. Nearby a '16 Challenger R/T Skat Pack in Charcoal Gray loomed as passersby ventured inside to the warehouse sale to capitalize on the blowout deals, and celebrate the grand opening of the Speed Parts Distributors retail showroom.