When it comes to selling top quality Mopars, Mecum Auctions is one of the best in the business. We always get excited for their auctions as they usually feature some of the best that the Mopar world has to offer. Their Kissimmee, Florida auction is just around the corner, taking place from January 3rd-13th, 2019 and is absolutely packed full of some killer Mopars.
Over a four part series (A-bodies, Dodge B-bodies, Plymouth B-bodies and E-bodies), we're going to take a look at some of the best Mopars the auction has to offer. While we can't take a look at every single Mopar being sold due to the sheer volume of them, we are going to show some of our personal favorites.
LOT L151: 1967 Dodge Dart GT Convertible
If you're looking for a drop top A-body, then you have to check out this Dart! It was beautifully restored with a bunch of creature comforts to make the ultimate summer day cruiser. Under the hood sits a 400 big block with a 4-barrel carburetor and ceramic-coated headers. It's backed by a Torqueflite automatic transmission and a Dana 60 rear end. It has power steering, power brakes, Hotchkis frame reinforcements, Vintage Air A/C and a power top.
LOT S53: 1968 Dodge Dart
This auction features a couple of Hemi powered Darts, including this Bright Orange one you see here. Under the hood sits a Ray Barton Hemi fitted with a cross ram intake and dual 4-barrel carburetors backed by a 727 Torqueflite automatic transmission. While it's built to go fast in a straight line, it does have A/C to help stay cool on those hot days!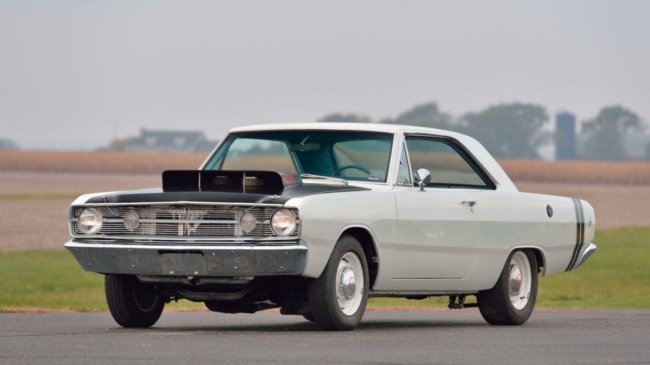 LOT S145: 1968 Dodge Dart
This Dart, built by Hot Rod Dynamics, is a fully streetable tribute to the old Hurst Super Stock versions released in 1968. Under the matte black fiberglass hood sits a 426 Hemi with a cross-ram intake, dual Holley 4-barrel carburetors and a pair of chrome air cleaners. It's been upgraded with a MSD ignition system and headers. The engine is backed by an automatic transmission and shifted through a Turbo-Action Cheetah SCS floor shifter. This car was based off a GTS model so it has a full blue bucket seat interior that contrasts nicely against the white paint, though the rear seat has been deleted to match the Hurst Super Stock theme. It rides on a set of color matched steel wheels with dog-dish hubcaps and Mickey Thompson ET Street Radial tires. It's guaranteed to be a whole bunch of fun!
LOT T136: 1968 Plymouth Barracuda Formula S
One of the coolest A-body Barracudas of the day are the big block powered versions; such as this 383 Formula S. This fish has received a full rotisserie restoration and features both its matching-numbers Super Commando 383 big block engine and TorqueFlite transmission. It rolled out of the factory on October 2nd, 1967 and came equipped with the Formula S package, Light package, maximum cooling package, power front disc brakes, HD suspension (such as the Rallye suspension package), an 8 ¾ rear end with 3.23 gears, center console, hood mounted turn signals, a rear window defogger and color matched steel wheels with E70-14 redline tires. With a striking color combinations and a big block under the hood, this Barracuda is sure to be a hit.
LOT K222: 1969 Dodge Dart Swinger 340
By far one of the coolest A-bodies hitting the auction block is this Dart Swinger 340; that just so happens to be the original 1969 Car Craft Magazine Project and Giveaway Car! It was won by a sixteen year old reader and presented to his mother by Keith Black, Wally Parks and Linda Vaughan among others. It has a lengthy history as it was raced by Wild Bill Shrewsberry and is a three-time world record holder. The funky paint job was done by George Barris, the numbers matching 340 engine was built by Keith Black and the chassis was set up by Saddleback Dodge. It was found in a barn in Iowa after being stored away for 26 years! It's believed to have 22,000 original miles and has extensive documentation such as a scrapbook containing original photos of the car being given to the winner, including the Winter Nationals tickets used to attend the event, all of the ownership history with contact information included and numerous magazine features from 1969 right up to 2018.
Lot F18: 1970 Plymouth Duster 340 Automatic
This stunning Vitamin C Orange Duster 340 comes from the Doug Pittman Collection. This car has been featured in another magazine in its past and shows very well. Everything has been restored to factory specifications with the exception of a few minor modifications such as headers and an aftermarket radio hidden away. The equipment includes a Sure Grip rear end with 3.91 gears, black vinyl bench seat interior, Rallye wheels, dual hood scoops and black stripes. It's well documented and comes with its original broadcast sheet.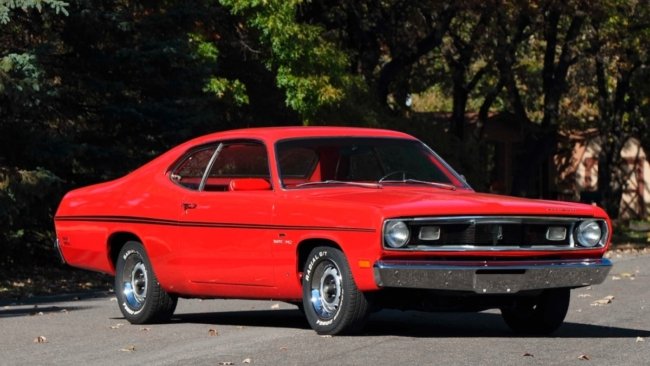 LOT T160: 1970 Plymouth Duster 340 3-Speed
Sold new at Wilkerson Plymouth in Tulsa, Oklahoma, this '70 Duster 340 still retains its original engine and 3 speed manual transmission. If you like red, this one is right up your alley as its painted FE5 Bright Rallye Red with matching red interior and black stripes. The equipment includes disc brakes, AM radio and Rallye wheels. It comes with a bunch of original documentation such as its broadcast sheet as well as receipts.
LOT T137: 1970 Plymouth Duster 340 4-Speed
This FC7 In-Violet Metallic 1970 Duster 340 is one of a few Duster 340s crossing the block. This particular one came from the factory with a Sure Grip rear end, AM radio, A01 Light Group, hood pins, a chrome gas cap, fender-mounted turn signals and Rallye wheels with Goodyear Polyglas E-70-14 tires. It has quite a number of its original parts such as the 4-Speed transmission and the original window sticker! As mentioned, it's painted FC7 Purple with a black bench seat interior and black 340 stripes. A decal for Joe's Chrysler City in Shoals, Indiana is a nice touch on the rear bumper.
LOT T194: 1972 Plymouth Duster 340 4-Speed
This Duster features a striking color combo as it's painted in rare factory-correct TX9 Formal Black with white 340 stripes. The engine compartment is detailed beautifully and looks as it would have when it rolled out of the assembly plant. Inside, you'll find a black bench seat interior, Hurst 4-Speed shifter and an AM radio. There have been some minor modifications to the interior such as a modern Kenwood CD player and a SunPro Super Tach II but otherwise, it looks stock. With 3.23 gears out back, this Duster is the perfect cruiser.
LOT F18.1: 1972 Plymouth Duster 340
Also a part of the Doug Pittman Collection, this triple black Duster 340 has been given a full rotisserie restoration. The 340 has been rebuilt with a 4-barrel carburetor, headers and dual exhaust. It has bucket seats, a console shift automatic transmission, power steering, power front disc brakes, aftermarket aluminum mags and BF Goodrich Radial T/As. Overall, it's a beautiful car to go out cruising in.