The last couple weeks have been exciting for Mopar enthusiasts, especially if you are around Ohio or Michigan. With car events such as the (Mopar) Nationals, Roadkill Nights and Woodward Dream cruise and then add in all of the Dodge Speed Week announcements, it has been exciting to say the least.
The Dodge Speed Week announcements took up most of our publishing last week. If you happen to miss them you can check out the current muscle announcements, the Hornet release, and the Dodge Charger Daytona SRT release articles by clicking the links.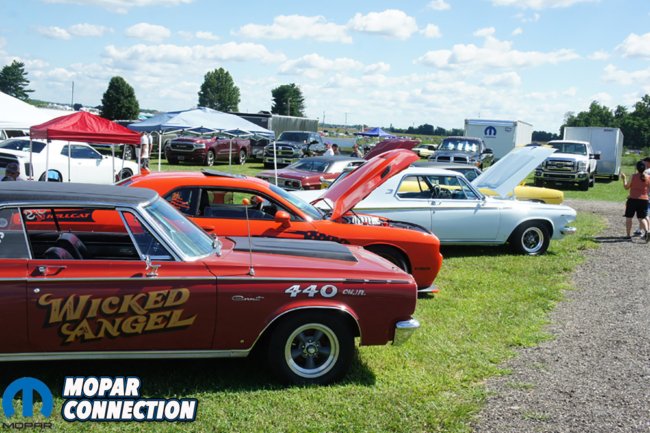 There has been some mixed feelings about what Dodge released last week, but we are excited. Like they stated, they did not make the rules, but they are doing everything they can to keep car culture alive, fun and exciting for generations to come.
Then to kick off the week leading to the Woodward Dream Cruise was Roadkill Nights on Saturday, August 13th. The event is back and was bigger than ever this year. With a multiple celebrity Hellcrate shootout to participant street legal drag racing on Woodward Ave, it is a very unique event to say the least.
The official Woodward Dream Cruise took place Saturday, August 20th. Although the cruise is open to all makes and models, there were plenty of Mopars found driving up and down Woodward Avenue and in multiple parking lot car shows. The week leading up is filled with all kinds of automotive events on and around Woodward Avenue.
What really started it all for many Mopar enthusiasts was the 41st Annual (Mopar) Nationals in Hebron, Ohio. On August 11th, the Nationals kicked off with this year marking the 50th year anniversary of the 1972 model year.
We saw everything from classic restored Chrysler Bass Runner boat to trucks and cars of all different years. Since it was the anniversary of the 1972 model year, we noticed an abundance of Darts, Dusters, Chargers, Challengers, 'Cudas, Road Runners and other models from 1972.
In previous years the Nationals seem to always have horrible weather, at least at some point during the weekend. There have been outrageous storms that have blown tents into high valued Mopars to horrible heat waves that had people passing out due to heat exhaustion.
This year brought neither of those and was some of the best weather we have had for the show in countless years. Nice cool mornings lead into a relatively low humidity afternoons of low 80s and high 70s, it was perfect. No rain in sight and just enough clouds to give a little extra shade throughout the day.
Although we have not received exact numbers of participants from the show, we can tell you that every spot in the show fields seemed filled. Although some vendors like Mancini Racing and YearOne could not make the show this year, there were still a ton of great vendors with inventory to sell.
We stopped by the Indy Cylinder Head tent and spoke with the team there. We had to squeeze in between customers to get a few words with them. Indy is still busy building motors and working hard to get all of their supply levels back to normal and ready to ship. They had some impressive crate motors on display.
They also had their patented Mod Man intake with 250 blower on display. This setup is still getting a few tweaks, but from what Indy has seen with the Mod Man intake, you can take the single carb palate off and put on the blower adapter plate on along with the 250 blower and make an additional 150-300hp within a couple hours. There will be more on the exact details on the different configurations coming soon.
Camping out in the swap meet area was QA1 showing off their Mopar suspension and shock options. Many enthusiasts might think they are new to the Mopar scene, but they have been producing quality Mopar suspension products for many years.
QA1 has recently dove heavy into the truck scene and now offers complete suspension solutions for 1961-1971 Dodge D100 and D200 series trucks. Their suspension kits will transform your D series truck into a corner carving street machine. The best part is their kits are all made in the USA.
Walking through the swap meet area, we found a lot of great parts. From Gen 2 Hemi parts to some rare body panels and more. Although there were some bargains to be found, inflation has taken its toll on the used parts market too. This might be a good thing if you are selling the parts, but if you are on a budget to finish a project, you might have to pay a premium for that 1970 Super Bee trunk lid.
Some of you might know, but for those who do not, the Nationals is one of the only shows that you can get your car OE judged. You have to sign up prior to the show, but if you want to know how close to original your restoration is, this is where you need to be.
There is the best of the best judges at the show going over every nut and bolt on the OE judged cars. This is not your normal judges favorite type judging, but highly Mopar educated judges going over 100 different specific areas.
The Nats also brings another element to the show that many other Mopar events lack and that is a weekend full of drag racing. Many spectators will take a break from trudging through the car corrals and swap meet to sit and watch racers try their hand at some bracket racing or fun runs.
One thing Mopars know how to do a proper burnout. Each year there is a burnout contest both Friday and Saturday due to the overwhelming amount of participants. It takes place right on the main track with plenty of stadium seating for everyone to get a great view of the Mopars.
This year we unfortunately did not capture as much of the burnout competition as we have in the past but, we did film a lot of it live which you can find on our YouTube channel HERE. The video is long as it includes coverage from the whole show, but it is well worth the watch. The video is also viewable below for your convenience.
Outside of National Trail Raceway on Saturday night is the official Mopar Super Cruise. It takes place nearby on I-79 from Heath to Buckeye Lake, Ohio. With the help of local law enforcement and businesses, the Mopar Super Cruise has become a big part of the Nationals.
The occasional chirp of the tires is overlooked and you can sit and watch hundreds of Mopars cruise up and down I-79. Local car dealer, John Hinderer Chrysler Dodge Jeep Ram, puts on a Mopar only car show during the cruise with food and music.
It makes for a great stop to see some Mopars that you might have missed at the show. You can see Mopars come and go all night. It is also the official start/end for the cruise route where the other start/end is the Buckeye Lake KOA.
We pray that next year brings the same weather and more cars for everyone to see. This event kicked off a big week for Mopar enthusiasts. We heard some show participants left early Saturday morning to get to Roadkill Nights and then enjoy a week of cruising Woodward Ave. Maybe next year we will road trip both shows.