A little while back we took a drive to Moser Engineering headquarters in Portland, Indiana. We were on a mission to pick up our full floating M9 rear housing and center section for Project Orange Crush. While we were there, we were able to spend a little time walking around Moser's shop.
When you walk in the front door, you are greeted with a lot of really cool Moser parts and history. When you have been in business since 1986, there is a lot of history and assume we only were presented with a small part of that.
Stepping past the lobby area, we got to see al the office space. When you make a call into Moser, you get a real person and some right here in the United Sates. The sales team all work together in a few cubicles with management offices around the cubicles. This might sound awful, but everyone was very upbeat and seemed to enjoy their jobs.
You might think, who cares about the office space you just want your questions answered. Well,  we have been in other facilities that the sales team was secluded from the management staff and it makes for a poor customer experience. The Moser team seem to work together, which makes for a lot better customer experience.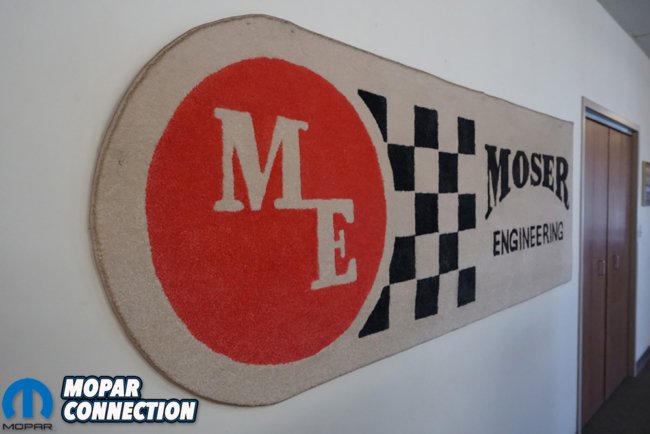 After meeting a few of the management staff and sales people, we moved into the shop area where all the work is done. The first stop was the shipping dock where our M9 full floating rear-end was staged for pickup. It was a little dusty because it had been sitting there for a couple weeks. Moser had the rear-end done way faster than we anticipated.
The shipping area was very well organized. We actually witnessed a few pickups from customers during our visit. Picking up directly from Moser is always an option if you live near by or want to make the drive to Portland, Indiana.
The shipping area had a ton of parts sitting on the shelves. Moser is a Wildwood Brakes dealer and use a lot of their kits on different rear-end assemblies. They keep a lot of brake kits in stock ready to ship with their rear-end  packages.
Another section had boxes upon boxes of gear sets. Again, they keep a ton of gear sets on hand ready to ship. For Mopar Dana 60 and 8 3/4″ rear-ends, they have about any ratio you want ready to ship out same day.
Then we moved on to the machine shop. We were able to watch as a few axles were cut to length, splines were machined and the bolt pattern drilled. We talked with Jeff Anderson of Moser and asked if they were having any delays or issues with materials.
He told us that Moser buys a lot of raw material and has plenty of stock. Even during the pandemic, they had plenty of material and never really affected their shipping times. The biggest hit they had was demand went crazy and they could not get enough work force to run the machines. So if you experienced a little delay, that would have been why.
We did not realize, but any Moser axle shaft has a two day turnaround. That's right! When you place your order, they will be made and shipped out within two days. This goes for stock replacement shafts or even custom lengths. These are complete axle shafts with bearings and studs ready to bolt into your rear-end.
Walking through the shop, we got to pop into the fab shop. Here they were working on a bunch of rear-end housings. Moser keeps a bunch of bare housings on the shelf ready to be built to customers specifications.
Jeff told us that one of their best sellers have been the Muscle Pak rear-ends. Moser's Muscle Pak rear ends are a complete rear-end replacement. From brake to brake, the Muscle Pak comes ready to bolt into your Mopar.
All you need to do is bolt in your driveshaft, leaf sprint, connect the brake line and hook up your emergency brakes. You can even have them ship you differential fluid so you do not need to make an extra trip to the store.
The Muscle Pak rear-ends are not just a stock replacement rear-end. Sure you can get one to stock specifications, but if you are needing a shorter rear-end, custom pinion offset, bigger wheel studs, upgraded axles or disc brakes, you can do that too. There are multiple powdercoat options and colors.
The crazy part is Moser can normally build a complete custom Muscle Pak rear-end within a week. The normal turnaround is 3-5 business days for a compelete rear-end. If you decide to add powdercoat options, it could set it back a couple extra days.
To think you could call Moser or go online, fill out a Muscle Pak order form and within a week or two have it complete and possibly at your door step ready to bolt in your Mopar. Moser also services other manufactures like Ford and Chevy, but who wants to talk about them.
During our tour, we got to see a couple of the Moser family race cars that were being peeped and gone over before next season. There were a few other areas we got to peak at, but had some proprietary stuff that we were not allowed to show you.
It was awesome seeing the behind the scenes of Moser Engineering facilities. We learned a lot, especially how much inventory they like to keep on hand at all times. They know that no-one likes to wait for parts, and Moser does everything they can to get you your parts as quick as possible. Give them a call today for all of your axle, gear and differential needs.