With the 2016 SEMA (Specialty Equipment Market Association) show coming to a close late last week, we here at Mopar Connection Magazine would like to take a look back at the very cool custom vehicles that Mopar brought to display at the event. A total of six vehicles built specifically for this year's SEMA show joined the fleet of fourteen Mopars in the brand's 15,345-square-foot display. Let's take a look at these six radical rides.
Dodge 1971 Challenger "Shakedown" 
The Dodge Shakedown Challenger perfectly weaves together design cues from both the classic and modern Challenger. Starting with a 1971 Challenger body mounted on a hand-built custom removable frame, the boys at Mopar shaved down the door handles, drip rails and fuel door for a sleek look. Once it was smoothed out, the body was shot in a coat of black paint that Mopar likes to call "Bitchin' Black."
2017 Challenger front headlamps, grille and taillights were messaged into the front and rear of the car to give it a modern feel while still paying close homage to the original 1971 design. The modern 2017 Shaker hood scoop is a must for this sweet E-body and is accented perfectly with custom gloss-black and gloss-red stripes that hug the scoop and run over the entire top of the car.
Powered by a modern 392 6.4L SRT HEMI engine, it delivers 485 horsepower to the ground via a Viper Tremec T6060 six-speed transmission. The custom front and rear suspension is lowered and braking power is supplied by SRT's staple red Brembo Hellcat six-piston front brakes and four-piston rear brakes. It sits on SRT Hellcat Slingshot-designed 19-inch by 9 1/2-inch front and 20-inch by 9 1/2-inch rear wheels. Heading inside to the cabin, Dodge Viper front seats are beautifully trimmed in black Katzkin leather bolstered by black Alcantara inserts and red stitching matching the embroidery on the Dodge Viper steering wheel.
Giving you all the vital stats you need to know, the instrument panel gauges are black, contrasted with gloss carbon fiber instrument panel cluster trim. Since the car was built to be a track-ready beast, the interior features a custom roll bar. The rear seat has been deleted and replaced with netting and a console shelf for storing racing essentials.
Dodge Durango SRT Shaker
With rumors of a SRT Durango swirling around, Dodge has just added some fuel to that fire with their new 6.4L SRT HEMI powered B5 Blue Durango Shaker concept. Featuring a custom completely functional Shaker hood from the Challenger, this Durango gives a whole new meaning to the term grocery-getter. Backing the HEMI is Mopar's quick shifting eight-speed automatic transmission.
Paying homage to the first generation SRT Jeep Grand Cherokee, the HEMI plays the song of its people through Mopar's cat-back dual exhaust located in the center of the vehicle. Braking that 5000-lb monster is done by SRT six-piston big brakes and rotors, cooled by functional brake ducts. Lowered three inches thanks to a custom lowering kit, the Durango sits on Satin Black 22-inch x 10 1/2-inch Mopar wheels protected by custom fender flares. Dodge's signature crosshair grille has been surprisingly replaced with an open grille.
The interior of the Shaker Durango features a first for any FCA branded SUV: three rows of Viper seats! Trimmed in Katzkin leather with B5 Blue stitching, the interior matches the exterior very well. The performance flat-bottom steering wheel comes from a Charger SRT and the center console and entertainment center console bezels are also colored B5 Blue.
Ram "Macho" Power Wagon
Designed after the legendary orange and black Macho Power Wagon from the late '70s, Mopar's Ram Macho Power totally lives up to its namesake. Based on the current production Power Wagon, this Mopar-modified example is a modern take on the original.
Powered by a 6.4L HEMI engine and six-speed automatic transmission, this one-off Ram features Mopar concept and production products such as the bed mounted 'slide up and stow' sliding RamRack which securely stores toys to fit a variety of lifestyles. The RamRack is designed to neatly slide up and stow under the cab's sail panel when not in use and works in harmony with a RamRack roof system that locks down items with six unique tie downs.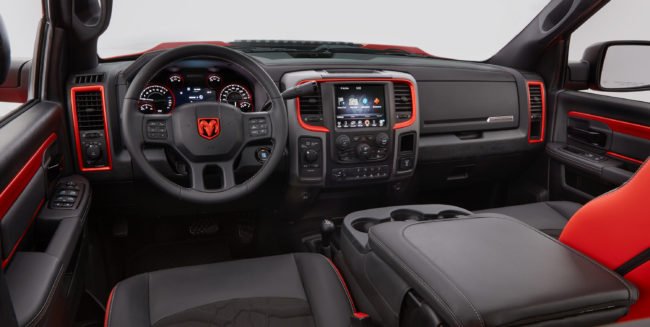 Painted in very bright "Macho Mango" paint, the body is fitted with one-piece Mopar concept off-road running boards, larger concept fender flares, low-gloss black door handles and a 21-inch heavy-duty light bar and LED clearance lights on the roof. Black "RAM" lettering on the grille and body sides are outlined in 'Macho Mango' paint.
Lifted four-inches towards the sky by a custom lift kit, the Macho Power Wagon rolls on giant 37-inch x 12 1/2-inch Nitto Trail Grappler MT tires mounted on concept 18-inch beadlock wheels accented in 'Macho Mango' as well. To add more functionability, the front bumper has been equipped with a winch, winch guard and tow hooks.
Continuing with the "Macho Mango" accents, the steering wheel Ram logo and the trim on the gauges, HVAC, infotainment center and side door panels all feature the vibrant color as well. Interior Mopar accessory upgrades include wireless charging, a pedal kit, front and rear all-weather mats and "RAM"-letter logo sill guards.
Jeep CJ66
For their breath taking Jeep CJ66, the designers took a 1966 Jeep CJ body and married it to a Wrangler TJ frame. Adding on some Wrangler JK features such as the Mopar 10th Anniversary Wrangler JK Rubicon bumper kits, JPP skid and front bumper plates and concept JPP rock rails and you have one killer Jeep. With design ques and products from three legendary Jeep generations, this Copper Canyon painted Jeep is the best of all worlds.
Under the hood sits a 5.7L HEMI engine backed by a six-speed manual transmission. Front and rear Mopar Dana 44 Crate axles help the CJ66 face anything the outdoors can throw at it. It rides on 35-inch BFG all-terrain tires paired with a two-inch lift kit. The wheels are Jeep Performance Parts (JPP) 17-inch beadlock wheels with custom beadlock rings painted to match the body color.
An awesome two-way air system allows off-roaders to quickly air up or air down tires to the desired pressure. The stunning Copper Canyon body is highlighted on both sides with a custom matte-black CJ66 graphics and the concept hood is also colored matte black, along with the iconic seven-slot Jeep grille. Mopar LED amber fog lamps and a Mopar Warn winch top off the front end. The cockpit of the CJ66 is designed for strict function purposes.
With seating for two, the interior houses a pair of custom stitched Viper seats surrounded by a custom-built roll cage, mandril-bent to match the chopped windshield surround. A black bikini top offers shade and covers the occupants from the elements. The center of the custom steering wheel, stamped with the special 50th Anniversary Moab Easter Jeep Safari logo reveals the CJ66's Moab-inspired origins. A Wrangler JK center console and shifter were used for the CJ66, with Mopar instrument panel gauges and Mopar all-weather mats completing the interior.
Ram ProMaster Pit Stop & Chrysler Pacifica Cadence
Featuring the Ram ProMaster's versatility, the ProMaster Pit Stop is ready to entertain. Fitted with a hinged door on the driver's side, a drop-down bar counter hinges and opens out from the side as well. The interior has been modified with keg refrigeration capacity to serve beverages from four on-board Mopar shifter handle taps. Also fitted to the interior cargo area is a slotted board displaying Mopar gear and vintage neon signs. The Pit Stop rides on Mopar concept 20-inch Satin Black lightweight wheels and the entire exterior has been done up in Mopar colors and custom graphics.
Wrapped in custom Mopar graphics on top of a pearl white paint job, Mopar has created the true "family-room-on-wheels" with their Chrysler Pacifica Cadence concept. Going with a 'boarding' theme, this Pacifica features a Mopar/Thule paddle board/surf board carrier on top to transport a large 9-foot paddle board re-branded with Mopar graphics.
Riding on a set of production Mopar 20-inch wheels that have been re-done in Satin Black and Gloss Black tones with a Mopar blue accent on a single wheel pocket, the center cap is customized with a Mopar blue "M" logo that matches the blue pocket accents. On the interior, Mopar went all-out on accessories with a pet kennel, wireless charging port and a Chrysler-logoed first aid kit. Chrysler logo door sill guards, all-weather floor and cargo mats and a light duty vinyl mat for the second row complete the Mopar accessory upgrades.