If there is one thing we've learned over the past few months, it's that David Brennan of New York absolutely loves everything to do with 1971 B-bodies; having owned a couple of 1971 Plymouth Road Runners that have graced our pages as well as a couple of 1971 Dodge Super Bees.
He explains, "I bought my first Mopar when I was 18 years old. It was a 1972 Plymouth Satellite Sebring Plus in Petty Blue. There is just something about the round looped front bumper, widened fenders and quarter panels that get me, along with the Hi-Impact colors and cool stripes. They have such an aggressive look to them. Don't get me wrong, I love the 1968-1970s but the 1971-1972 fuselage styling just has that more round, wider stance that screams Mopar muscle."
David tells us that a local guy to him named Andy Masny has quite the collection of Mopar B-Bodies. "I've drooled over his F6 Green 1969 ½ Dodge A12 Super Bee for many years! It's an absolutely beautiful car. He has such a cool collection of Mopars, and one of my other favorites of his was an original EV2 TorRed 1971 Plymouth GTX that he had. I rarely ever saw it but I always wanted it", he shares.
The GTX is restored in its original EV2 TorRed paint with a full black vinyl top and the jaw-dropping orange and black "Halloween" interior. It features an Air Grabber hood, body colored Elastomeric bumpers, black steel wheels and Polyglas tires; just a totally stellar combination! Andy had built the car into a factory stock appearing drag car; something like you'd find racing in the FAST (Factory Appearing Stock Tire) racing series.
Under the hood is a 1971 date coded 426 Hemi that was built by FAST racing legend and Mopar builder Dave Dudek pushing 700 horsepower. It breathes through original Hemi exhaust manifolds that have been honed out and paired with a stainless TTI exhaust system. Backing the Hemi is a bullet-proofed Godfather race transmission fitted with a Slap Stick forward pattern shift conversion and out back is a built 8 ¾ rear end with 4:30 gears. Wilwood disc brakes up front help stop that massive power.
David shares, "If I could go back in time and order a brand new 1971 GTX; that would be the exact car I'd order." About a month ago, David reluctantly sold his "Sno-White" 1971 Road Runner unexpectedly after getting an offer he couldn't refuse. As that car headed to its new home in Alabama, a friend of David's approached him to sell a Challenger Hellcat for him.
He tells us, "When he told me the price he wanted for the Hellcat, I couldn't pass it up. I bought the Hellcat and started driving it and was enjoying every second of it. They are total beasts. About a week into owning the Hellcat, I received a Facebook message one morning from Andy. He had seen my Hellcat at a local diner and asked me if it was mine. I told him yes in which he replied, if I ever wanted to get rid of it, to let him know."
David continues to say, "Anyone that knows me knows that everything I own is for sale for the right price. I tell that to everyone. While I love every car I own, if someone offered the right price for something, I'd definitely consider selling it. After telling Andy that, he surprisingly asked me if I'd entertain a trade for his EV2 '71 GTX. At first, I didn't believe him but I responded saying I would definitely trade cars."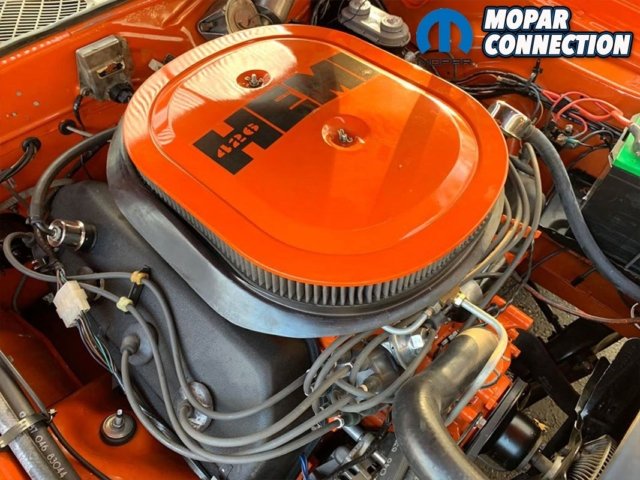 A couple of days later, Andy proceeded to send David photos and details of the GTX. Shortly after, David took the Hellcat over to Andy's garage so the pair could look over the cars. The moment David looked at the GTX, he fell in love with it and the pair decided to do the trade.
"Owning a Hellcat for two weeks was cool but man, you just can't beat the GTX. I threw some VP Racing C16 race gas in the GTX and took it for a drive after getting it home. It absolutely blew me away. It's a whole different kind of monster than the Hellcat. Many people don't understand why Andy traded the GTX for the Hellcat but I do."
"As you get older, racing, climbing in and out over a roll cage, no creature comforts; it gets old. The Hellcat is the best of both worlds; raw power along with all of the creature comforts. Andy still has a number of classic Mopars he enjoys and drives along with the Hellcat now," he shares.
David is proud to own the GTX and can't wait to drive it once the salt and snow goes away. He says in closing, "It's going to be a long six months but it will be worth the wait. I'm very anxious to get some drive time in it! Besides swapping the aftermarket Corbeau driver seat out for the original matching one, I don't have any plans for the car besides to drive it whenever I can."