Few things taste better than a cold slice of pizza at the finish line after 12 ½ hours in a beat down race car, traversing Johnson Valley's brutal desert and technical rock canyons. Since the inaugural year in 2007, King of the Hammers has grown exponentially in large part due to its claim of being the hardest single day off-road race in the world.
The event has spawned multiple classes, allowing a diverse selection of vehicles to take their shot at the crown.  Long time Mopar Connection Magazine readers will recall that we took a shot at the title in 2019 to eventually be denied, 110 miles into the race course due to a catastrophic steering linkage failure. Two years later we came back wise and better equipped and went the distance.
Before the flashing lights and champagne celebration (aka cold pizza and warm beer) hundreds of hours were put into our 2002 Jeep Wrangler to completely transform this high school commuter to the Ultra4 race car referred to as the "Grocery Getter" #4555.  In its current form, the Jeep sports a 2 inch DOM roll cage and chassis back-half, 113 inch wheelbase, 22-gallon fuel cell and 37-inch tires wrapped around VisionWheels beadlocks.
While still sporting the factory four liter engine, great lengths were gone to in order to accommodate fourteen inch travel, and ADS shocks at all four corners (shock length and configuration dictated by class rules). When compared to our Jeep's race configuration, it arrived at the lake bed this year longer, lower, and meaner.
We rolled the Jeep off the trailer 5 days before the green flag determined to put some test miles on the newly completed chassis. After two laps up Chocolate Thunder Trail with little to no drama, we returned to camp greeted by a substantial oil leak from the front differential. Closer inspection revealed the front differential had spun on the axle tubes by way of cracked rosette welds and a broken truss. An axle failure of this scale meant that our race day hopes were all but extinct.
The break would prove to be far more substantial than we knew at the time. We toiled through the night and next morning with the guys at the BFGoodrich Garage hoping to perform a band aid repair by re-welding the axle tubes to the differential.
The closer we looked, the worse it got. The need for a replacement axle housing became apparent and we began scouring Southern California for a suitable candidate. We were hell bent on making it across the starting line.
At long last, we were alerted that a 4-Wheel Parts store a few hours away had a display housing hanging on the wall that might just work. Forced to explore how far we could push our Visa credit limit, we purchased the housing and sent a team member to make the journey.
Our last stop before hauling the Jeep home to begin surgery was to visit the crew from Barnes 4 Wheel Drive to explain our predicament. They stepped up and handed us a pile of bracketry to help us mount suspension links, traction bar, steering and shock mounts on the new housing.
The next three days were a blur of round the clock wrenching between Clint Cunliffe, Chris Paul and myself.  We removed the damaged housing and stripped it of valuable gears, locking differential, axle shafts and knuckles. At this point we discovered the housing was so damaged and tweaked that a one inch rod could no longer pass through the axle housing. Chris and Clint worked on setting up our used gear set in the new housing, while I cut off all the wrong bracketry to make way for a scratch built truss and suspension mounts for our Jeep.
We worked through the night and subsequent days splitting up tasks and part store runs. Late in the second night, just as our faithful plasma cutter gave up the ghost, we discovered that not only was the housing missing axle seals, but it was 1½ inches wider than our previous housing. We decided to get a couple hours of sleep before deciding if we should throw in the towel.
Reinforcing our habit of not knowing when to quit, Chris discovered an axle seal from a late 60's Ford that would ultimately do the trick. After some quick math that determined we would still have enough axle shaft engagement with the wider housing, we were back in action. A mere 16 hours of constant and exhausting work later, we loaded up the Grocery Getter Jeep and embarked to Johnson Valley once more. With no time to spare, we scrambled to adjust seat belts, aim off-road lights and perform a very abbreviated shock tuning.
After the previous few days, lining up with our fellow racers Friday morning felt like a victory. We left the start line amidst 138 competitors across three racing classes of the Every Man Challenge. Co-driver Rand Bagi and I navigated our way through the beginning desert sections of the approximately 140 mile course.
Our lack of suspension tuning time was apparent as the Jeep spent far more time on the bump stops than ideal. Sore butts aside, we were thrilled to be in the cockpit, making good time and the Jeep felt solid.  All the hard work and sleep deprivation finally felt worth it. The next couple hours of driving flew by, with the exception of a quick repair to a fuse block terminal and cleaning out a clogged fuel filter.
Competitors thinned out as we traversed our way down Spooner's and up the infamous Outer Limits Trails.  Narrowly avoiding a rollover, we put on a good show for the spectators at Chocolate Thunder before beginning our ascent of Her Problem. Racer traffic up this sandy rock trail made for quite a challenge we overcame thanks for Rand's spotting from outside the car.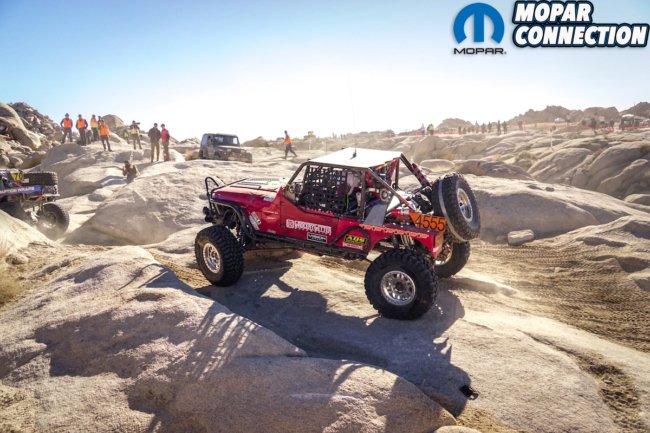 We navigated through the mountains before landing into Bender Alley and Wrecking Ball. Held up in vehicle traffic, we had a moment to review our GPS and discover we had missed the second remote pit. We would later find out that we weren't the only ones, as we passed vehicles that had run out of fuel.  It would ultimately be 7 hours before we would see our pit crew again. Our morning fuel filter repair turned out to be our saving grace as we topped off the car at that unplanned pit stop.
We arrived at the remote pit at sunset in need of a second fuel filter clean-out, a new rear drive shaft, a full tank of gas and half a dozen sandwiches.  After equipping our roof lights, we set off into the dark with only two rock trails and 50 or so miles of desert between us and the finish line.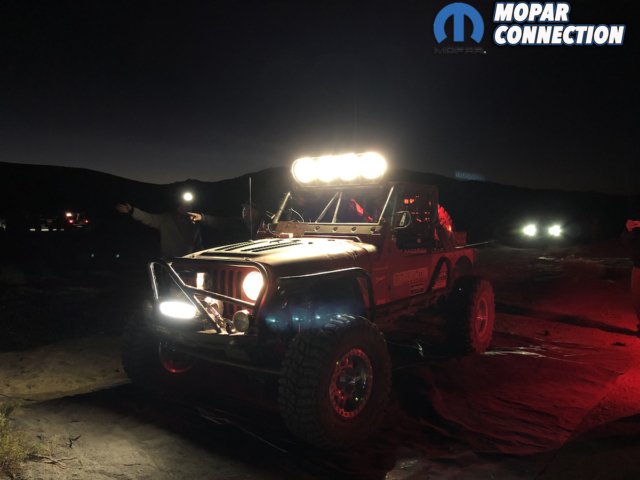 Fueled by the finish in sight, we hit our stride and enjoyed each corner we rounded and hill we crested.  Despite the punishment our Jeep had endured, I promised Rand if we made it to the finish we would hit the infield jump flat out.  Just after 8pm we sailed over that jump as a grand finale for our team and supporters. We were met with cheers, flashing cameras and the hardest earned slice of pizza. We may have finished a bit after hours, but nothing could curb our excitement as we drove onto the Ultra4 stage.