Ever since Mopar Connection Magazine started back in 2015, one of our favorite things has always been seeing our reader's rides. Whether it is by email or reader's comments on our social media posts, we absolutely love seeing what everyone owns and loves. We love seeing what you are passionate about! After all, it's all of you as readers that keep us going every day, publishing quality Mopar content that you love to read and we truly thank you all for that!
Every week, we get numerous submissions for car features and unfortunately, we just can't publish them all but we really want to share everyone's vehicles with our fellow readers. With that in mind, we decided to start a semi-monthly Reader's Ride section in the magazine and are very proud to showcase our reader's beautiful Mopars. And if you want your car featured in next month's Reader's Rides, make sure to email cody.krueger@shawgroupmedia.com
Dean Stutheit's 1971 Charger R/T: Dean from Alberta, Canada sent us some pictures of his stunning '71 Charger R/T. "I fell in love with these B-body cars when I was a kid and my first car was a '73 plain jane Charger with a 318. I had a lot of fun in that car. I eventually bought a '71 R/T with a 440 Magnum that I have been picking away at it since. Since we are heading into winter again, I'm hoping to have it on the road for spring of 2022. Mine is not numbers matching, so taking some liberties to resto-mod a few things and hope to have a great driver when done.
David Kruk's 1970 Dodge Super Bee: David sent us his Top Banana Yellow '70 Super Bee that features a Gen III SRT 6.4L Hemi under the hood backed by a modern 8HP70 8-speed automatic transmission from a 2017 Challenger Scat Pack. The engine is controlled by a Holley Terminator X controller and the transmission is controlled by a Sound German Automotive controller. It has Hotchkis leaf springs and torsion bars and QA1 double adjustable shocks, control arms and K-member along with a U.S Car Tool chassis stiffening kit. David road races it at Gingermen Raceway in South Haven, Michigan and also autocrosses it!
Shawn St Pierre's 2019 Jeep Grand Cherokee SRT Trackhawk: Hailing from Windsor, Ontario, Shawn sends us his sinister double black Jeep Trackhawk. Featuring a 707 horsepower 6.2L Supercharged Hellcat Hemi under the hood, Shawn's Jeep is an absolute rocket. He tells us it's optioned with everything you could option and also features custom hydro-dipped engine bay parts.

Kimmo Riite's 1970 Dodge Charger R/T: Kimmo from Helsinki, Finland shares his factory V-Code 440 Six-Pack 1970 Dodge Charger R/T with us. Built in April 1970, Kimmo's Charger is a factory TX9 Black car with a white bumblebee stripe. Originally equipped with an automatic transmission, it has now been converted to a 4-speed. Kimmo says the car spent a lot of time in Wisconsin in it's early days then ended up in Blue Ridge, Texas before being shipped to him in Finland. He tells us that it's his life-long dream come true to own it!

Michael Bannon's 1974 Plymouth 'Cuda: Michael's 'Cuda features a 340 that has been stroked out to 424 cubic-inches under the hood and dyno tested at 582 horsepower and 575 ft-lbs of torque. Built by MRL Performance in Chesaning, Michigan it features Procomp heads, an Edelbrock intake, EZ Fast 2.0 fuel injection system, Voodoo hydraulic roller camshaft and Dougs headers. The transmission is an A41 automatic from our good friends at Silver Sport Transmissions and out back is a Dana 60 with 3.54 gears. QA1 provided the suspension and Wilwood disc brakes bring everything to a stop. Inside you'll find Dakota Digital gauges and the exterior features an AAR hood.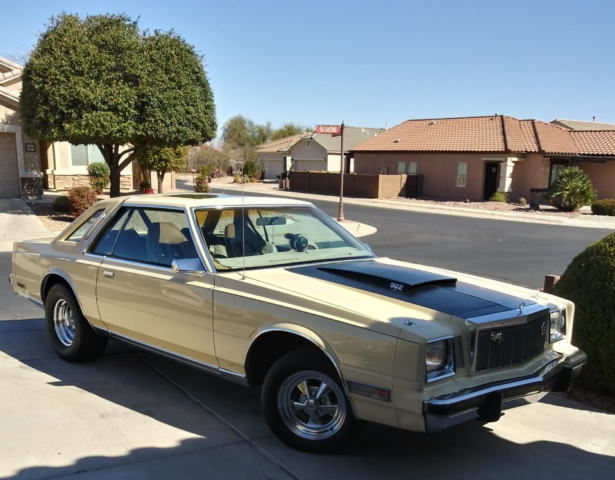 James Williford's 1981 Chrysler Cordoba: James shares, "I found my car rusting away on an autobody shop lot in Jennings, Mo and rescued it. Once I got it home, I had got the body and paint work done before dropping in a 502-Stroker (based off a 400 block) built by AMT Racing in Ferguson, Mo.
"It's backed by a 727 Torqueflite automatic with a Cheeta forward manual valvebody, 3500 rpm stall converter and an 8 3/4 rear differential with 4.11 gears. It's a true street car and is by no means a trailer queen or show car. It sees street duty regularly and is a true blast to drive and continuously puts a smile on my face. It keeps an old guy like me happy and busy!"

Dan Rose's 1988 Dodge Dakota: Dan from Angola Indiana sent us his Dakota and shares "I bought my Dakota single cab in May 2021. I have been working on it for the past several months. It has a 3.9 V6 LA engine with a 3 speed automatic transmission and is a 2WD. I have added window tint, two new front tires, new 180 degree thermostat, valve cover gaskets, spark plugs, cap and rotor. It has been a good truck."