After owning his beautiful red and white 1969 Dodge Charger for 17 years, Brian Kapral had gotten to the point with the car where he found there was nothing else he could really do with it. "I was kind of bored with the Charger after owning it for that long and it wasn't the type of car you could really modify or alter to change it up; so I decided to sell it and get something else. In early December 2017, I found a new home for it just down the road with a local guy in Wayne, New Jersey so off it went," recalls Brian.
On that following Christmas Day, Brian's father who happens to own a T3 Honey Bronze 1969 Plymouth GTX convertible sent him an email with a listing for a 1969 GTX convertible that was for sale in Louisville, KY. After opening the listing, Brian recognized the car as he has a 1969 GTX convertible registry and remembered the car being for sale back in 2016. This GTX was similarly optioned to his dad's but was B7 Jamaica Blue and had a 4-speed, making it one of 178 produced with a 440 4-speed. It also still had its numbers matching drive train and fender tag with the car.
Brian reached out to his friend Bill Allphin who lived in Kentucky and asked if he might be able to check out the car for him. After giving Bill some basic information on the car, Bill realized that he had owned this very car and had actually been the cars third owner. After hearing this, Brian and his family decided to book a flight and fly down and meet up with Bill to inspect the car after making arrangements with the current owner.
Brian shares, "The car was in decent shape but far from what my personal level of cars I like to have is. It was a nice ten footer as they say. The car seemed solid with only the quarter panels and trunk floor metal being previously replaced. Everything else sheet metal wise on the car was original. That being said, the car had a lot of stuff I wanted to fix to bring it back to that nice factory fresh look."
After having a bite to eat, Brian decided to make an offer on the car and after some negotiating, he and the owner agreed to a price and the deal was done. The next month, Passport Transport delivered the GTX to Brian's house in Northern New Jersey. Once he got the car home, Brian went to work on a list of items that were needed for the car such as the hard to find original blue interior pieces.
He tells us, "The upper dash pad was starting to crack on the outside edges by the A pillar trim. Knowing that my old '69 Charger had an original blue upper dash pad that had been dyed black, I contacted the current owner and arranged a trade for a new upper dash pad plus some cash or extra Charger parts that I had in order to secure an original blue crack free dash pad. Frank, the new owner of my old Charger agreed and I swapped out the dash pad for him in my old car. I was also lucky enough to have found another complete set of upper and lower dash pad pieces through Wildcat Auto Salvage to have just as a spare should something happen to mine as original blue interior parts are extremely hard to find!"
While he was locating parts for a restoration, Brian decided that he would enjoy the car and take it out to various shows and events throughout the 2018 year. During this time, he realized that the stitching for the rear glass window in the top had started to dry rot and come undone. This led to water leaking into the convertible top well liner while he was out driving the car. "It didn't concern me as I was going to be restoring it and it was stored every night in my climate controlled garage so it would dry out quickly but it was funny hearing water sloshing around when I drove it," he laughs.
In early October 2018, Brian along with his parents and their friend Greg started stripping the GTX down to the bare shell to begin the restoration. The group removed as many components and parts off the car as possible while still being able to move the car in and out of the garage under its own power for the time being. While pulling apart the car, Brian came across a lot of hardware missing. Screws that held the rear seat back in place were non-existent, the nut that holds the bolt for the brake pedal to brake pedal linkage for the brake booster was missing and a lot of other hidden stuff that should have been there wasn't.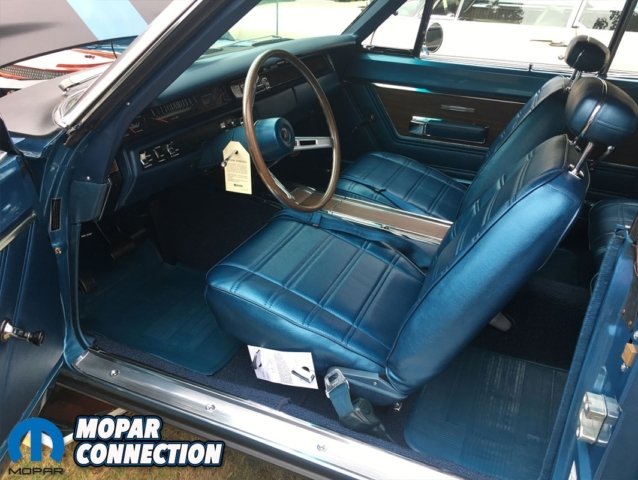 It was around this point that Brian decided to nickname the car "Pandora's Box". Once he had the car mostly stripped down, he then got to work stripping the paint off with chemical stripper and a palm sander. He shares, "I knew that both quarters had been replaced with skins however, I did not know how bad the car was once we got to bare metal. The skins; after removing at least a 1/8" thick layer of bondo were only tack welded on and not welded that well at that."
Before sending the car over to his friend Tom Rightler, who owns Mid Atlantic Muscle Car in Bridgeton, NJ for body and paint, Brian pulled the engine and transmission out of the car. Brian shares, "Pandora's Box really started living up to its name. With every step of the restoration, we kept finding more and more problems." When Tom tapped on the sloppy quarter panel tack welds with a hammer, they immediately broke. To make things better, the tops of the quarter panels where they tried to attach the skins to, were badly warped.
After weighing his options, it was decided that new AMD full quarter panels would be installed. Since AMD does not make convertible quarter panels, regular hardtop panels were purchased and modified to fit the convertible body perfectly. With the metal work completed, the GTX was primed and then painted a fresh coat of B7 Jamaica Blue.
When it came time to have the engine rebuilt, "Pandora's Box" struck again. Brian shares, "The engine ran strong but was losing a quart of oil every hour with no evidence of it burning off out of the tail pipes or dripping onto the ground. When the engine was taken apart to rebuild it, we found that the factory 10:1 pistons were replaced with .40 over cast pistons that were from a pickup truck that had an 8:1 compression ratio. On top of that, two wrist pins were longer than they should have been, piston ring gaps lined up in one of the cylinders and it looked like someone tried reshaping the top of the valves where it made contact with the rocker arms as there was evidence of someone taking a belt grinder to the ends of the valves."
With all these issues being found, Tom Morris of Mancini Machine in Baltimore, MD determined that it would be best to punch the numbers matching block out to .60 over and put the correct forged 10:1 pistons back in the car with all new stainless steel valves. Correct wrist pins were obtained and then everything was balanced and blue printed.
The factory flywheel was machined to remove 3 burn spots in it and the pressure plate and clutch that were almost at the rivets were tossed and replaced with new, slightly better than stock parts. The numbers matching 18-spline A833 4-speed transmission was in great shape and inspected with surprisingly nothing other than normal wear to be found. The casing was cleaned up and inspection markings that were found were noted before everything was restored back to original.
With the drivetrain rebuilt and the freshly painted car back at home, Brian started tackling the interior. Back in the mid-to-late 1990s, the car appeared to have had its upholstery replaced with then new Legendary pieces. "When Legendary put their replacement door panels out back then, they were more of a flat, early style versus the correct puffy style like what would have been installed at the factory," shares Brian. He continues to say, "Since I'm a stickler for details, I wanted the correct door panels that Legendary now offers so I reached out to them."
After speaking to Legendary, samples of their reproduction dark blue material was sent out to Brian however to his displeasure, the material's color had what appeared to be a green iridescent sheen to it which was not close to factory at all. A call to them revealed that "that's what we currently offer" and Brian was left looking for other stuff. Brian mentioned his need for correct appearing material to his friend, the now-late Dave Walden over at ECS Automotive Concepts and he put Brian in contact with a friend of his who was one of the higher ups at Legendary.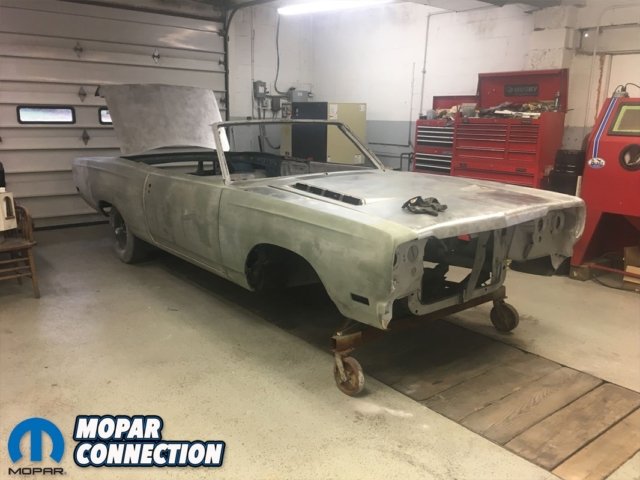 After some conversations with that fellow, he told Brian that they had some NOS material in the color that he was looking for so they would get some stuff made up for him. Once the new seat covers and other interior parts came in, Brian got to work recovering and restoring the seats and frames. The frames were media blasted and repainted and the original seat foam was still in surprisingly excellent shape so it was reused. New burlap and felt was used as that had deteriorated over the years and then Brian installed the new covers.
New carpet was obtained from ECS and Brian says that it is probably the best and easiest carpet that he has ever installed. The center console is an original blue assembly that is surprisingly crack-free at the rear where they typically crack from people leaning on them. All of the pot-metal chrome pieces were re-installed and all of the interior lights were replaced with direct replacement LED bulbs so they are brighter at night. To save any hassles or any chance of a fire, Brian purchased brand new wiring harnesses for the entire car.
Throughout the whole restoration process, Brian shares that his parents were constantly there any time that he needed help with something or even to lend an extra set of hands to hold something in place. He says, "I was even able to solicit the help of my 8 year old daughter when I was recovering the bucket seats. I told her that her job was to "reload" the hog ring pliers for me as I had to use both hands to try and hold the cover in place and then use one hand to secure the cover with the hog ring pliers."
In the end, the restoration took 367 days to complete and Brian is proud to say that the GTX has been restored back to original specifications as closely as possible. He shares, "I paid strict attention to the details such as the head markings for the hardware, inspection marks, tags and the correct finishes on the original parts that were restored; even all the way down to replicating the green textured assembly line oil filter. I felt that a car this rare needed to be given the extra special attention to these details.