When the Plymouth Duster (also originally known as the Valiant Duster) was released in 1970, it was considered to be a cheap, sporty coupe that the average Joe could afford; a cheaper alternative to the Plymouth 'Cuda and Plymouth Road Runner. Based on the A-body platform, the Duster provided the compact-sized Plymouth Valiant with a sporty body style to attract new and younger customers to the brand.
While the bulk part of Dusters were equipped with either a Slant 6 or 318 V8 engine, the top-dog of the Duster line-up was the Duster 340. The Duster 340 was equipped with a light, high-winding 340 small block and was marketed by the brand as "America's First Super-Low-Priced Supercar". Because they were marketed as low priced but fast, many Duster 340s lived a hard life and were driven into the ground. Most were driven hard and put away wet; eventually ending up meeting a sad demise at the junkyard.
Gerry Norrish's love for them started back in 1973 when he purchased a used GF7 Sherwood Green 1972 Duster 340 4-speed from Wolfe Chevrolet in Vancouver, British Columbia. He tells us, "It had around 30,000 miles on it when I bought it. It was a beautiful car with the sharkstooth grille, black bucket seat interior and the white 340 stripes."
He continues to say, "I put a Hurst T-shifter handle on it along with some chrome mags so it looked nice and was fun to drive. My only complaint was that it had some really lame highway gears in it so it was sluggish off the line. I drove the car hard. I remember street racing against two other Dusters and being the unlucky one to get caught by the police. There were definitely some good times with it."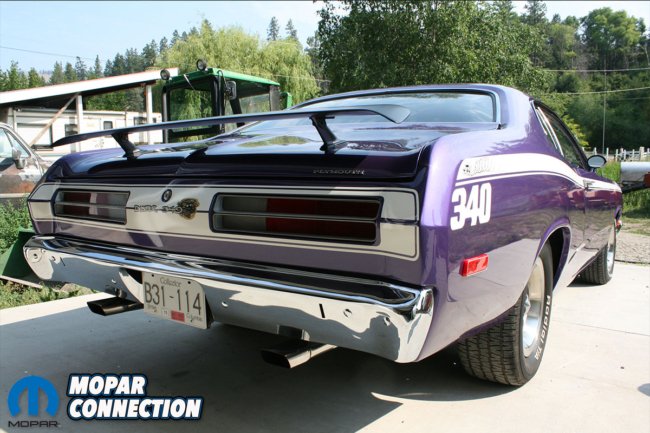 Over the next little bit, priorities changed so Gerry decided to sell the car to buy some real estate. The next owner put some 4:10 gears in the car to make it a lot more responsive before selling it to someone else.
From there, it would change owners and colors numerous times. One of the later owners actually rolled it and surprisingly fixed it however shortly after that, he ended up wrapping it around a pole so bad that the front fender ended up almost touching the quarter panel! That being said, that was the end of that one.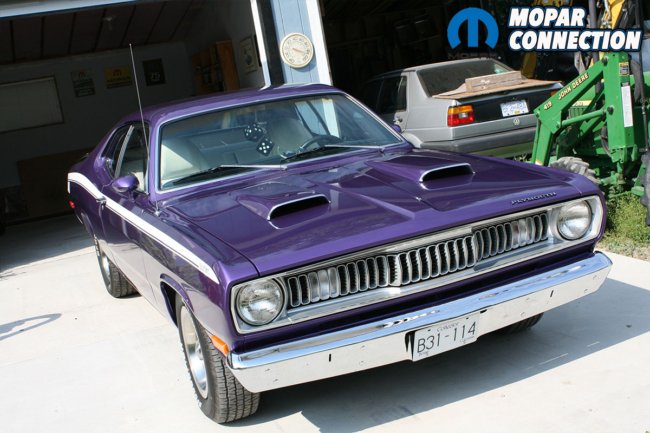 Fast forwarding to January 2006, Gerry's son came to him with an eBay auction listing in hand. "He said, Dad, we should do a project together and showed me a TB3 Basin Street (Petty) Blue 1972 Duster 340 project that was for sale. We decided to go for it. We watched the auction and were going to bid on it but it went up pretty high and still hadn't hit the reserve. By the end of the auction, it got up to $12,000 USD and still didn't meet the reserve."
"Since the first auction failed, the seller decided to relist the Duster shortly after. However, he didn't end up getting a single bid on it because people thought he wanted way too much money for it based on the previous auction. I watched it and when the auction ended and the car didn't sell, I called him up and asked him what his bottom line was on the car. He said he wanted his initial starting bid of $6,700 USD for it. I told him I'd take it", Gerry continues to say.
Shortly after, Gerry along with his son and brother drove down to Oregon from British Columbia and brought the car home. The story goes that the car was sold new In Oregon and its original ownership is unknown. The father of the second owner (the eBay seller) actually happened to work for Chrysler in Thunder Bay, Ontario before getting transferred to Portland so they moved down there. Eventually they ended up purchasing the car around 1981.
Right after he purchased the car, he and his dad rebuilt the engine. His buddy came over and took the Duster for a test drive and ended up spinning it out; hitting a fire hydrant in the process. The accident took out the driver side quarter panel, trunk lid and tail light panel. A poor repair was done to the car including grafting in a tail light panel from a 1970 Duster because that's all they could find.
Around 1985, the Duster was pulled off the road and parked with a few other cars in an old run-down barn on their hazelnut farm. Gerry explains, "The barn had an old chimney attached that wasn't capped off at all so squirrels ended up calling the barn home. They literally filled the Duster full of hazelnut shells in every nook and crevice. It took me years to get all of the shells out of the car. I can remember every time I'd open the hood, shells would fall out of the inner hood structure constantly. You'd open the hood and you'd hear the shells moving around inside it. They were also under the dash and inside the quarter panels."
Thankfully when the car was parked in the barn, the interior was removed besides the dash and stored away in the attic so the floors remained solid. Gerry explains that during the restoration, the only rust repair needed was a couple of small pin holes on the one quarter panel and the spare tire well needed to be replaced from common rust.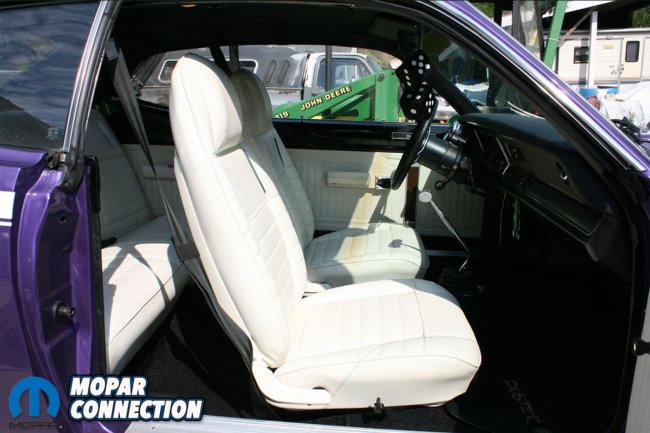 The previous accident damage was repaired properly with a donor quarter panel and trunk lid along with a brand new proper Auto Metal Direct 1972 tail light panel. Gerry helped with the body work before the car was sent out to be painted. He tells us, "When it came time to choosing the paint, I decided to go with FC7 Plum Crazy Purple (or In-Violet in Plymouth terms). Some people told me that I needed to paint it back to the original color but I've always loved Plum Crazy so I went with that. I knew the car was only going to be restored once in my lifetime so I went with the color I wanted."
White 340 stripes compliment the beautiful purple paint along with a pair of 340 hood scoops. Brand new bumpers were installed along with a new reproduction OER sharkstooth grille from Classic Industries. NOS (New Old Stock) tail lights and a rear Gull Wing complete the rear end of the car.
On the inside, Gerry fully restored the factory white interior with brand new front seat upholstery, dash pad, carpet, head liner and door panels. The rear seat is still the original in fantastic shape. It also features the factory A88 Interior Décor Group which gave it upgraded woodgrain accents. He says, "It had the basic steering wheel from the factory but I decided to go with a Tuff wheel because my original Duster had one. I also installed a Hurst T-shifter handle but I still actually have the original woodgrain shifter ball off my original Duster that I put on for car shows. A Sunpro retro tachometer was added for good measure."
Underneath the hood, the numbers matching 340 was rebuilt and bored .30 over by Cutting Edge Automotive and Performance in Kelowna, British Columbia. New rings, valves and the likewise were installed with a COMP camshaft. A Holley Strip Dominator intake manifold sits up top along with a Quick Fuel 750 CFM carburetor.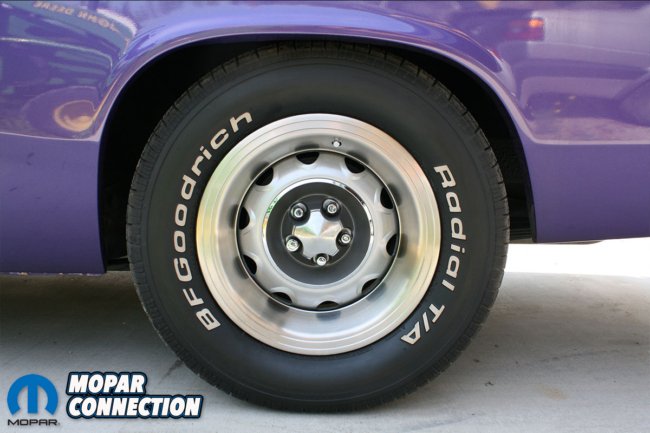 Mopar Performance aluminum valve covers and an air cleaner dress it up nicely. The small block breathes through 1970 HP exhaust manifolds that run into a full Flowmaster Thunder Series exhaust system. Cooling is done by a four-core radiator.
The numbers matching 4-Speed was rebuilt and a new Centerforce clutch was installed. Out back, the 8 ¾ Sure Grip rear differential has factory equipped 3:23 gears for good all-around performance.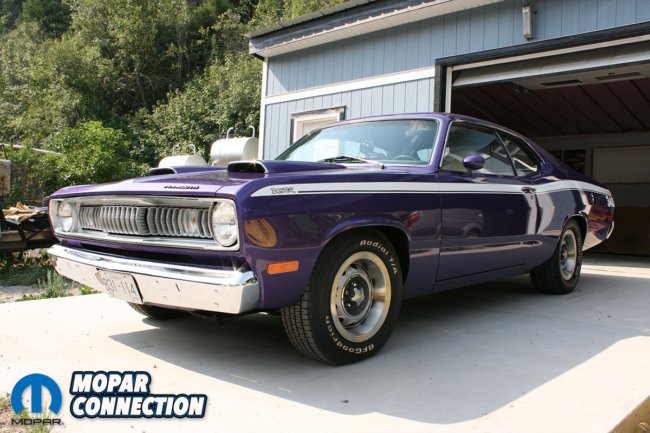 New wiring harnesses were installed along with new stainless steel brake and fuel lines. Underneath, KYB shocks and a SSBC front disc brake kit were installed. It rides on 15×7-inch Rallye wheels with BFGoodrich Radial T/As (215/70R15 up front and 255/60R15 out back).
Gerry says, "The restoration was finally finished in 2014. I didn't plan to take the restoration this far. I just wanted a driver but it ended up snowballing into a full restoration but I'm happy I did as I love the result."