Adding horsepower is always fun, but if you're looking to really change your ride's personality, performance, and overall drivability, making the switch from a three-speed automatic to a more modern five or six-speed manual transmission can be a transformative modification. With close ratios and two or three more cogs in the mix, not only will your car be more involving to drive, it'll also likely be more responsive out of the hole and cruise on the highway at a much lower RPM. That means less engine wear, reduced exhaust drone, and better gas mileage.
But getting from Point A (your stock automatic transmission) to Point B (a modern manual gearbox) isn't as simple as pulling the old gearbox and hooking up that shiny new Tremec – there's a number of bits and pieces involved in the conversion that don't really become obvious until you're knee-deep in the project. One of those pivotal components is the pedal assembly, which differs from the automatic due to the inclusion of the clutch pedal.
Getting your hands on one of these was starting to become a project in and of itself before American Powertrain stepped in to offer clutch-and-brake pedal assemblies for 1967-76 Mopar A-Body cars. "There's just very few OEM cores left out there that are worth using," says Gray Fredrick of American Powertrain. "The solid original ones are all but gone and what's left is rusty and expensive."
Built to factory specification, these new pedals are fabricated on a CNC plasma table, welded on a fixture derived from the original OEM piece, and are made from cold rolled steel. They're also powdercoated black to give the parts a stock look. While developing the tooling for these new assemblies, American Powertrain also saw some room to improve upon the original design.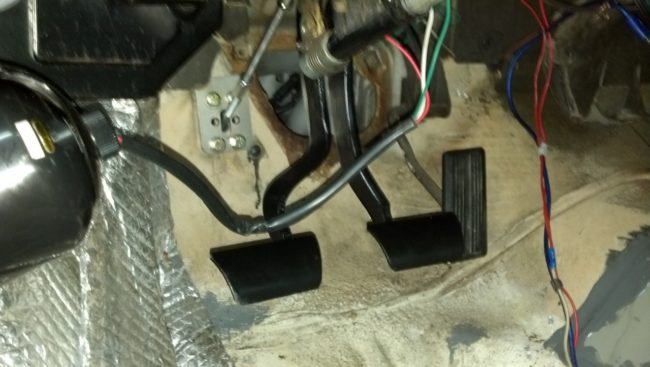 "We saw that the plastic bushings used in the original assemblies tended to wear out," says Fredrick. "So we use solid brass bushings and steel king pin sleeves to enhance durability."
Ease of installation was a top priority when developing these assemblies as well. "Being in the 5 and 6-speed business it is imperative that we have OE spec pedals to offer to our customers so they can install our transmissions in the absence of good used parts, which have all but dried up," Fredrick adds.
"These pedals are made to true factory spec, which means they will fit in the original pedal housing for hassle-free installation on both manual and automatic cars. They are also fully compatible with the original brake master cylinder, the original pedal pushrod and of course American Powertrain's Hydramax hydraulic clutch system."
There's also the inherent advantage of having a warranty when you buy new rather than restoring an OEM component, and the team behind American Powertrain are enthusiasts themselves who also understand that big projects can take time. They know that the difference between when a part is bought versus when it is installed can be vast due to a number of different factors. That's why they offer a 24-month warranty from date of installation that includes a two year installation grace period, giving you plenty of time to get your ride back on the road and dialed in before you need to give any thought to the prospect of your warranty expiring.
So if you're converting your automatic-equipped A-body to a manual gearbox or you're looking to replace a tired original assembly, save yourself the hassle of scouring internet classifies and picking through rusty junk at the boneyard by hitting up the folks at American Powertrain for a factory-spec brake-and-clutch pedal assembly for your 1967-76 Mopar A-Body.