Do you have a classic B-body and trying to decide how to make it even better? Well, we have one word for you, AlterKtion. Reilly Motorsports AlterKtion front suspension is what you need. It will make your car more enjoyable to drive and make you want to drive it everywhere.
We have personal experience with Reilly Motorsports AlterKtion in Project Orange Crush. It is going on 8 years of having installed the AlterKtion front suspension in Project Orange Crush and there has not been a single bit of regret. The suspension transformed the car, giving it the modern sports car feel we wanted. 
You might think that it is over kill because you are not racing, well the AlterKtion was designed for street use. Owner Bill Reilly, initial goal was to design and build a bolt-in suspension that would make classic Mopars handle like a new car. It was only after Bill started building the suspensions that some of his customers started to run the suspension on the track and quickly found out it worked very well on and off the track. 
Now we have experience with how the AlterKtion changed the way a Dart handled and know it is only multiplied with the big B-bodies. The feeling of driving a boat will disappear. The AlterKtion makes your car more stable at all speeds, turns when you want to turn and all around more fun to drive. You will start to look for car shows further away just to have an excuse to drive your car.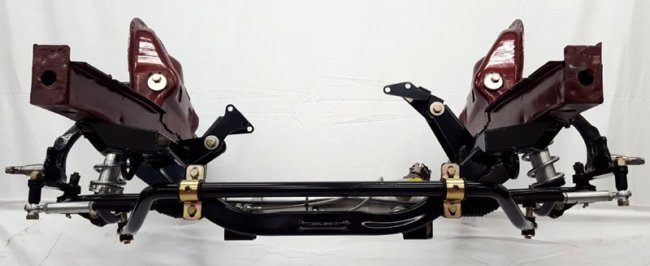 The AlterKtion can be ordered with multiple engine configurations. Even if you have a crazy custom engine setup, you can request no motor mounts. The popular choice for the last few years have been Gen III Hemi in the majority of Reilly Motorsports B-body AlterKtion orders. Which, if you are doing a modern Hemi swap, the coilover design allows for more room and easier fitment of the Gen III Hemi. 
If you are looking to get more our of your classic B-body Mopar, order yourself an AlterKtion today. There might be some imposter suspensions out there but Reilly Motorsports was the first and the best. It is built in the USA and every part is checked by the owner Bill Reilly before it is sent to powder coating. Give Reilly Motorsports a call today.