When discussing the Plymouth Road Runner, many tend to favor the 1968-1970 generation which is very understandable as they were incredible cars. However, we do have a deep love for the later 1971-1974 examples. While most tend to overlook them, they really do deserve recognition as Mopar made so many cool ones. With Hi-Impact colors, various big block engines, Pistol Grip 4-speeds and Air Grabber hoods available to order, they just scream coolness!
For David Fiene of Oklahoma, his love for them begun back in 2008 when he purchased a 1972 Road Runner out of Gainesville, Georgia. He tells us, "The guy that owned it only had it for about a year and he bought it from Tennessee."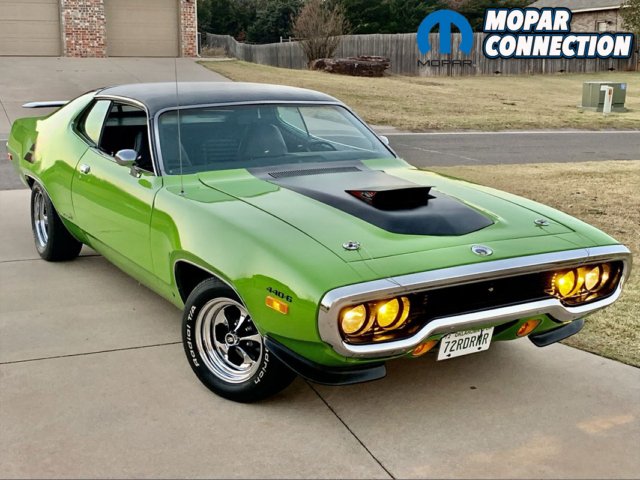 He continues to say, "The Road Runner was pretty rare originally. From the factory, it was painted TX9 Black with a white strobe stripe and black vinyl bench seat interior. It was powered by a 400 with an A-833 Pistol Grip 4-speed. Options included an Air Grabber hood, power front disc brakes, tinted glass, dual chrome racing mirrors, hood pins, machine gun exhaust tips, tachometer and an AM/FM radio."
The previous owner of the Road Runner had made some questionable decisions with it, deciding to try and turn it into a drag car. It had been painted FJ6 Sassy Grass Green with a black reflective strobe stripe and black half vinyl top.
He pulled out the original 400 engine and dropped in a built 440. He also converted the car from a 4-speed to an automatic with a line lock. To make it a proper drag car, the previous owner was in the process of cutting and tubbing it to add a Ford 9-inch rear end with big drag slicks.
When David purchased the Road Runner, the interior was gutted besides the dash, steering wheel and one seat. He tells us, "I started gathering parts for it which was a bit tougher back in 2008. However between eBay, Craigslist and Legendary Interiors, I managed to round up pretty much everything needed. I then found a great guy from Marrietta, Georgia that came to my house and installed it all for me."
With the help of his step father, David replaced all of the suspension, brakes, exhaust and fuel system with brand new parts along with an entire overhaul of the engine bay. The single four barrel carburetor set up on the 440 was replaced with a Six-Barrel set up instead.
David explains that after getting the car running, he would always have an issue with it running hot so he installed a brand new four-core radiator with a clutch fan and fan shroud that seemed to do the trick and keeps the car running cool.
"We finally finished the car back in September. I've been driving it and enjoying it as much as possible and I've even won 1st place at a local car show last month. I like to switch between the original Rallye wheels and Keystone Klassic mags", he shares.
He continues to say, "I'm in the process of gathering up all of the parts needed to convert the car back to a 4-speed as it should be. One day, I hope to save up enough money so I can also change the color back to its original TX9 Black. We had a lot of fun building the car though. There were lots of great times, bloody knuckles and money spent building it with my stepfather."