1970 was a big year for everything Mopar; some would even go on to say that it was Mopar's most important year. Besides the release of the 'Cuda and Challenger that year, pretty much every single car in Dodge and Plymouth's model lineups got complete facelifts. Mopar's B-body lineup such as the Charger, Satellite, Road Runner and GTX got some minor changes here and there and for the most part, everything was given a little more class and luxury versus the previous year.
The exception to this general rule was the 1970 Coronet and Super Bee. For 1970, the car was given an aggressive facelift, something that looked just down right menacing in your rear view mirror. The designers gave it a front end that consisted of dual oval grilles that resembled bumble bee wings. This unique front end made it one of the angriest looking Mopars ever designed. However, despite the new looks and the options of the 440 Six-Pack or 426 Hemi engine under the hood, sales plummeted for the 1970 model. To this day, the 1970 Coronet and Super Bee remain a hot topic for Mopar enthusiasts. The car and its unique front end seem to be a love it or hate it thing. We here at Mopar Connection can proudly say we love it! We are a little biased though as the staff have two 1970's between us.
For Barry Wascher of Millington, Michigan, he is one of those guys that absolutely loves the 1970 Super Bees and we absolutely love his! "I first saw the car for sale in the Auto Swapper back in 1986. The asking price was $6,500 which was a lot back then," says Barry. He continues to say, "The car had been raced pretty much since new, however, it had never seen snow or even rain." After seeing the ad for the car, Barry was instantly interested, so he loaded up his younger brother Tom and headed off to take a look and meet with the seller. The seller of the Super Bee was the second owner. Barry was told the original owner had sadly passed away at an early age. "As soon as the owner opened the garage door and I saw the car for the first time, I told the guy right away I would take it. My brother asked me if I wanted to hear it run before I made my decision but I honestly didn't care if it ran, I just had to have it no matter what," recalls Barry.
This particular 'Bee is one of 109 produced in coupe form with the 440 Six-Pack and 4-speed. Because the Super Bee had never seen rain or snow, it had absolutely no rust at all; a rare thing to find on Mopars even back then! The car had a few minor door dings and that was about it. The car had been set up for drag racing; however, all of the original stuff came with the car such as the seats, console, sway bar and heater box and to top it off, everything was in brand new condition still.
Even though Barry has been a Chevrolet service technician for the past 31 years, he is a die-hard Mopar nut to the core. "My friend in high school had a 1970 Super Bee that we would cruise around in every weekend. I have been a devoted Mopar lover before I was able to drive. When I bought this Super Bee, my goal was to keep it as close to factory looking as possible, but make it fast," shares Barry. Fast it indeed was. When Barry bought the car, the owner told him it had run an 11.80 quarter mile at the drag strip. After taking it to the track himself after purchasing it, Barry confirmed it was indeed capable of those times. At that time, the Super Bee had a 440 that was bored .030 over. The engine was stuffed with the Six-Pack rods, forged pistons, mechanical solid lift cam and a few other goodies however it had no port work done and still ran factory heads.
Over the years, Barry has given the car a complete refresh and made it even faster. Under the hood now sits an old motorhome-based 440 that's been balanced, blueprinted and stroked to 507 cubic inches. Muscle Motors in Lansing, Michigan built the short block assembly. They bored it .040 over. The engine features Eagle H-beam rods, forged flat top pistons, a COMP Cams solid roller camshaft, Muscle Motors steel crankshaft, Trickflow valves, Harland Sharp roller rockers, Muscle Motors pushrods and Trickflow aluminum heads that have been CNC ported. On top of the stroker sits a factory Six-Pack setup (Edelbrock intake and three Holley 2-bbl carburetors) that has been modified. The manifold was fully ported by Hughes Engines and the carburetors have had Quick Fuel billet metering plates installed. Providing spark to the engine is done by a MSD 6AL system, a factory race-style distributor and Auto-Lite 3923 plugs. Barry has not had the engine dyno tested but says it makes around 630 horsepower.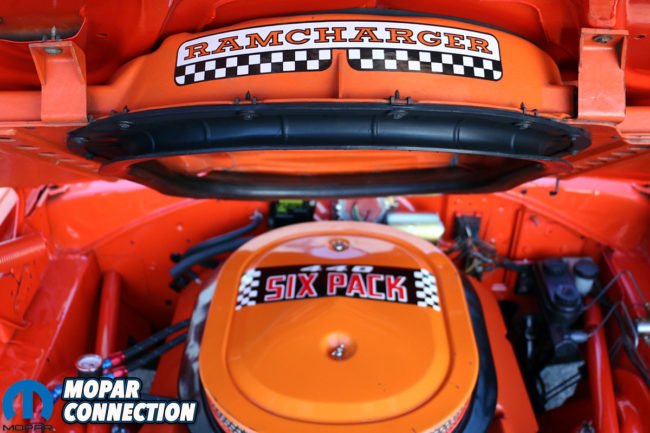 A pair of TTI ceramic coated headers flow into a 3-inch TTI exhaust that has been fitted with Dynomax ultra flow mufflers and exit with factory B-body exhaust tips for an aggressive growl. Backing the 507 stroker is a fully built 727 Torqueflite automatic transmission [yes, it's no longer a 4 speed -Ed.] that was done by TSI in Elmhurst, Illinois. The 727 was fitted with a "J Type" torque converter with a 4,000 stall, reverse manual valve body and a race flywheel. Shifting is done through a Precision Performance cable linkage that leads to a Precision Performance air shifter. Putting the power to the ground is done by a Dana 60 rear end that has been upgraded with a Strange differential, Richmond 4:10 gears and Moser 35-spline axles.
The Super Bee's suspension has been beefed up to handle the power as well. The car features adjustable 90/10 Strange drag racing shocks, 6-cylinder torsion bars and Tri City Competition rear leaf springs that were custom made for the car. The rear leaf springs were moved 3" inboard and mini-tubs were installed to allow for a bigger tire. Steering is done by a factory manual setup. Everything is stiffened up with an 8-point roll cage, welded-in sub-frame connectors and a front engine motor plate.
Like every performance vehicle, you have to stop all that power. The 'Bee's brakes were upgraded on the front to a Wilwood Dynalite II disc kit featuring 4-piston calipers and 10-inch rotors. The rear brakes are the factory 11-inch drum setup. It rides on a set of Cragar wheels (similar in appearance to Weld Draglites) with sizes being 15×4.5 on the front and 15×13 on the rear. Tires are Mickey Thompson ET Fronts (26.0×15) on the front and ET Streets (30×13.5×15) on the rears.
The exterior of the Super Bee is pretty much stock, exactly as Barry wants. It came from the factory wearing EV2 Hemi Orange paint so Barry got it repainted in the exact same color using Dupont paint. Steve Shands Auto Body in Otisville, Michigan did the work and the results are fantastic. The only modification to the exterior was the rear wheel openings were slightly modified in the early 1970s to fit a bigger tire. Barry didn't see a need with changing it so he left it alone. The 'Bee wears a black C-stripe proudly as well as features a menacing looking N96 Ramcharger dual snorkel hood.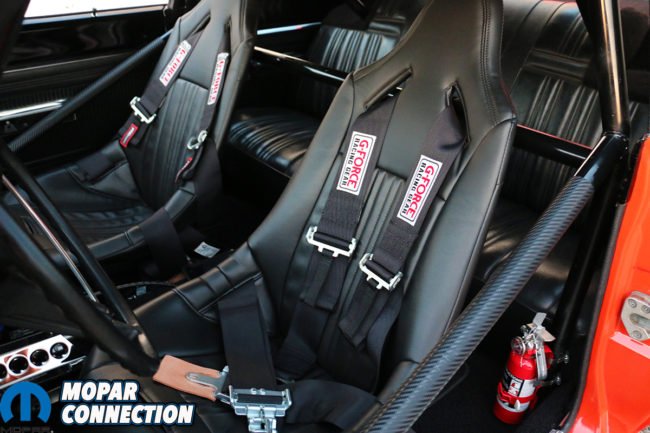 On the inside, Barry also wanted to keep the interior as close to stock as possible. The front seats are Jegs brand racing buckets that were custom wrapped to match the factory rear seat pattern. Being as he races it, Barry uses G-Force Racing 5 point harnesses. With the exception of the previously mentioned cage, front seats and a couple of aftermarket Autometer gauges, the interior remains stock. Barry says the besides the modified items and the carpet, everything else in the interior is original!
So far, Barry says he's managed to run a personal best of 10.57 @ 127 mph down the quarter mile. With himself in the driver seat, the car weighs in at 3,800 lbs. At the time of this writing, his 'Bee only has 18,285 original miles on it! "Even though it's fairly rare, I still feel the need to show it and race it for Mopar fans. The car sees an occasional cruise and local car show but I like racing it. That's what the car was built for and I get great enjoyment from it," says Barry in closing. [Barry would like to give a special thanks to his wife LeAnn and his brothers Tim, Tom and Nick. He would also like to thank Rick Allison at A+A Transmission, Gregg Jacobson at PHD Engines, Mike and Eric at Muscle Motors and Scooter at Quick Fuel Technology.]