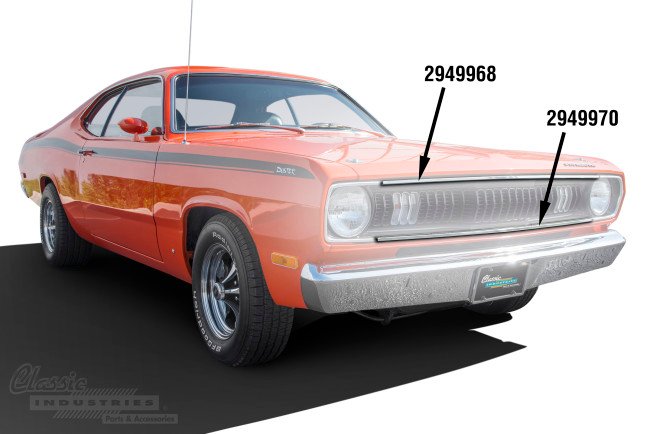 Finding the right parts – or even just replacement parts – for some Mopars can be an almost impossible task. That is why today is the best time to be a Mopar enthusiasts (apart from say, 1976 when all the stuff was just laying around for pennies on the dollar). There's never been a time when re-manufactured parts have been so available (or in demand, for that matter).
All of us at Directly Connected are excited to announce that while we're eagerly anticipating a new (and even unimaginably more dense) catalog of Mopar parts from Huntington Beach, California's Classic Industries, they just announced that they will now stock top quality grille moldings for 1970-72 Plymouth A-Bodies. This means all of you Duster, Twister and Scamp fans can finally get the dental work you've been vying for!
Of course, many of you will recognize Classic Industries as being one of the industry leaders in Camaro, Firebird, Nova, Tri-Five, Impala, and Chevrolet/GMC truck restoration. But, as of five years ago, Classic Industries has delved into Chrysler restoration for A, B, and E-Body models with a vengeance and it shows, offering parts for 1960-76 Dodge and Plymouth models.
Here's the original release:
New Reproduction Grille Moldings for 1970-72 Plymouth A-Body
Classic Industries Provides Mopar Restorers with Front Trim for Valiant, Scamp & Duster Models
Huntington Beach, Calif. (June 10, 2015) – Classic vehicle owners and restorers know that replacing all of a vehicle's damaged or faded exterior trim is key to achieving a polished, show-quality look. That's why Classic Industries has continued to provide quality reproduction exterior trim pieces for all the models it supports. The latest addition to Classic Industries' exterior trim line will appeal to Mopar enthusiasts worldwide: OER® upper and lower outer grille moldings for 1970-72 Plymouth Valiant, Scamp, Duster, and Twister 340 models.
These carefully reproduced moldings from OER® are stamped from aluminum to match original specifications, and are designed to fit original or OER® reproduction grilles, including the popular "Sharktooth" grille found on Duster Twister 340 models. The moldings attach to the upper and lower edges of each vehicle's grille using included mounting hardware. In order to ensure the utmost in accuracy, these parts are certified as Officially Licensed Mopar Restoration Products.
· 2949968 – 1970-72 Plymouth Upper Outer Grille Molding
· 2949970 – 1970-72 Plymouth Lower Outer Grille Molding
Each molding is sold individually. To provide a complete solution for discerning restorers, Classic Industries also offers reproduction grills as well as a full range of emblems and exterior trim pieces for various Mopar A, B, and E-Body models.
Interested parties may view the new moldings and place orders online at www.classicindustries.com or by calling 1-855-35-PARTS (1-855-357-2787).