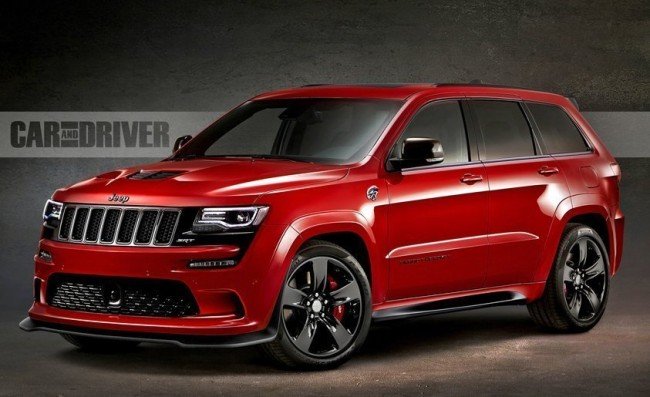 Yesterday, we brought you news of the incredibly (and inconceivably) exclusive 2015 Chrysler 300 SRT. Equipped with the brand's 6.4L Hemi (392ci) producing 485HP and 485 ft. lbs. of torque, the muscle-bound luxury sedan is only available to Middle Eastern and Australian markets for reasons only marketing agencies can understand. Well, if modern muscle from Mopar is all you crave, then we've got an added dollop of good news:
What you're looking at is Jeep's upcoming 2017 Jeep Grand Cherokee Trackhawk. Meant to be street performance equivalent to the off-road performance Trailhawk, Car & Driver is announcing that there will be an optional Hellcat engine. Since the SRT brand was reabsorbed into Dodge, the SRT performance badge is (domestically) relegated to Dodge only (thus, explaining the Chrysler 300 SRT being sold internationally).
Ironically enough, the SRT Jeep Grand Cherokee is currently the bestselling vehicle to ever wear the SRT badge. Because of this, "FCA isn't about to shut down its hot-rod-Jeep money mint, so the hi-po Grand Cherokee will now be known as the Trackhawk," the article states. Although the new Grand Cherokee shares much of its chassis with the Mercedes-Benz M-class, Jeep's engineers are furiously working to bulletproof the Grand Cherokee for the hellacious stress of the Hellcat's 707 horsepower and 650 ft. lbs. of torque.
Car & Driver extrapolates that "engineers could electronically limit torque in lower gears or, less likely, just skip four-wheel drive." We at Directly Connected that is a last resort, as we can only imagine what the Hellcat paired with four-wheel drive could propel the Grand Cherokee to 60 mph in less than four seconds. Yet, that is, as you can see by the model date, two years away.
The base 475hp Trackhawk will come equipped with the naturally aspirated 6.4-liter V-8 – currently found in the Grand Cherokee SRT – and will be available for $65,000. Until we get a little closer to realizing a Hellcat-powered Grand Cherokee Trackhawk, we'll have to be satisfied with 392-powered Trackhawks in mid-2016.