Ask any Mopar fanatic if they have a favorite Mopar and they'll tell you right away. Cody Cole of British Columbia, Canada says, "Personally, while I love all types of Mopars, B-body Dodge Chargers have always had a special place in my heart. Growing up, with my 1969 Dodge Charger that I've owned since the age of six, those big muscular body lines had me hooked from the get-go.
"For the longest time, I can admit I was only into strictly 1968-1970 when it came to the Chargers. It wasn't until about ten years ago that I started to notice the 1971-1974 examples, especially the 1971s. There was just something about the styling and body lines of the 1971 Dodge Charger that I loved. The desire to own one grew more and more with every passing year."
It was the summer of 2015 when the 1971 Dodge Charger bug bit Cody really hard. A friend of his had a beautiful Hemi Orange 1971 Charger Super Bee replica with a 440 4-speed that he offered to him for a screaming deal however he also offered it to another friend of his who beat Cody to buying it.
He says, "I was a bit heartbroken but understood. However, the 1971 Charger bug still had me good and now I had an itch that I had to scratch badly. I instantly started searching for another 1971 Charger. Craigslist, Kijiji, you name it. At that point I didn't have the money for a finished car but had enough to buy a good project. I decided I wanted either a R/T or Super Bee and wouldn't settle for any less."
Cody decided to message a good friend out in Edmonton, Alberta. Knowing he had a very vast collection of Mopars, he figured he might know where he could find a 1971 Charger R/T or Super Bee. He messaged him back a few days later and told him that he had a 1971 GY3 Citron Yella Charger R/T project that he'd sell. That summer, Cody made the trek out to his place and brought the Charger home.
Over the next few years, Cody's obsession for 1971 Chargers continued to grow as he collected parts to restore the R/T. After parting out a 1971 Charger SE and a 1972 Charger SE, his parts collection for 1971-1972 Chargers had become quite substantial to where people started knowing him as "the local 1971 Charger guy."
In October 2020, he added to his fleet of 1971s when he purchased a very rare GY3 Citron Yella 1971 factory U-Code 440 Magnum 4-speed Super Bee project that you probably read about back in October 2021. While he now had two wicked 1971s, they were both projects that needed full restorations.
Cody explains, "That following spring of 2021, I was working out of town when a good friend sent me a Craigslist link to a nice driver blue on blue 1971 Charger R/T for sale local to where I was working. The ad stated "Real R/T. Rebuilt engine. Rebuilt transmission. Rebuilt rearend. Not perfect but good start. No time wasters." The asking price for the car was a great deal and got me really thinking.
Since there was no phone number listed, I sent the seller an email saying "I'm really interested in your car. I have two other 1971s, so I'm seriously interested. Please let me know when I can come and look" and hoped for a reply."
A day passed and he didn't hear back from the seller. Cody kept refreshing the ad for the car and it was still active. Later that evening he refreshed it, and the ad showed it had been removed. He sighed and tried to conclude that it wasn't meant to be. However, he tells us that he is very stubborn and wasn't ready to give up so he sent off another email and said "I'm just touching base on the Charger. I see the ad is gone so I take it that it sold?".
Almost immediately, the seller emailed back and stated that the car had a deposit on it but if Cody wanted, he could look at it the next day. He jumped at the opportunity and scheduled an appointment to see it. When he got to the sellers house the next day, the car was tucked away in his tight garage where you could barely move around it.
He says, "When I was done looking at the car, he asked me what I thought to which I replied, "I like it. I'd love to own it, but it has a deposit so let me know if it falls thru." He stated that if I wanted it, I could have it for XXX amount of dollars (less than asking) and that the other guy only put a $100 deposit down on it and kept delaying committing to the car. He figured the guy was trying to find someone to buy it for a quick flip before he committed to buying it.
He continued to say, "He wanted it to go to me as I wasn't a flipper and genuinely wanted the car. We came to a deal and once again, I added another 1971 Charger to my fleet: making it three total."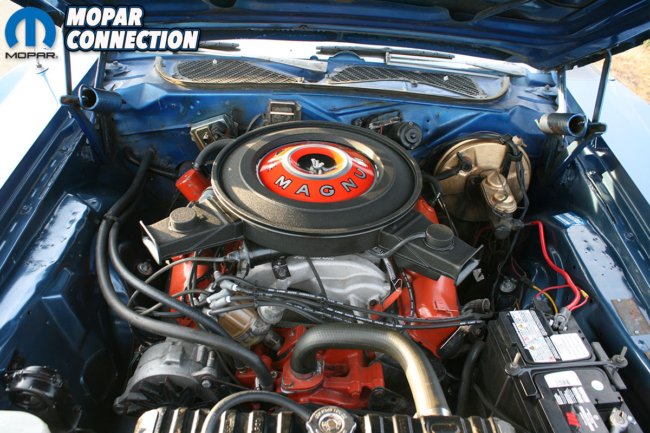 The Charger was indeed a real R/T with a 440 Magnum under the hood. While it wasn't the numbers matching engine, it was a close to correct HP 440 that had been fully rebuilt with Edelbrock aluminum heads, Edelbrock intake manifold, Edelbrock 750cfm carburetor and a Mopar purple camshaft.
Backing the 440 was the original 727 Torqueflite automatic that had been rebuilt at a shop a few years prior by a previous owner and the 8 ¾ rear differential had been upgraded from 3.23 gears to a SureGrip 3.55 gear set. Both of which he eventually had to rebuild as they both let go on him.
From the factory it was painted B5 Blue Metallic with a matching blue bucket seat interior. A black vinyl top and black R/T stripes complimented the blue paint and interior well. It was a relatively low option standard R/T with the only real options selected being the black vinyl top and center console.
"Upon doing research into the car's history, I found out that it had been sold new at Columbia Dodge in New Westminster, British Columbia; the same dealer my Super Bee was sold at. Using a template from an original dealer sticker (thank you again to Rocky Hildebrand), I had brand new replica dealer stickers made for both it and my Super Bee.
"After it was sold new, the history throughout the 1970s and 1980s is a bit of a mystery. Eventually it left BC and ended up in Red Deer, Alberta where my good friend Kori Alexander came across it sitting in a back alley in rougher shape and snapped a picture of it", he shares.
In 1992, it made its way up to the Edmonton, Alberta area where it was slowly restored by a fellow over the next number of years. Based off registration records, he says he assumes it was finished and back on the road around 2005 as that was the next time it was registered. During the restoration, the fellow installed front and rear spoilers, Rallye wheels and dual racing mirrors.
Around 2007, the fellow that restored it passed away and the car went up for auction in his estate. From there, the car was purchased by a fellow named Daryl up in Gibbons, Alberta. Daryl shared, "The guy that passed away was a friend of a friend, so I knew about the car. When I purchased it at the estate, his wife told me that her husband had dragged it home a long time ago as a piece of junk and restored it himself over a number of years."
The Charger would eventually come back to B.C when Daryl sold it to a fellow in Richmond around 2013 or so. This next owner was a bit of a collector and flipper per say and would keep the car for the next five or so years. Around 2017, Cody actually saw this owner driving the car locally and remember it catching his eye right away. In 2019, he'd list it for sale where the next owner Steve would purchase it.
Steve would do quite a bit of work to the car trying to make things more correct along with rebuilding the engine. When Steve owned the car, he switched out the broken grilles for a set of non-correct 1972 hideaway headlights but never installed the motor or wiring to make them work.
Cody decided to put the car back to correct fashion with a set of brand new R/T grilles from Classic Industries. He also installed brand new dual chrome racing mirrors as it had black primered ones on it when he purchased it and switched the staggered 14" Rallye wheels in the front out for 15s".
On the inside, he installed a brand-new dash pad, package tray and A-pillar moldings. While the front seat skins were replaced during the previous restoration, the rest of the interior was original and in fantastic shape for being fifty plus years old.
In closing, Cody says, "Overall, the Charger has become a fantastic driver that I have driven everywhere. It's truly a blast to drive and my family and I have enjoyed every single mile of it! I'd love to give a special shout out to my dad Frank for all of his hard work helping me wrench on it and Ilham at Mastercare Automotive in Surrey, B.C for allowing me to use his shop to work on it."