Chrysler was no stranger to oddball optioning in the early 1970s. Low-production models like the Space Duster and Dart Hang Ten come to mind in the A-body realm, but a feature that's even less widely known is the soft folding sunroof. Maybe "drop-top" isn't really the right phrase since the majority of the roof remains in the upright position but, with the lack of a true convertible option for the Duster and Demon, this is as close as you're going to get.
The 1972 Dodge dealership data book said it "provides some of the open-air feeling of a convertible, but with the safety of a coupe." The top itself is a canvas, manually-operated, fold-back contraption with snap buttons around the perimeter to hold it in place when in the closed position. V3X was the option code for the black version while V3W was for white.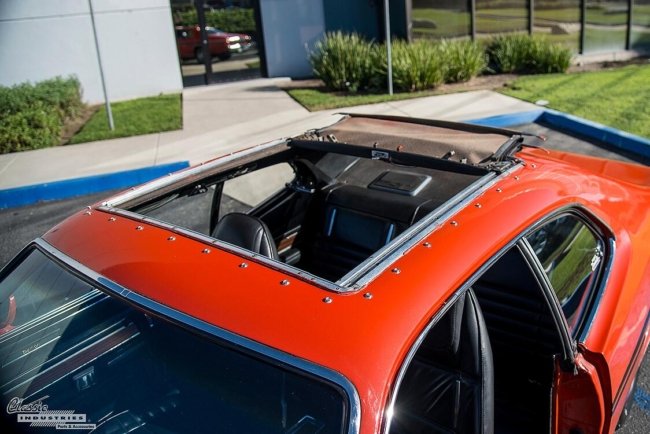 No doubt, a high price tag and the novelty of it didn't entice many to check that box on the order sheet. Production numbers don't seem to be readily-available, but we'd say they're somewhere between a needle in a haystack and a polar bear in a snowstorm.
Mitchell Valentin happened to find one of those "needles" in Idaho and, after bringing it home to California, stopped by the Classic Industries facility to pick up some parts. His particular example is equipped with a 340/727 combination and slathered in high-impact Hemi Orange paint. Between the sunroof, potent small block, and killer color scheme, California cruising probably doesn't get much better than this.