The plan was to leave Friday right after work and return home Monday, and in the process, pick up a 1970 Dodge Coronet 500 that I was getting for free. Yes you read that right. I had been turned on to this car through my friend Matt back in late 2008. He had found it and another 1970 Coronet sitting in a yard in Creston BC, Canada back in summer of 2006 while on a camping trip.
The story went that a guy in Cranbrook BC owned both the cars and when his house burned down, was forced to purge some of his collection for money. A guy by the name of Paul in Creston picked both of the Coronets up, a F8 Green 318 automatic 500 and a FK5 Burnt Orange 318 automatic 440 model. Both were two door hardtops.
Paul is a big classic car collector and loves finding and picking up cars sitting around his area (check out Paul's Kootenay Junk Hauling on Facebook for some of his finds). He has a pretty extensive collection of cars in various states so he took both of the Coronets home and decided to part them out.
I came in contact with Paul through Dodgecharger.com and occasionally discussed these cars with him back in 2007. I really wanted these cars to get saved so when Matt told me he wanted to buy the green 500, I kind of acted as the middleman in the deal between him and Paul.
Unfortunately, Matt's plans fell through to buy it; he just didn't have the money nor the means to get the car. On May 28, 2007, the burnt orange Coronet fell victim to the car crusher. Paul simply needed room in his yard. It was badly smashed up and bent after it crashed into a lake in the '80s. From what I was told, the driver unfortunately drowned in the car so crushing it was probably a good thing.
In December 2008, while having one of my routine conversations with Paul, I mentioned the green Coronet and joked, "So, you ready to give me that Coronet yet?" Paul replied, "Sure."
Paul wanted to cut down on the amount of cars he had sitting around, so he said he'd make me a deal: I'd list some of his cars on Craigslist and other various sites and for each one that sold; he'd cut down the price on the Coronet. Over the next year or so, I listed a dozen or so cars for him and a few ended up selling thus lowering the price on the Coronet down to a grand total of zero!
Now, where to store it? Thankfully, my mom told me I could put the car at her house about five hours north from me. With what I thought was the biggest hurdle solved, I started planning to go get the car. I spent tons of time and went over every aspect needed to go pick up the car.
First, I didn't own a truck or trailer. A good family friend told me I could borrow his 2007 Dodge Ram 3500 dually. Unfortunately, a month before I was scheduled to leave, the truck's insurance expired and needed a steering box and a few other small things fixed before it could get re-insured.
Off to his mechanic the truck went. I was told it would only take two weeks to get it all up to spec and ready to roll. As the days passed by and the trip got closer and closer, I came to the conclusion the truck wouldn't be ready. Sure enough, I was right.
The day to leave came and went and the truck was still being fixed. The mechanic told me it wouldn't take very much longer so I booked the trip for the following month. The day came and guess what; the truck still wasn't finished. Finally at the beginning of July, the truck was done and ready to go. Over the next few weeks, I gathered everything needed to go, including a car trailer.
The Coronet was a good 9 hours east and 750 kilometers (460 miles) away. My original plan was to pick up the truck Thursday, have it all packed, the trailer hooked up and ready to hit the road right after work Friday.
I wanted to leave my house in New Westminster and drive to Osoyoos (about 1/2 way) Friday night, then drive the remainder of the way to Creston on Saturday, load up the car and try to back track as much as possible by Saturday night. Sunday the plan was to head north to my mom's via Kelowna and Kamloops and then unload the car and drive home Monday.
Let's just say, none of that happened. When I went to pick up the truck on Thursday evening, my family friend told me he needed it Friday morning to make a run to the dump so I'd have to pick it up Friday after work. The next day as soon as I got off work, I rushed to his house and picked up the truck. That's when he told me he needed the truck back by Sunday night. Great.
After loading up the truck, I went to hook up the trailer. While hooking up the trailer, we discovered a flat rear inner dually tire on the truck. That and the trailer lights were not working. We plugged the tire and fixed the lights, and finally at 10pm, my buddy Cody and I hit the road.
I drove 3 hours and 280 kilometers to Princeton that night in pouring rain and heavy fog. Due to the delays earlier in the evening, we had to tap out and go to sleep before reaching our original goal of Osoyoos.
When we got to Princeton, we went to sleep in the truck in the old Overwaitea parking lot at about 2am. We woke up at 6:45am to sunshine and drove the remaining 460 kilometers all the way to Creston. We got there about 1pm, met up with Paul and then drove 20 minutes east out to a small town called Yahk to pick up the car.
After maneuvering the truck and trailer down a long and windy path on Paul's property, I finally saw it. Now, I just thought I'd mention, before this trip I had never seen the car in person. Actually, I saw maybe 7 or 8 pictures of it and then a description Paul gave to me. That's it. I wouldn't suggest this to someone spending $30,000 on a car, however, seeing that I was getting it for free, I didn't expect much.
I will say though, the car was better than what I expected. After loading the Coronet and checking out Paul's collection of cars, we left about 3:30pm and drove back to Creston, exhausted. Loading a car in 32 degree (90°F) weather while wearing jeans isn't a smart idea. After a quick break and a "shower" in the sink of the Tim Hortons, we hit the road again.
My goal was to drive 420 kilometers to Kelowna by 10:30pm. I had never driven any of these roads before so it was interesting to say the least. The stretch on the way to Kelowna from Grand Forks was crazy, we saw tons of deer. After a while, we quit counting.
On the way we drove through a town called Beaverdell just as it was getting dark and came upon a giant plume of smoke entering town. Originally, I thought it was a forest fire however it turned out to be a bunch of bikers doing burnouts on the highway in front of the local biker bar! They all seemed to like the Coronet going by based on the thumbs up and heads turning!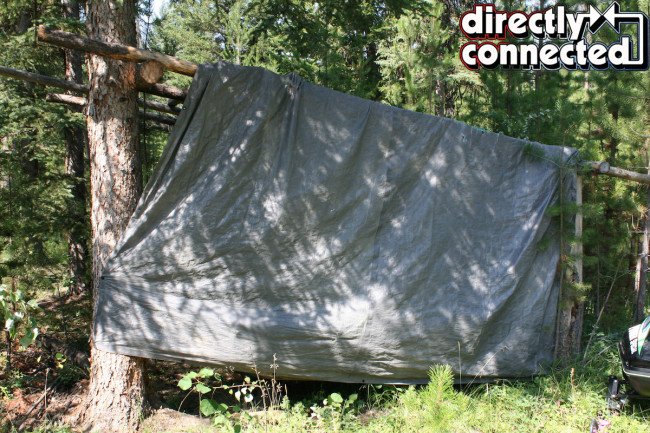 We finally hit Kelowna at 10:25pm and drove around looking for a hotel. Instead of staying at a hotel, we figured we'd save the money and to ensure we were back at home by Sunday night, we decided to make a dash home – another 4 hours and 400 or so kilometers away.
Right outside Kamloops BC, I started getting really tired and wanted to doze off. I made it to Kamloops at 2am before calling it quits for the night and parking at Home Depot to sleep in the truck. We woke up at 6:30am Sunday morning and hit the road. We got home around 9:30am, unloaded the car and hung out for a while before hitting the road for home. We finally got home about 11pm Sunday night.
I did the math and figured that I had driven a grand total of 2,100 kilometers and out of the trip's 48 hours, I drove 30 of them. I got one of my dream cars checked off my list and a bunch of pictures and memories to go along with it. Just over three years have gone by since the trip and I'm happy to say the Coronet is coming along.. I'm searching for parts here and there and piecing it together bit by bit. It's still stored over at mom's.