Dodge recently updated the Challenger around the time the Hellcat was unleashed on an unsuspecting automotive public, so we don't think the full re-design is in the offing next month or anything. However, that doesn't stop would-be automotive designers on the internet from throwing their couple of cents out there as to the vision for the next generation Chally.
The folks over at Carscoops feel their evolution might be right on the money. It moves away from the retro '70 reboot a bit and introduces a modern, nuanced front fascia. The wide lower grill and narrow upper opening look familiar, but the whole frontage doesn't meet the wind like a brick wall. Instead, it seems to bend with it, sweeping back through to the fenders.
This yield to the wind is carried up the sides by a deep "wind-groove" that appears to eliminate one of the nagging aspects of the Challenger design: that high belt-line that makes the car appear slab-sided in certain photos,  a bit like it's wearing high-waisted Mom jeans. The groove visually lowers the car and provides an underline to the high-stalk mirrors. It works.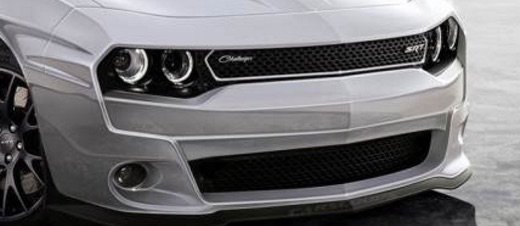 Window moldings have lost their over-contrasted wide black presence, giving in to a more handsome, finished side glass treatment. The rear haunches kick up and out like a – dare we say it – Herlitz-drawn 1970 'Cuda. Things come to a fine point at the rear with a tiny spoiler that gets the visual job done nicely by looking blended in rather than bolted on.
The hood has its familiar design roots on display, having the markers of the traditional twin power bulges. Yet these seem to sweep back towards the driver, yielding to the wind's direction once again. It makes you wonder what's hiding beneath the twin outlets. 1,000 supercharged horses, perhaps? AWD? We'll have to wait and see.
As a design exercise it has many strong points. In about 20 months, we'll see how much it has in common with initial photos of the real thing. Stay tuned.