"Barn Finds" seem to be a dime a dozen these days, but rare is the find that actually makes its way back on the road. Most migrate from barn to lean-to to shed to collector's warehouse before finally getting the care they deserve. Lou Gianacopoulos, a 24-year-old gearhead, decided to buck that trend when he drug this 1970 Charger 440 Six-Pack, four-speed out of hibernation in the fall of 2017.
Let's start by getting the uncomfortable part out of the way right now: Lou is a self-proclaimed "Buick guy." "Now, before you yell at me for being a Buick guy, I love and appreciate all cars. My bucket list is long and diverse, and a '68-'70 Charger is on that list," Lou says. His grandfather opened a gas station in 1953 and rebuilt Buick transmissions, so the elder statesmen of the General Motors fleet is in his veins. You can't fault him for that, especially after seeing what he did with this Charger.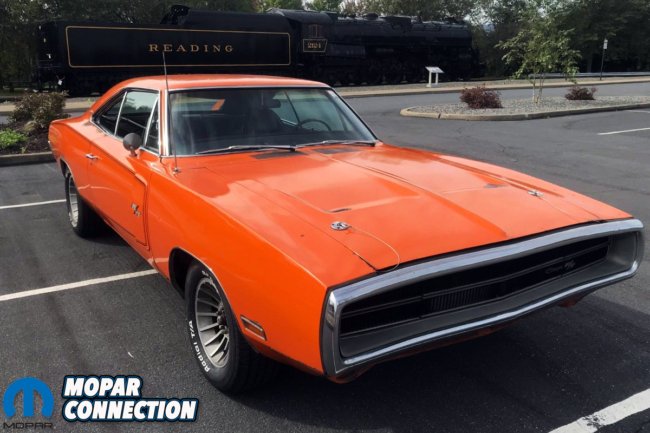 As the story usually goes, he happened upon the right place at the right time, explaining, "I recently moved into a new city for my job, and my neighbor has a bunch of Mopars sitting outside. Long story short, the sister-in-law inherited this estate a few months ago, and the treasures within." After some negotiation, Lou was able to purchase the car from the estate and put it on the road to recovery.
The fender tag rusted away years ago but, luckily, a mint broadcast sheet was found under the rear seat. Aside from the aforementioned 440 Six Pack (code E87) and A833 four-speed (D21), the Charger also came loaded with a 4.10 Sure-Grip Dana rear end (D58), charcoal and black vinyl bucket seats (C6XA), a console (C16), a woodgrain steering wheel (S81), front disc brakes (B41), performance hood paint (V21), tinted windows (G11), and a Tic-Toc-Tach (N85).
With less than 39,000 miles on the odometer, the Charger suffered more from lack of use than it did mileage and abuse. Even before he bought it, Lou knew what he planned to do and summed it up by saying the two main goals were to, "get it road worthy and get it in front of those who are passionate about these cars."
After rebuilding the locked-up original 440, Lou took care of the daily driver necessities with a new fuel pump, gas tank, sending unit, fuel lines, battery, water pump, brakes, and brake lines. The interior is mostly original with only the carpet needing replacement. Of course, Lou wasn't short on help for any of that as his dad, mother, uncle, and roommate, Sam, all pitched in on late nights in the garage.
Less than 700 Six-Pack Chargers were produced in 1970 and this one is still a beauty with most of the original EK2 Go Mango paint in tact. Some elbow grease and a buffing wheel brought the 48-year-old enamel to a perfectly presentable shine. As expected, Lou thinks it will eventually need repair to the lower quarters, rockers, tail light panel, rear window channel, hood, and rear valence. But, for now, it's just fine for highway (and parking lot) duty.
By July of 2018, the Charger was back the life under the power of its original drivetrain and just in time for the Carlisle Chrysler Nationals. There, it took home the 2nd place trophy in the barn finds class. Lou did list the car on eBay a few months later but, after it didn't meet reserve, he's decided to keep enjoying it himself. He goes on to say, "It will stay in my possession for the near future. I plan on doing some more things over the winter like restitching the headliner and sourcing correct wheels for it. It's a blast to drive around in."