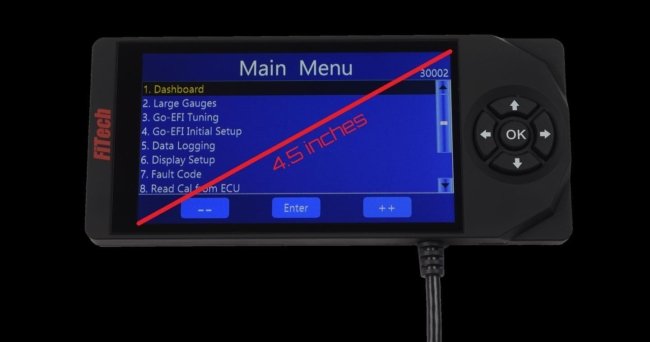 As aftermarket electronic fuel injection (EFI) systems become more finely tuned and operator friendly, competition between manufacturers has led to some pretty cool features and innovations. While the first iterations of many bolt-on EFI products required a laptop for tuning, the technology has involved enough that some are now including really neat user interfaces to maximize both the driving and tuning experience.
FiTech's new 4.5" color touch screen handheld tuner (P/N 62013) is a perfect example. The big screen gives users easy-to-navigate and easy-to-read access to parameters such as initial setup, tuning, data logging, display setup, fault codes, and calibration tables. Additionally, a dashboard and large live sweeping gauges can keep tabs on engine metrics such as air/fuel ratio, RPM, coolant temperature, manifold absolute pressure, throttle position, and more. Depending on what inputs you have hooked in, this fancy little display can just about replace most of your standard set of dash gauges.
A directional pad is also provided for those who prefer to press a button rather than touch a screen. Big, soft buttons allow for confident navigation. All of it is wrapped inside FiTech's soft touch housing that is finger print resistant and allows for a firm, secure grip. A data cable (P/N 62014) and USB cable (P/N 62015) are necessary to make the appropriate connections to the ECU. For more information, visit FiTech or give their experts a call at (951) 340-2624.