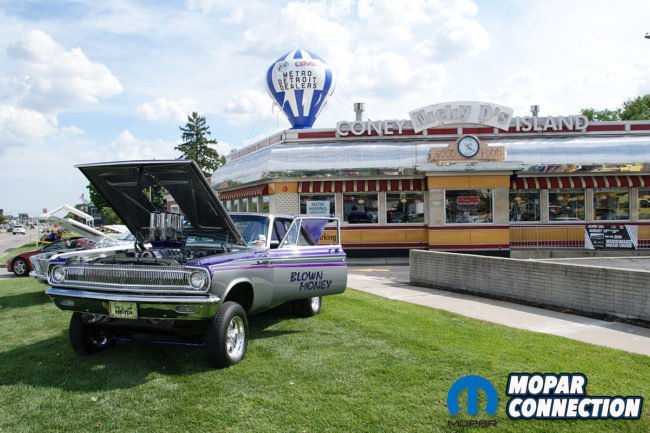 Woodward is steeped in myths and legends. I was fortunate enough a few years ago to get the opportunity to go to Woodward and visit my friends out there. And that one time was all I needed, I haven't missed one since! This is was my third Woodward Dream Cruise. And it was a blast!
The epicenter of the Cruise is just about 13 Mile Road and Woodward Ave. Dodge has rented out the large parking lot there and made it their go to spot. Across from that is a large park for cars, and attached to that is another GM centered area. So some pretty heavy hitters are all in close proximity.
Unfortunately, the hospital that owns the parking lot that Dodge has rented is bulldozing the entire corner to expand the hospital. So who knows what next year will bring, but for this year I camped out basically for two days with my camera, shooting cool cars going up and down Woodward.
I was actually sitting on a little raised area on the Dodge corner of 13 and Woodward, I just sat there for hours. Watching the cars go by. You never knew what was coming really. One minute you would have a '63 Valiant convertible, or a '71 Hemi 'Cuda. So you always had to watch what was going on. If you missed a car, and I missed a lot, you didn't know if they would do another loop, so that one time might be the only time you'll see an individual car.
There was cars I saw on Thursday that I never saw again. Saturday is the actual day of the cruise, but cars start coming out of the woodwork if the weather is nice on Monday or Tuesday. By Thursday and Friday almost any time of day you go, there will be a ton of cars for you to see.
1,000,000 people descend upon the 17 miles of Woodward for the cruise, they say it is the largest car show in the world. If you go, make sure you have a full tank of gas, can deal with a bit of CO2 poisoning and are ready to sit in traffic…for hours. But it is all in the fun that is Woodward Dream Cruise!