For all the horsepower headers are worth, they certainly tack on their fair share of headaches as well. When it comes to the tubular exhaust manifolds, you can almost be sure to lose clearance on a quartet of "s" words: steering, starter, suspension, and spark plug wire.
Of the four, a header's heat is probably most hurtful to plug wires which have a direct effect on the health of an engine. Melting the slightest weak spot in one cable can leak out the lightning that's supposed to pump that cylinder's piston up and down. And it's not uncommon for tube temperatures to surpass 500F, melting away any nearby silicone or EPDM rubber insulation.
Fortunately, options are aplenty, ranging from something as complex as header wrap to something as simple as rerouting cables for more clearance. Perfecting wire paths is generally our go-to, but isn't always possible depending on ignition setup.
Our 1972 Plymouth Scamp, for example, has a totally custom wasted spark ignition on its 408 small block. Two remote coils are mounted forward of the engine, basically the opposite orientation of a standard distributor-driven setup. All plug wires come from the front rather than the reverse as one would usually see on a small block.
In this arrangement, the driver's side wires cross rather close to the headers, especially on plugs five and seven. After learning our lesson by losing a cylinder on more than one occasion, we decided to give the conductors a fighting chance with Design Engineering Inc.'s (DEI) Protect-A-Sleeve jacketing.
Through the use of their Titanium LR technology, this simple sleeving is able to withstand direct temperatures up to 1,800F and radiant heat of up to 2,500F. Since only a few of our custom spark plug wires needed covering, we picked up a pack of Protect-A-Sleeve (P/N 010475) which contained four feet of jacketing along with ten shrink tubes. A roomy ½" inner diameter not only fit our 8mm (roughly 5/16") spark plug wires with ease, but could also be used to protect other cables or hoses.
Installation started by slipping the boot off a spark plug end. One heat shrink tube slid on, followed by a section of sleeve precut to proper length. That was tailed by a second heat shrink tube and, finally, the original boot.
Once situated with both the boot and one end of the Protect-A-Sleeve in a shrink tube, a heat gun was used to cinch it together. In similar fashion, the opposite end was affixed with its shrink tube drawing down on the sleeve and the 8mm cable.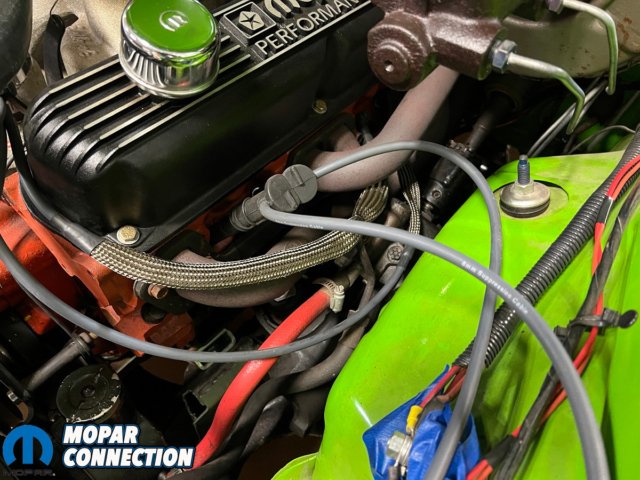 The end result was an unequivocally clean install with no loose braiding, no frayed jacketing, and no hokey zip-ties. While the 1800F direct heat rating is sure to please over time, we were most impressed with those shrink tubes and the professional finish they facilitated.
If nothing else, DEI's Protect-A-Sleeve is going to help the hood hinges stay healthy; we're not going to be popping it up to look out for limp wires anymore. The sleeve is here to stay.