Not every muscle car owner grew up wanting a particular car that they couldn't obtain when they were young. Not every owner had a particular car in mind to restore someday. Only a very few hung onto a car they owned in their youth that they now want to restore. Some just have a general idea of what they'd like to have when they start looking for a car to restore.
Michael Renner is a great example of the latter. When he was ready to drive classic American Muscle he just knew that he wanted an A or B-body Mopar and, thanks to internet shopping sites, he was able to search the country for something that would catch his attention.
Above: A couple of subtle and not-so-subtle changes were the use of a '71 grille and '71 flush-mounted marker lights and a pair of factory hood scoops.
Above left: The interior was restored to its original factory look. Above right: Exceptions to the factory interior included Vintage Air A/C and an Autometer gauge cluster.
He never intended to get something to restore. He instead wanted one that was already done and ready to go. Buying a completed car meant that he could go cruising in it right away. He eventually found this Plymouth Scamp at a shop in Maryland that told him that the car was completely done by some high school kids through a shop class in Pennsylvania.
Being sold on the quality of the work, Michael bought it sight unseen. Unfortunately, when the Scamp was delivered, it didn't shift into third gear, the horn and wipers didn't work and it leaked water into the interior and the trunk whenever he washed it.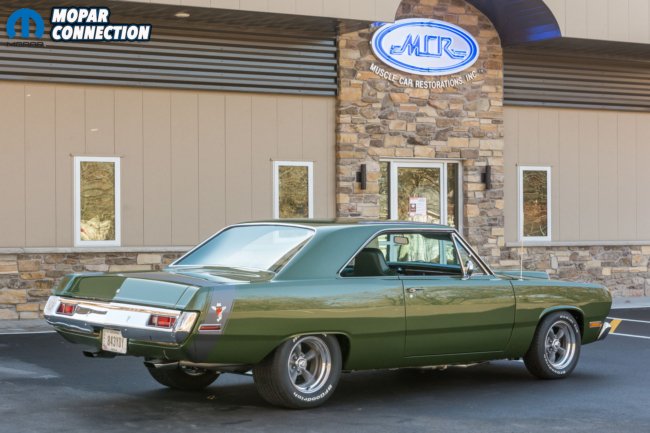 Above: The paint is Green Metallic which is a 1970-72 A-body color. The wheels are American Racing Torque Thrust 2 and give Michael's Scamp a period-correct look.
Above left: A quick glance does not reveal that this 383 is actually a 496 stroker that makes 600 pounds of torque and 525 HP. Note the Hydroboost behind the Wilwood master cylinder that provides power brakes so Michael can shut this thing down as fast as he can get it moving. Above right: Hidden under the air cleaner is a FAST EFI throttle body. This self-learning system solves all the big engine drivability issues and gives Michael modern turnkey reliability.
Michael needed a shop to help him get his Scamp in order and spent a year looking at different shops around the country finally settling on MCR after about a year of searching. What MCR found was considerably different than the bill of goods he was sold. In the end, his Scamp required extensive sheet metal repairs including replacement of all four fenders, a trunk floor, and rear frame rails.
This did present an opportunity for Michael though. Since his Scamp was apart anyway, he was able to add some upgrades to it that wouldn't have been possible otherwise. Among other items, an AlterKtion front suspension and a Street Lynx rear suspension were added and they along with a set of Wilwood brakes facilitated a 496ci stroker that produces 600-pounds of torque. Michael may have gotten a rotten deal in the beginning but it did lead to a lot more car than he first bargained for. Not sure that he would have it any other way now.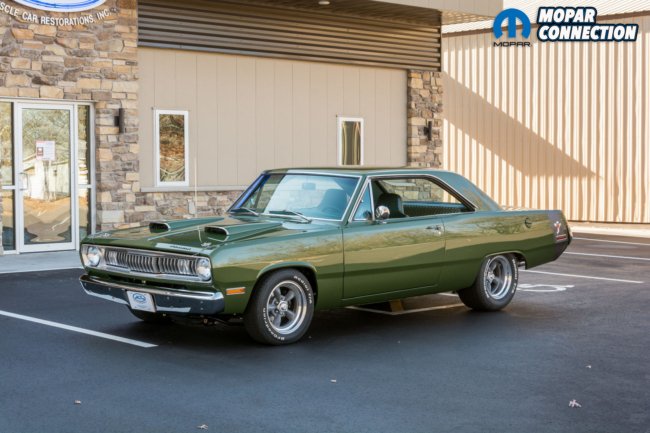 Above: The ride stance is set by a Street Lynx rear suspension and an AlterKtion coilover set up in the front. Wilwood brakes all around to keep everything under control.
Above left: Once back from being chemically stripped, it was abundantly clear that the car was not "completely done" as Michael was promised. Among other parts, the rear of the Scamp needed frame rails, a trunk floor, and both rear quarters. Note the braces at the rear of the car. They are there to properly locate the tail panel when it's time to reinstall it. Above center: Tossing the torsion bar suspension not only brings the front-end geometry and handling into the 21st century, it also provides a lot more room for headers and exhaust. Above right: The Street Lynx rear suspension dumps the factory leaf springs for an adjustable Coilover 4-link that not only improves handling, it also helps to keep the 295/50R15 BF Goodrich tires stuck to the pavement. The 8 ¾-inch rear turns 3.55 gears.