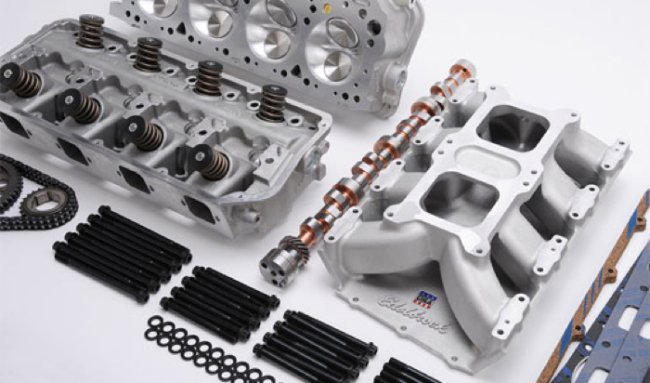 With the convenience of being able to quickly search, locate and order the performance parts needful to finish your project car, comes the added threat of some dirtbag stealing access to your sensitive financial data. Credit card numbers and bank accounts are regularly and routinely hacked, totally literally billions of stolen dollars annually.
Thankfully, Edelbrock Group recently announced the partnership with Midway Plus to help handle all of its B2B online transactions. Not only will paying for your new parts and pieces be much easier, but it'll also be safer and much more secure. This newfound confidence has been what was missing for many would-be customers.
So now you can easily and confidently pick up that new AVS2 carburetor, FAST electronic fuel injection, Russell fuel line or Edelbrock Victor Jr. intake manifold you've been looking at – whether from your desktop computer or even your smartphone from inside of your home garage! It's that easy.
Here's the original press release:
Edelbrock Group, a leading manufacturer and distributor of performance automotive parts, today announced that it has contracted Midway Plus to handle all its B2B online transactions. Midway Plus is a leading provider of e-commerce solutions for the automotive aftermarket industry.
The new B2B online platform will allow Edelbrock Group dealer customers to place orders, check prices, view inventory, access sales data, and track orders online. The platform is scheduled to launch in Q1 2024.
"We are very excited to be working with Midway Plus on our new B2B portal for our dealers," said Edelbrock Group Vice President of Sales and Marketing Mark Campbell. "The software Midway Plus developed will make transactions for our dealers so easy — and they can do it 24/7/365. Our goal is to enhance our customer experience, and this is a great step forward to help our customers conduct business when it is convenient for them."
Midway Plus is a comprehensive e-commerce/SAAS platform that offers a wide range of features and functionality for businesses of all sizes. The platform is easy to use and integrates seamlessly with existing ERP and CRM systems.
"We are honored to be selected by Edelbrock Group to handle their B2B online transactions," said Midway Plus CEO Brian Lounsberry. "Edelbrock Group is a leading brand in the automotive aftermarket, and we are committed to providing their customers with the best possible e-commerce experience."