Coming off of the previous weekend's wild and rowdy Holley MoParty, the Middle South was treated to a slightly more easy-going event, the 31st annual All Mopar Show hosted by the Music City Mopar Club. Featuring a lot less flash and a little more casual setting, the All Mopar Show returned to the Wilson County Fairgrounds in Lebanon, TN, where an impressive 136 brightly hued musclecars rolled into the rolling grassy hills to celebrate this year's Rapid Transit-theme of "That 70's Mopar Show."
In recognition of the 1970 model line, the Music City Mopar Club made Plymouth's Rapid Transit lineup a center attraction, filling the entire lineup with real-life examples of each chassis: a true R4 Red Hemi-powered 'Cuda, a loaded Sport Fury, a B5 Blue Duster and a super-cool '70 GTX all lined up beneath the Rapid Transit banner. And if that wasn't enough, under the shade of the nearby pavilion sat a lineup of seven gorgeous factory-restored E-bodies, including a pair of true AAR 'Cudas.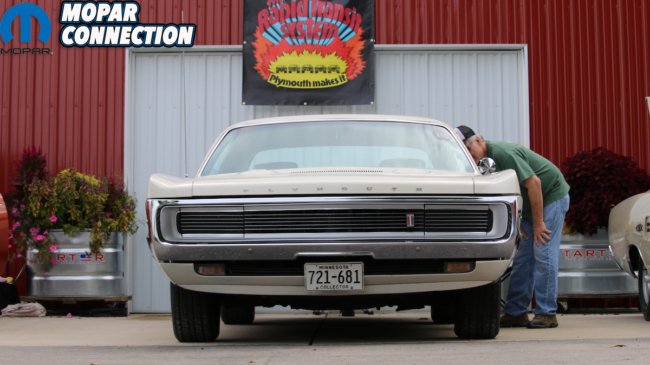 Before Saturday's main event, Friday afternoon featured the 9th annual "Kruzin' at the Cruise-In" wherein participants were fed an early dinner before sliding behind the wheels of their Mopars and cruising in procession to the Snow White Drive-In for a rootbeer float or banana split and some socializing. Snow White has been around for half a century and still has authentic "car hop" service (although without the roller skates and pillbox hats).
Of course, the main draw is Saturday. Vendors came early to fill the swap meet field, including one individual who came towing a Uhaul trailer chocked full of go-fast parts and the complete factory B-body suspension for a '69 Plymouth Road Runner after having just made the swap to a complete RMS coil-over conversion. Everything was priced to sell, as the sellers vowed to return the trailer to Uhaul before driving back home. [We narrowly purchased a Moroso oil pan we didn't really need just because the price was so good. –Ed.]
Mopar Connection Magazine's own Tech Editor, Mike Wilkins is the Music City Mopar Club's Vice President, and presided over the car judging. He explained, "The club was established in 1990 by a small group of Mopar enthusiasts located in the Middle Tennessee area who dedicated to the restoration, preservation, and promotion of [Chrysler products]. For over 29 years the club has shared information, experiences and vehicles via monthly meetings, annual car shows and special events."
Thanks to Mike's efforts and experience in judging the Original class at the Mopar Nats for over 20 years, the annual All Mopar Show is quickly becoming the nation's premier event to have your Original and OE class restorations judged by some of the most knowledgeable Mopar judges in the hobby. Judging lasts from 9am to 4pm, as it is such an arduous process; but when it's all said and done, participants are able to receive pointers on how to get their car a perfect score in future events. It's a huge resource to restorers.
While much larger than a regional car show, the Music City Mopar Club's All Mopar Show retains a lot of its small town feel. Again, hundreds of cars came from across the East Coast, the Gulf and Southern States; as well as notable media outlets (obviously Mopar Connection Magazine) and internet celebrities. Mopar Collector's Guide has regularly attended, selling its wares and subscriptions; as well as YouTube stars "Uncle Tony" DeFeo, Dylan McCool and various cast members from RTM Production's "Detroit Muscle" cable show.
This year couldn't have been better, with beautiful clear skies, temperate mid-70 degree temperatures and a crowd of energetic Mopar enthusiasts happy to get out of the house after months of cancelled events, cruises and shows. We've never missed a year of the All Mopar Show and neither should you. While Mopar Connection's Comeback 'Cuda was present, we hope to have our '69 Dodge Charger project car "Brazen" at next year's event as well as our massive display tent – so mark the last weekend of September 2021 and we'll see you then!