If you've been following us, you probably know that our pro-touring 1970 Dodge Super Bee is in the process of getting a QA1 coil over suspension upgrade. As we are nearing the end of the suspension installation, our old exhaust needed to be changed.
We had some shorty headers and a couple sets of SRT-8 manifolds to try and nothing was fitting. Although the QA1 suspension creates better clearance for exhaust, the 392 Hemi just gave us some issues finding any universal fit exhaust to fit. It seemed that we would need a header that was built to fit our exact application.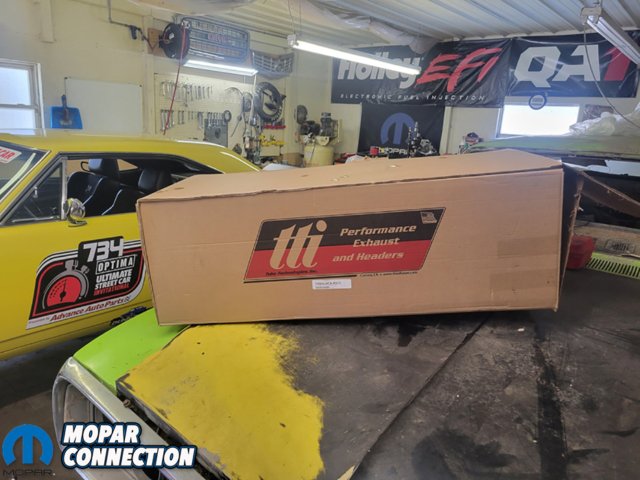 We decided to reached out to our friends at Mancini Racing and see what options they had for our QA1 suspension in a 392 Hemi swapped B-body. There are a couple different options, but the best option that has been proven to fit with our exact setup was TTI Exhaust headers. 
We ordered a set of TTI ceramic coated headers with 2" primaries going to a 3 1/2" collector. These are specific for a Gen III Hemi with driver side starter and a coil-over suspension system such as Magnumforce, QA1 and Reilly Motorsports Suspension.  
We opted for the ceramic coated finish, but you can also order these headers in bare steel or a polished finish. Along with the multiple finish options, TTI also offers Gen III Hemi swap B-body headers for an array of combinations including passenger side starter, multiple transmissions and other suspension systems.  
We will admit, these hurt the pocket book a little bit, but when we opened the box, we saw first hand why these headers are not $300. Everything from the welds, the coating, flanges and the ports were of top quality. They were even outfitted with O2 bungs to make installation very simple.
TTI sends you everything that you need to install the headers. They include new bolts, exhaust gaskets, collectors and collector gaskets. With everything open, we got to work bolting them in. The new QA1 suspension opened up a lot of room in the engine bay and we were able to slide the headers in with the suspension and motor mounted in the car. 
We wish we had more to write about the installation process, but there is not much to report. The headers fit exactly like they were intended to fit. The headers cleared everything they were supposed to. They were in within 30 minutes and did not require a hammer for fitment like many of our other headers have in the past. 
The TTI headers look so good it is a shame you will never get to see them. It was a relief to conquer that hurdle. Mancini Racing was very helpful with giving us different options and sorting out what we needed. As always, it was a quick ship and we had our headers on our door stop within a week. Give Mancini Racing a call today for all of your Mopar part needs.