If there is one thing we've learned over the past few years, it's that David Brennan of New York absolutely loves everything to do with 1971 Plymouth B-Bodies, having owned a couple of 1971 Plymouth Road Runners that have graced our pages as well as a beautiful Hemi GTX.
He explains, "I bought my first Mopar when I was 18 years old. It was a 1972 Plymouth Satellite Sebring Plus in Petty Blue. There is just something about the round looped front bumper, widened fenders and quarter panels that get me, along with the Hi-Impact colors and cool stripes. They have such an aggressive look to them. Don't get me wrong, I love the 1968-1970s but the 1971-1972 fuselage styling just has that more round, wider stance that screams Mopar muscle."
Recently, David added yet another drop-dead gorgeous 1971 Road Runner to his collection. This one in particular however is quite a bit different than the rest.
David tells us, "A couple of years ago, I came across this beautiful 1971 Road Runner being advertised for sale by Legendary Motorcar Co. in Ontario. The rare B2 Glacial Blue paint over the classy white interior was breathtaking. It was a rotisserie restored, described as near perfect, numbers matching 340 Pistol Grip 4-speed car with all of the documentation including the fender tag and two broadcast sheets. I wanted it bad but I had never imported a car before and figured the process would be a headache being as I was in New York."
"I was a bit hesitant but I made an offer on the car. We negotiated a bit and were pretty close to making a deal. Long story short, I ended up deciding to pass on the car because my current A12 Super Bee popped up for sale that I decided to jump on," he continues to say.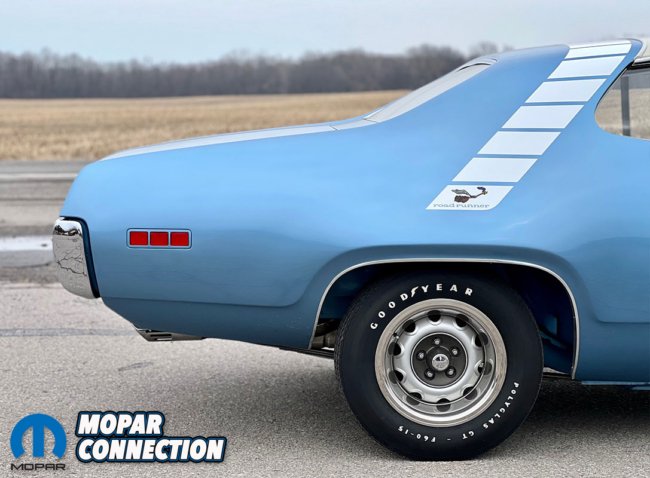 A couple of months later, a Facebook friend posted pictures and video of the Road Runner being unloaded off of a transport truck. His friend had purchased the car from LMC the day David had passed on it. "As soon as I saw it coming off the truck, I was instantly full of regret. It was such an awesome example of a '71 Road Runner," he shares.
David spoke to the new owner a few times about it, watched for photos of it and constantly drooled over it. A little while later, that fellow ended up selling the car to another friend of David's. The new owner immediately decided to send it out to Dave Dudek in Michigan for a Hellcat crate engine swap. David says, "As if the car wasn't cool enough! After owning a few Hellcats, I couldn't even imagine what that would be like to have that power plant in a classic Mopar. I told my friend if he ever sold it to give me first shot."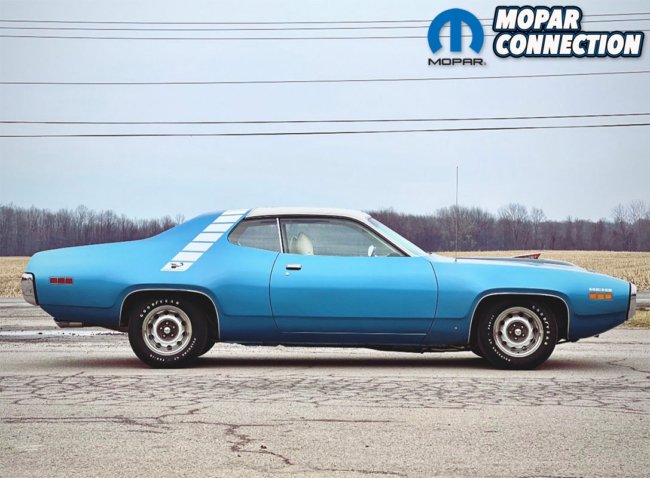 A couple of months ago, the Hellcat engine swap was completed and back in his friend's possession. He called David up and hinted about selling it to start another Hellcat swap project so he was giving him first shot at purchasing it before it went to a big auction. David shares, "I couldn't pass it up this time around! The car just arrived to me recently and I've gotten to put maybe 50 or so miles on it. All I can say is wow! It lives up to its name; HellRunner! The car absolutely blows my mind!"
David tells us that prior to the Hellcat swap, the car underwent a significant OE nut and bolt restoration. The original numbers matching 340 has stayed with the car and is sitting on a stand for safe keeping. The new Hellcat crate engine installed by Dave Dudek has been slightly modified and is making a jaw-dropping 840 horsepower! The original numbers matching 4-speed transmission is backing the Hellcat engine.
The car retains all its original restored suspension, rear differential, driveshaft and the likewise. The Hellcat swap is just beautifully done without any modifications made to the car itself so one could return it back to its 340 powered state down the road if wanted. The Road Runner is sitting on 15×7 Rallye wheels wrapped in Goodyear Polyglas tires.
David says, "The car is documented by Galen Govier as a 1 of 1 in this color combination and options and was built for Canadian sale originally. The N96 Air Grabber hood was added. It has working air conditioning and the original radio and 8- Track were restored to function with AM/FM/Bluetooth while looking original. The factory tachometer and gauge cluster works perfectly with the new engine. It's a very impressive monster of a machine and I have to say, it will not be easy going back to a carbureted classic Mopar again after driving this!"
If you'd like to check out more pictures and videos of this Road Runner along with other Mopars in his collection, feel free to check out his new Instagram page.