As long as you aren't talking about fuel mileage, the old adage of "there's no replacement for displacement" is a pretty solid foundation upon which to build an engine. John Ginnitti's 540 cubic inch stroker is a good example and has the dyno sheet to prove it.
At 818 horsepower, this behemoth made good use of several Hughes Engines components when it came down to dyno day. Pushing the limits on what we might define as "street car," the all-aluminum work of art will have no trouble moving a big B-body down the road: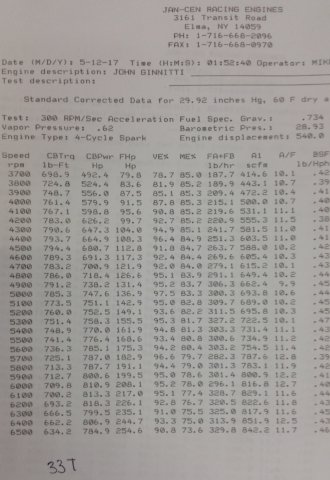 I did the entire design and build and the engine was dyno tested and tuned at Jan-Cen Racing Engines in Elma, N.Y. Two time Pro Mod World Champ, Mike Janis was the throttle man for this session while I did the tune up. At the end of the day we made 818 HP @ 6200 RPM and 794 LB/Ft  @ 4500 RPM.
This was with a flat tappet cam of my design and this engine runs on 93 octane pump gas. As you can see from the dyno sheet the torque and power band are a mile wide. This motor is going into my 1970 Super Bee street car (4000 lbs).
Indy Maxx Block machined by Hughes Engines 4.5" bore. I detailed the block and made some oiling system modifications for supply and drain back.
Edelbrock Victor 440 heads CNC ported by Hughes Engines. I opened the intake ports to Max Wedge size and did some fill in and finish work on the intake ports.
Edelbrock Super Victor 440 intake. I modified and ported this manifold extensively and paid special attention to the interior surface finishes.
Holley 1150 Dominator. I made booster and throttle blade and shaft mods to this carb. During dyno work I did all the calibrations with air bleeds, never cracked open the float bowls.
Hughes Engines rocker arms and hold down kit. 1.7 intake and 1.6 exhaust.
Race Tech flat top pistons of my design. These worked out to 12.5:1 compression with the 77cc chambers.