It was 1991 and Kori Alexander was cruising around Alberta in a 1970 Plymouth Duster 340. While out cruising one day, he found himself driving through a local trailer park. "I was making my way through the trailer park when an old Dodge pick up caught my eye," says Kori. He stopped to investigate and quickly realized the truck was actually a 1978 Lil' Red Express.
In 1978, Dodge released the Lil' Red Express truck based off their D-150 pick up. These trucks were very unique for their time and not only had a lot of show, but a lot of go as well. With their special high-performance 360-4 barrel engine under the hood producing 225 horsepower and backed by a high-performance 727 Loadflight automatic transmission along with 3:55 rear gears, these trucks quickly became well known for their performance capabilities thanks to Dodge finding a loop hole with trucks not requiring the strict emissions that their cars did.
In fact, the 1978 Lil' Red Express was crowned the Fastest American Made Vehicle to go from 0 to 100 MPH as tested by Car and Driver Magazine back in the day as well as crowned The Quickest Production Vehicle in 1978 with a top speed of 118.8 MPH as tested by Motor Trend Magazine. Hot Rod Magazine put one on the cover of the June 1978 issue when they road tested one. These were the times of "Truckin" and Vans. These trucks were truly a factory built hot rod that you could go into a dealer and buy without any restrictions. That being said, because of such; they were expensive compared to other regular trucks.
The Lil' Red Express trucks were truly a special package with their Medium Canyon Red paint, dual chrome exhaust stacks, staggered chrome five-slot wheels, wide tires, wood grain accents and vibrant gold decals. Under the hood, the 360 was dressed up with chrome valve covers and a chrome dual snorkel with long vacuum hose like duct work that fed fresh air into the 360 from the radiator support. The engines were basically modified police units fitted with a 340 camshaft and valve springs along with a bunch of premium police-spec parts. A big Thermoquad four-barrel carburetor fed fuel to the small block.
On the inside, you could get either a black or red interior with the choice of the standard bench seat or optional buckets with a fold down arm rest. Everything was topped off with a Tuff steering wheel. The trucks turned out to be a hit with Dodge producing 2,188 for 1978 and 5,118 in 1979.
Kori recalls, "I knocked on the door to inquire if it could be bought and much to my surprise, the owner said it could be. After some negotiation, we agreed on $500". Up to this point, the truck had a rough life and needed some love. The red paint was badly faded, the front fenders were dented, the carpet was missing and the legendary exhaust stacks were missing. Besides that, the truck was correct and complete.
"It had a set of those cheap plastic rear window louvers glued onto it. It was brutal, you couldn't see out of the back window," Kori laughs. The next day, Kori came back to pick the truck up and bring it home. Upon picking up the truck, he quickly noticed the rear tire was flat and the sidewall of the tire was destroyed. It turns out the seller had taken the truck out for a drive one last time, got a flat tire and ended up driving the truck back home with the flat tire; thus destroying the tire. As of such, $50 for a new tire was deducted from the purchase price, bringing it down to $450.
Shortly after buying the truck, a woman approached Kori wanting to buy the truck off of him. She had explained that she had rolled her '79 Lil' Red and totaled it. "I explained to her that I didn't want to sell the truck. After talking with her, it turned out that she had a lot of parts off of her wrecked truck. I ended up buying a ton of parts off her, including a pair of exhaust stacks. One of them was bent at a 90 degree angle from the accident but my dad straightened it out and you couldn't tell."
Being as Kori's truck has a red bench seat interior, it happens to be a little more rare as most Lil' Reds came equipped with a black bucket seat interior. "I was really surprised to see that my truck was even equipped from the factory with an AM/FM CB radio! Another unique feature is the ARA aftermarket A/C system installed and dated 1978. It had to have been added when the truck was new", says Kori. When he first purchased the truck, he daily drove it for about four years; even in the harsh Alberta winters. He shares, "I always thought the exhaust stacks were cool in the winter. They looked like giant steamers going down the road."
After daily driving the truck for a few years, he decided to retire it from year-round daily driver duties. Well, as such is the case with a lot of things, time flies and the Lil' Red ended up parked for about fifteen years. "I eventually decided to bring it out of long term hibernation when I noticed the 'barn find' ratty muscle car and patina pick-up truck craze was heating up," he shares.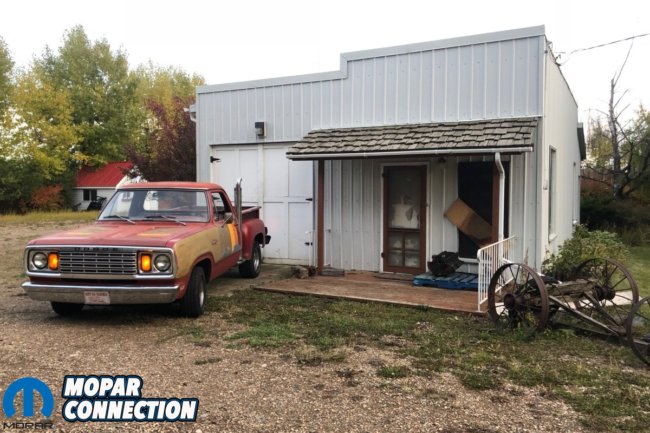 Over the years, the cheap red lacquer re-paint had started to peel in places, revealing sections of Brown, Orange, Yellow and Gold paint underneath. One winter, Kori had the truck up on his hoist and with the angle and lighting, he could make out lines of stripes. He decided since he was bored, he would trace them out with a china marker (grease pencil). One thing led to another and the sander quickly came out. Kori says, "I had to use coarse grit sandpaper as the old thick red lacquer paint quickly plugged up the sandpaper. It took a whole ton of sandpaper to carefully remove that old top coat; revealing a very 1980's custom paint job underneath."
After doing some research, Kori learned that the truck had been involved in a right front accident back around 1983 and had received the custom paint job at that time while it was being fixed down in Calgary. Unfortunately, Kori tells us that any history prior to this is unknown but he remains hopeful that maybe someone will remember seeing this unique truck back then as back in the day photos would be awesome!
Since bringing it out of hibernation, Kori no longer uses the truck as a year-round daily driver. Instead, he has a second generation Dodge Ram for that. He tells us, "I only drive the truck in the summer now but I drive it a lot. I put around 5,000 kilometers a summer on it. It gets a consistent 18 MPG when cruising at 100 kilometers an hour and obviously gets worse the faster you go." Since Kori has quite the collection of Mopars (including a gorgeous 1971 Charger R/T we featured last year) and owns Show and Go Restoration which specializes in Mopar restorations, the truck has hauled a lot of Mopar parts over the years and he continues to haul parts all the time with it. After all, it's a truck.
"Over the years, I've collected a big stock pile of NOS parts for it in case I want to restore it but for now I'm having way too much fun driving it! A lot of guys don't drive their trucks; they just let them sit and collect dust. I put tons of miles on mine and enjoy every single one! I've been to car shows with it where more people look at my truck than a shiny one next to it. One downside of driving a 'beater' is I quite often get guys wanting to buy it thinking that it's neglected and owned by someone who has no idea what it is and they can 'save it'. I've had notes left on the wiper and one on my house door when it was parked in my driveway! That being said, I have no plans of ever selling the truck!"