Some days at the office are better than others. When the message landed in my inbox that Fiat Chrysler had invited me to sample their latest offerings from Dodge's high performance lineup, replete with a race track that would be our playground to run them on, I had a hunch it would be one that I wouldn't regret getting up a bit early for.
Willow Springs International Raceway is situated about an hour and a half north of Los Angeles. When headed there from Northeast LA you essentially have two options – a straight shot up the 5 freeway and hooking up with Highway 14 in the San Fernando Valley – a pretty standard traffic crawl, but technically the "shortest" way there – or taking the 210 Freeway to Angeles Forest Highway and connecting up with the 14 much later in the game.
For those who aren't familiar with the area, Angeles Forest Highway and the Angeles Crest Highway (which gets you to it from the south end) are some of the most incredible driving roads in the western part of the United States. Here in Southern California, Mulholland might get all the press, but in my humble opinion there's no question that the roads that weave through the Angeles National Forest make for a much more entertaining, faster and less crowded drive. It also serves as a great warm-up primer when headed to the track, and since I was at the helm of Winding Road Magazine's Challenger SRT Hellcat long term tester for the trip, there was never really any question which route I was going to take.
Upon arrival, I was greeted by a pair of Viper ACRs that were parked out on display before things got underway on the track and the surrounding areas. Though the Viper TA 2.0 would be available for journalists to drive, the ACR would specifically be used for journalist ride-a-longs with Chris Winkler, a vehicle dynamics engineer who helped design and tune the Viper, including this ACR model.
Compared to a standard Viper, the new ACR boasts nearly one ton of downforce at 177 miles per hour because of its aggressive aero package, 1.5 g of sustainable lateral grip in the corners due its ten-way adjustable Bilstein coilover suspension and Kumho Ecsta V720 high performance tires (made specifically for this car), and some very serious stopping power by way of a new Brembo "Carbon Ceramic Matrix" system, which utilizes 15.4-inch two-piece front rotors (with six piston calipers) and 14.2-inch discs out back that are clamped by four-piston calipers.
To be honest I wasn't that devastated that I wouldn't get a chance to get behind the wheel of the ACR – the TA-spec Viper is already capable of far more than I am at the helm of it – and I was more interested to see what the ACR's limits were rather than mine.
But that particularly rapid ride-along around Big Willow would have to wait until later – now it was time to do some driving. Along with laps around the big course, FCA also brought along nearly every model from their 2016 lineup for "street" drives around a road course that took us around and over the big course and onto sections of Streets of Willow, a smaller race course situated above Big Willow at the same facility.
Naturally, the first car I took out was a Challenger SRT Hellcat coated in a Redline Pearl hue. Upon turning the car over, I overheard an FCA rep say "that never gets old" as he passed, which instinctively caused me to stick my head out the window and say, "What, this?" and give the throttle a nice and hearty stab. Whoever tuned that exhaust system certainly earned their paycheck.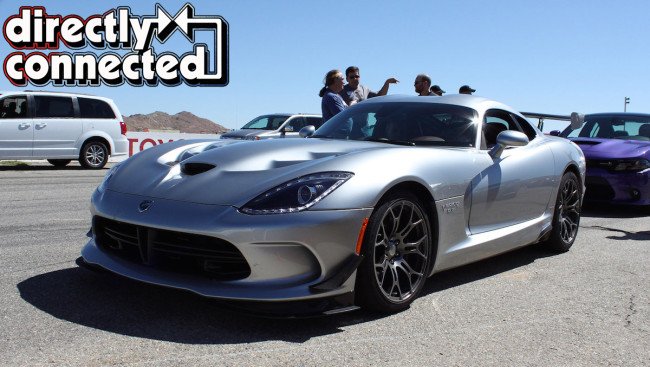 Since Winding Road's long term tester is equipped with a six-speed manual gearbox, I thought it'd be interesting to drive this car, which has the 8-speed automatic, back to back. And being the three-pedal proponent that I am, it pains me to say it but the 8-speed auto feels a bit faster. It's also easier to drive, though I did miss the visceral connection that a row-your-own gearbox affords you. But kicking the back end out around the Streets course helped me to quickly forget that.
Feeling properly invigorated, next I decided to hop into a Charger SRT Hellcat for some fast laps around Big Willow. I have a fair amount of experience lapping this course, not only for media drives but also because I've done some Spec Miata racing here with the SCCA, so Big Willow feels like home. Which is nice when you have 707 horsepower at your command to navigate it.
To prevent what would likely be a massacre of automotive journalists, the folks from Dodge smartly added a chicane between Turn 6 and 7, a fast downhill area where you can pick up a lot of speed in a Miata, and with five times the horsepower under your right foot, you can really get moving here. By the time you get to 8 if you're not slowed down properly you could be in some serious trouble, so the chicane helped prevent cars from picking up more speed than they could scrub off before getting there.
For the Hellcat laps we were also provided an instructor who sat shotgun with us to provide guidance, should we need it. Before setting off, we discussed my familiarity with the car and the track, and after we hopped on course the only thing I can remember him saying was "Good" when I kept the throttle down going over the crest between Turn 5 and 6. I like this guy.
These cars may be big and carry some heft with them, but they really do hustle down the track. The suspension tuning done to the 2015-and-up Challengers and Chargers has dialed out nearly all of the understeer these cars formerly had a reputation for, and the Pirelli Pzeros offer quite a bit of grip considering how much car and horsepower they're tasked with handling. And the braking on the SRT cars is flat-out fantastic. The six-piston Brembo setup might not utilize carbon ceramic discs like the Viper ACR does, but there was never a hint of fade and the sheer ability to slow the car down with these puppies is just as impressive as the supercharged power plant is, the latter of which truly makes its presence known when you're hitting 130-plus down the main straight, supercharger howling all along the way.
Next up, I took a go in a Challenger R/T Scat Pack 392 with a manual gearbox. With these cars Dodge let us out on the track on our own, so I took the liberty of getting a little bit looser with the car this time around, kicking the back end out a bit coming up the hill out of Turn 3 and really pushing it to see how it danced.
While the Scat Pack cars don't have the same level of capability of the SRT models, they certainly hold their own on the road course and offer plenty of entertainment. As they come from the showroom the 4-piston Brembos and Goodyear F1 tires are capable companions for track use (as is the 485 horsepower, 6.4-liter Hemi), though I might consider some slightly stiffer springs if I planned to track the car regularly.
After a break for lunch I got my chance to hop into the Viper ACR with Chris. Within the first five seconds after we set off for a pair of fast laps I was incredibly thankful for the "oh &#$%" handle placed to the right of the shifter – an excellent way to brace myself against the sheer amount of g-force this monster can muster. "We hit 1.6 g around Turn 2", Chris explained after our laps, and I don't doubt it – this is a level of grip that makes you feel like your face wants to come off. Dodge's people aren't ready to post lap time numbers just yet, but rumor has it that some people are going to be shocked.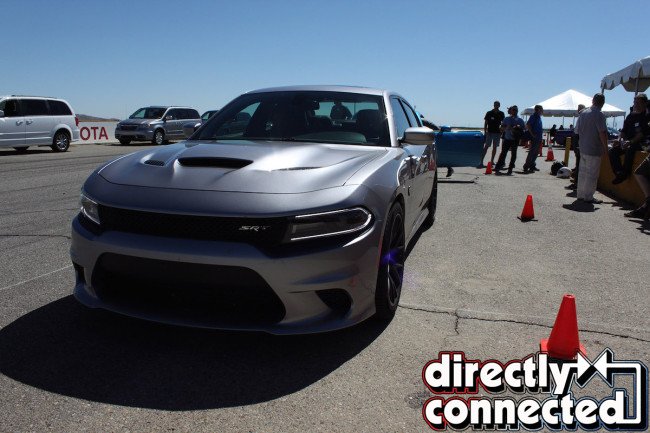 Unfortunately, we'll have to wait until next year to see what the ACR can do around Germany's Nurburgring, as the current speed restrictions – which limit speeds to 155 mph on the main straight, among other things – prevent Dodge from getting an accurate lap time there. All I'll say is that owners of the half-million dollar Lamborghini Aventador SV will have something to be concerned about when those restrictions are lifted.
After that, I got my turn behind the wheel of a Viper. This particular model is a GT outfitted with the TA 2.0 aero package, which now includes a rear wing and a pair of dive planes up front. Though substantially slower than Chris's lap in the ACR (due to my skill rather than the differences between the two models), it was a point of pride that I got the snake up to 140 before mashing the brakes for Turn 1, and I also managed to emerge victorious on a friendly bet between myself and another journalist (who will remain unnamed) by handedly beating his fast lap time by a second and a half. And yes, we get paid to do this stuff.
If it wasn't clear before, days like this make it obvious that Mopar performance is very much alive and well in the Dodge brand. Not only are these cars capable and fun as daily drivers, they're are flat-out world beaters on the race course and do so at fractions of the cost of many competitors' similar offerings. Some may still miss "the good old days" but if you asked me, we're living in them right now.