Lately in the Mopar world, there has been a big increase in cars with "patina" or general "rattiness". Shows and social media pages like Roadkill and Ratty Muscle Cars have given the car community motivation to pull that old car out of our garage or yard and get it running and driving as-is. Their main message is that the car doesn't have to be the prettiest or have the shiniest paint; just get out there and enjoy your car. We've been seeing more and more ratty Mopars cruising around lately and quite frankly, we love it! While there are plenty of trailer queens out there (don't get us wrong, we absolutely appreciate those as well), we just love seeing people out enjoying their Mopars the way they should be; burning fuel and burning off tires.
Recently, we attended a big Mopar show out in Red Deer, Alberta and met up with a few Mopar friends of ours to do some cruising over the weekend. Our good friend Jake Burnard and his father Gary from Saskatchewan brought out their patina'ed 1970 Dodge Challenger R/T and graciously invited us to cruise the town in it. The minute we sat down in the passenger seat, we knew we had to share their wicked Challenger and the story behind it.
On a Tuesday in early December 1969, a Plum Crazy Purple 1970 Dodge Challenger R/T rolled off the assembly line in Los Angeles, California. Under the hood sat a 383-4 barrel Magnum backed by an A-833 Pistol Grip 4-speed transmission. The options on the fender tag included white longitudinal R/T stripes, hood pins, Rallye Instrument Cluster group, 3 speed wipers, Music Master AM radio, dual exhaust with tips, black vinyl bucket seat interior, center console and all of the California emissions gear. The Challenger was originally destined to be sold in California but rather was transferred to Oregon State and sold there.
Since it was almost new, the Challenger saw a lot of ¼ Mile time with the original owner taking it drag racing quite often. One day in 1975 while racing it, the original owner grenaded the clutch, taking out the 383 with it before shooting shrapnel through the hood, leaving a fair sized hole. Not to be defeated, he took out the dead 383 and installed a Slant 6 from a 1970 Barracuda with the 4-speed; fitted with a new clutch of course. The Slant 6 was modified with a bigger camshaft, racing header and a 4-barrel carburetor and intake manifold. Out back, he modified the leaf springs for better traction. With the "Tower of Power" under the hood, back to the drag strip the Challenger went.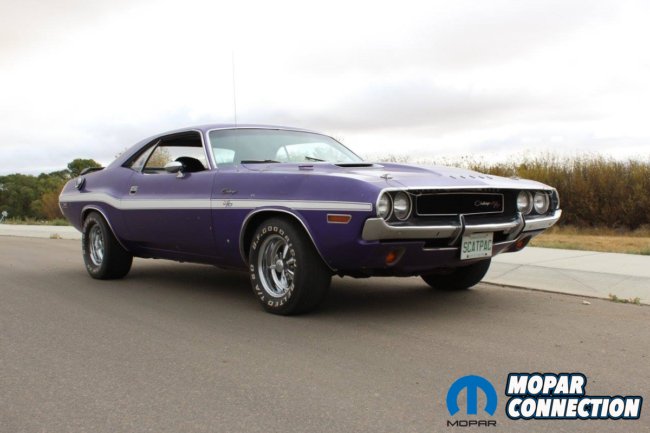 The car was continued to be raced for a while longer, before being parked around 1977 where it sat for quite a few years until the original owner eventually passed away. After he passed away, the Challenger was left to his two daughters. Around five years ago, the daughters decided to put their dad's old Challenger up for sale. Jake had heard the Challenger was available through word of mouth so being very interested in the car, it was arranged that the car would be brought up to Seattle, Washington where Jake and his father Gary would meet up with them and complete the purchase. From there, the car went home to Saskatchewan.
After getting it home, Jake and his father tucked it away with some of their other Mopars, only taking it to one car show in the meantime. "I took it to the Three Hills, Alberta car show but I never lifted the hood because it was embarrassing having a six cylinder in a big block R/T. I showed two of my Mopar friends but wouldn't show anyone else that it was an R/T car with a six cylinder in it," laughs Jake.
When it was decided that the Challenger would be put back on the road, Jake and Gary knew the Slant 6 wouldn't do. While 383s are plenty easy to find, the Burnards decided to go quite a few steps up with the power plant. "A friend had an original 1966-1967 era 426 Hemi that I worked on getting from him for a number of years. I was finally able to trade him the Hemi for my fully built 500 Wedge stroker motor that I had in my '68 Road Runner as well as a new Edelbrock fuel injection system for a 440 and a bunch of 1977-1979 truck parts," says Jake.
The engine was fully rebuilt and fitted with a 1971 dual four intake manifold and water pump. Internally, the engine has been re-sleeved but never bored over. "It doesn't have the right carburetors or anything but over all, it's a very stock built reliable Hemi. Maybe one day I'll make it more correct," shares Jake. The exhaust Jake had built using take-off exhaust parts from his Road Runner and installed exhaust dumps at the same time. The exhaust tips are the original ones though.
The A-833 4-speed has been fully rebuilt and beautifully detailed by Kori Alexander of Show & Go Restoration in Red Deer. The Burnards also have a built Dana 60 they plan to install as well. Glen Ray did a proper date code radiator to cool the Hemi. Jake installed a full Rev-a-nator ignition kit to give the engine better spark. "The car ran good and had a nice distributor but I went with their whole works which included the wiring kit, distributor, ignition box and coil. It's a really nice kit, I couldn't go wrong with it," says Jake.
As far as patina goes, the Burnard's Challenger has quite a bit of it. With only 55,000 original miles on the odometer, the Challenger is still in great shape body wise with no rust or damage. The car has had one repaint back in the day but still has the original paint on the front and rear valances as well as the engine compartment, door jambs and the likewise. The car has dings, scratches and scuffs and we love every single one as it adds to the cars character and heritage. Jake tells us, "I love the day 2 type look. The car has chrome hood hinges which I'll always keep on the car; I love them".
On the inside, the interior is all original as it rolled out of the factory with the exception of the headliner and carpet. To make sure the Hemi's vitals were being monitored, an aftermarket tachometer was installed and a couple of gauges were installed where the radio would be (both without drilling any holes into the dash). The Challenger is fitted with Rallye wheels (15×7 fronts & 15×8 back) and wrapped in Goodyear Polyglas GT tires (F60 up front & L60 out back) for the perfect stance. "I have the set of Cragars that came on it still. The tires that are mounted on the wheels are from 1975. My tire guy said 1975 was the last year you could order those belted T/A 60s."
On top of the rear spoiler that was added, Jake is a huge Mr. Norm fanatic so he decided to add a Mr. Norms Grand Spaulding dealership sticker and plate frame as a tribute. Eventually, the plan is to repaint the Challenger. Jake shares that he wants to also eventually put a Shaker hood on it. When he comes time to get it painted, he'll get a Shaker hood painted as well as a second R/T performance hood. In the meantime, Jake and Gary plan to drive it, continue to get the bugs out and enjoy their Challenger to the fullest.
As far as the original hood with the hole in it, Jake and Gary have no plans to fix it or repaint it. "It'll eventually be retired and hung on the wall next to the car. It's such an awesome story behind it so it would be a shame to fix it. I get a laugh out of the stories I hear people make up about that whole. Everything from a piston shooting through it to an axe-throwing contest gone wrong! That kind of stuff you just have to leave as it is.". Jake even had Robin McQueen over at Automolove.ca design an awesome banner of the car which proudly hangs on the wall next to it!"