It's pretty well understood that building a project car is both extremely time consuming and draining on the ol' bank account. We all have got to live on a budget and squeezing in those much needed parts to get your Mopar back on the road sometimes need to take a backseat to things like groceries and paying electric bills. And while we're strong advocates of staying out of unnecessary debt, we've got some news that'll sure to brighten your day: You can take home the Silver Sport Transmissions (SST) kit that you've been drooling over today through PayPal Credit's program and SST.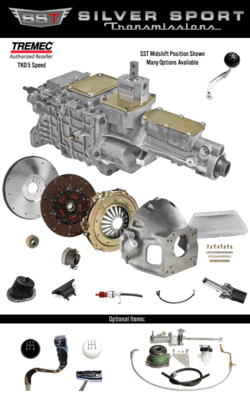 But how can that be, you ask? Easy. All of SST's PerfectFit Transmission Kits, transmissions and pretty much everything else in their catalog qualifies when you spend over $98.99 on your order! All you have to do is just give Silver Sport Transmissions a call at (888) 609-0023 and choose the kit or transmission that fits your project's needs. Next, SST will send you a PayPal invoice, and when you select to pay the invoice, the "PayPal Credit" option will be right there.
Using the PayPal Credit option lets you pay now or pay over time. Obviously, each customer is subject to credit approval, but this lets you take home one of SST's Tremec Front Shift Kits (kits for TREMEC TKO, T56 and Magnum that relocate your shifter a snap); SST Hydraulic PerfectFit Kits (hydraulic clutch systems that are easy to install, come with comprehensive instructions and include the highest quality components); or one of SST bellhousings for a wide variety of engines and transmissions.
So whether its a PerfectFit Kit, transmission or other item that you've been needing but putting off, now is your opportunity thanks to Silver Sport Transmissions and PayPal Credit.