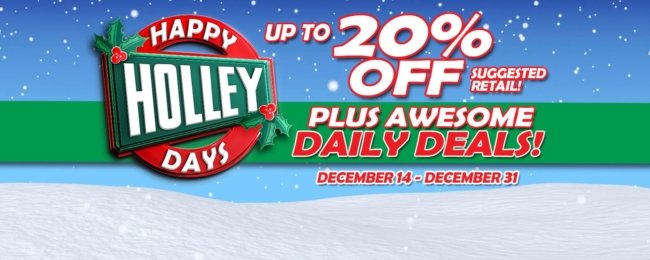 Holley is here to help the hot-rodders through this holiday season with their annual "Happy Holleydays" sale. A slew of products is marked down by up to 20% off of suggested retail through December 31 and most even qualify for free shipping. Aside from that, special daily deals feature even bigger price cuts. It's easy to stay on top of the latest additions with a daily deal email alert.
'Tis the season of savings and both Holley's pricing and gift ideas are making it as pain-free as possible. T-shirts have got to be a go-to and Holley has them in spades, even for the little ones 12 month and 4T sizes. They're never too young for a vintage Holley tee with a grease stain or two. The same goes for headwear with hats and beanies of all shapes and sizes to scroll through.
Neon clocks, face masks, sunglasses, and pub glasses are just a few of the hottest presents for the performance-minded, but we might put the sticker pack (P/N 36-462) at the top of our list. Twenty-four vinyl stickers could add some serious vibe to a tool box, refrigerator, cabinet, or car. With the Holley umbrella now covering more than fifty brand names, there's no doubt something in their vast catalog is sure to hit a sweet spot with the gear head in your garage.