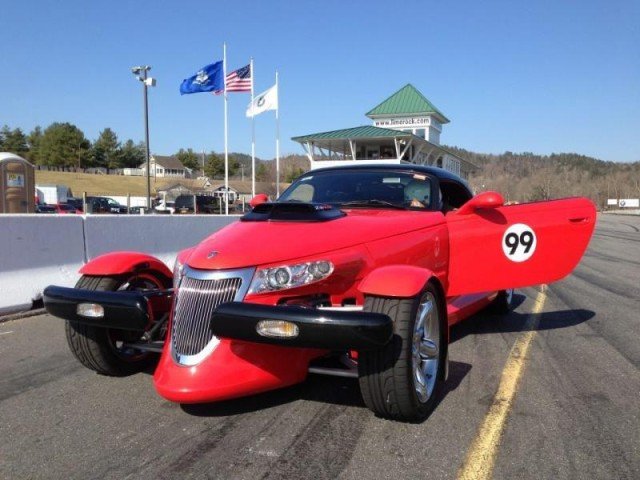 Everybody knows how Chrysler's intent for the Plymouth Prowler sadly fell short when it came time for ultimate assembly line production. Large, gray bumpers jutted forward of the grille, breaking up the concept's original smooth lines. A wheezy 3.5 V6 replaced plans for a 360 Magnum or the soon-to-be released 5.7 Hemi (remember, this was 2001). Producing a paltry 253-horsepower, 3.5-liter V6 and 4-speed Autostick just paled in comparison to the wild V10 Viper or even the 5.7L Chargers a few years later, and Trey Byrum wasn't having any of it.
This build is a few years old and it's made the rounds a time or two both in print and digitally, but seeing how Trey is still very much hammering on his bright red Prowler, it's worth a revisit. See, Trey loved his 2002 Prowler dearly and put quite a few miles on it while living in Miami, Florida and eventually moving to New Jersey over the following decade. But as Dodge's new Gen III Hemis continued to improve and increase in horsepower, the itch to switch became too much to bear.
Performance Innovations (out of North Carolina) was selected as the shop to perform the operation. A new 6.1L SRT8 engine was purchased and the old 3.5L V6 was shipped to an interested buyer in Australia. Trey notes, [The] Prowler 42LE transaxle is small in the rear, [and] not connected like a stock Hemi. The team combined two kits, new torque converter, extra overdrive clutch, hardened core parts, etc. to get the most out of space."
Likewise, fitting the big Hemi in the same spot occupied by a V6 took some working, including fabricating a custom bellhousing, oil pan, engine mounts and heavily reworking a pair of headers. And despite the engine's low profile, the SRT wouldn't fit beneath the hood, or breathe terribly easy. The decision was made to incorporate a new Challenger Shaker-style hood, which posed it's own new set of problems.
A hole was cut to fit the Shaker's 4 extra inches. The hood was built up with sheets of aluminum, heated and hand formed. Over two month's time, a custom hood was complete. The Shaker and plastic bumpers were painted a gloss black to offset the brilliant red hue, and adorned with custom 370 Hemi badging.
Since it's completion, the "Hemi Kat" (as Trey calls it) has won several awards – both locally and nationally, and has received its fair share of press (us included). Trey has even taken the car out on Lime Rock for a few laps. This is no trailer queen and sees plenty of road time. and that's why we wanted to share it today.