If you haven't heard about the new 2018 Dodge Challenger SRT Demon yet, then quite frankly; you've been living under a rock. Since Dodge's initial teaser video release of it a few weeks back, all of the Mopar based Facebook pages and internet forums have been going crazy with people wanting to know more. We broke the news to our readers with exclusive insider details back on January 13th. Since then, hundreds of articles are popping up online and for the most part, a lot of the information in them is completely incorrect or just someone guessing while staring at the sky.
In our first report, we were told of two "upgraded" Hellcat packages:
DEMON
– "upgraded" Hellcat engine (signified by the engine block and heads painted red)
– Demon badging
– widebody kit
– unique hood
– unique wide wheels
– line lock
ADR
– "upgraded" Hellcat engine (signified by the engine block and heads painted red)
– widebody kit
– street legal drag racer
– unique graphics
– front seat harness slots
– rear seat delete
– unique SRT performance pages for drag racing
– unique hood
– unique wide wheels
– Mopar "skinny' tire package (swap your front tires with skinnies to have two sets of rear tires)
– line lock
With two more videos released since then, we know a bit more facts about the Demon: We know it has gone through a bit of a weight reduction versus the usual Hellcat, even with the additional wide body stuff and bigger tires. Dodge's release states that "adjustments have been made to the wheels, steering, suspension, brakes, interior construction and components." These changes give the Demon a weight loss of over 200 pounds when compared to the Hellcat.
We reported a few weeks ago that our insiders at SRT told us the Demon would have 18-inch wheels and 315 series tires. This has since been proven absolutely correct we've been told by our insider that the Demon will be running 18×11" lightweight wheels on a special set of Nitto NT05R 315/40/R18 drag radials on all four corners that feature Demon logos on them. This means the Demon will be the first ever production, road-legal car to come with drag radial tires from the factory.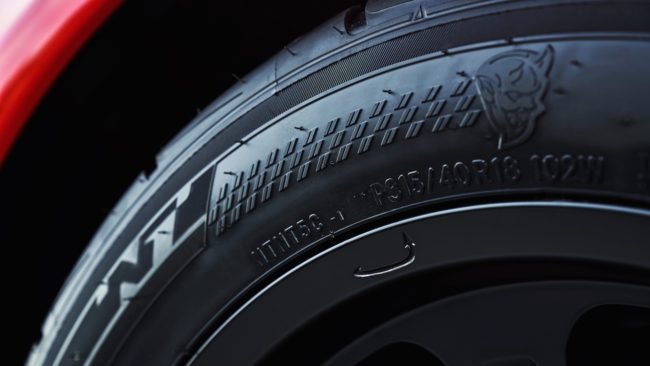 The original top speed number that came out was 168mph. In the picture of the tire, you will see it is "W" rated; for a top speed of 168mph. We've also learned since the initial release that it will have a special gauge cluster with white-faced gauges as well as a "race fuel" button on the dash.
Another teaser release from Dodge has also shown that it will indeed be a wide body car with flared fenders. Our sources say with these fenders, the Demon is 3.5-inches wider than a Hellcat. With this release photo, Dodge has also given us an Easter egg on the license plate. When Dodge released photos of the Challenger Hellcat a few years back, a photo of the radio showed Sirius' "70s on 7" on the screen. This was before Dodge released the horsepower numbers which are, you guessed it, was 707-horsepower.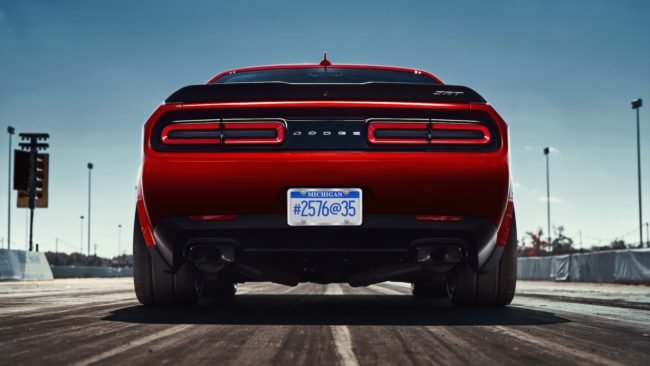 On the license plate in their teaser photo, you can see it says #2576@35 – our insider says this decodes as "2576" equaling the CC's of the new supercharger (totaling 2.6 liters) and "35" equaling "HG" (inch mercury [0 °C]) for boost, which converts to 17.2 psi. That of course, suddenly makes sense when considering the current Hellcat produces just over 12 psi, and reports of the Demon's output being 850 or higher.
And finally, the AWD rumor. It seems a lot of other publications are claiming the Demon to be AWD. All of our insiders say emphatically, "No, the Demon will not be an AWD," despite online prognosticators crying, "Then why does it have 315 drag radials at all four corners?" Consider that the Hellcat has 275/40/ZR20s at all four corners. Moreover, to public knowledge, FCA does not own an AWD system capable of handling the current 707-horsepower output of the Hellcat for the SRT Jeep Grand Cherokee or one capable of handling that of a 5.7L Hemi for the Challenger platform.
Other articles have claimed the Demon will be twin turbocharged. Again, our insiders say no. SRT engineers have been working very hard on their supercharged Hemi platform. It would make absolutely no sense for them to drop all of that proven track time and resources they've put into their supercharged Hemi for a brand new unproven twin turbo set-up. If you listen in the "Body" video, you can clearly hear it's a supercharged Hemi. That being said; twin-turbo rumor debunked.
https://www.youtube.com/watch?v=HdZNmrp7ahU
In the previous article we published on the upcoming Demon, we mentioned its close ties to the newest upcoming installment in "The Fast & the Furious" movie franchise; "Fast8" or "Fate of the Furious." If you've seen the trailer for the movie, then you've seen the silver Challengers in them. These were rumored to be ADR pre-production cars. However, when the Demon tease was released, people started wondering. Now for the best part: Back on December 12th, 2016 a video was posted on YouTube with Vin Diesel talking about the filming to the cast and crew while in front of two silver Challengers. If you look closely, you will see the Demon logo (which wasn't released yet at the time of the video being posted) on the fender of the car. Now it all makes sense.
We will finish this by saying Dodge is always full of surprises. They have been very well known to make changes to cars at the last minute. For example, when the 2012 Chrysler 300 SRT8 press photos came out, the interior featured silver accents. It wasn't until the very last minute that it was changed out for carbon fiber pieces. At one point, there was a SRT-badged Dodge Journey running around with SRT wheels and Michigan manufacturer plates. That Journey was eventually axed. Dodge is notorious for that. So realistically, we probably won't see the true production ready version of a Demon until it's released at the New York International Autoshow in April. With twelve more teaser videos set to be released from Dodge, we'll be keeping a close eye.