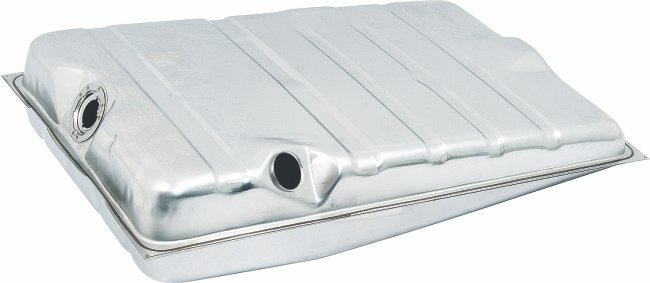 Just a dozen years ago, restoring a Mopar was an almost impossible task unless you had direct access to a salvage yard or a couple of intact donor cars. Yet, now thanks to officially licensed Authentic Mopar Restoration manufacturers like Classic Industries, getting your classic back together and in running condition is amazingly simple!
Earlier today, Classic Industries announced the addition of its OER-authorized stainless steel fuel tanks for all A, B and E-Body Mopars, you can not only have a factory-correct tank beneath your trunk pan, but have it made from a superior material as well! Stamped stainless not only provides superior durability and resistance to the elements, but will retain its gleam far better than OE.
Here's the original press release:
Classic Industries Now Offers OER® Authorized Stainless Steel Fuel Tanks For Classic Mopar A, B and E-Body Models
New Fuel Tanks for Dodge and Plymouth
Huntington Beach, Calif. (September 9, 2015) – Classic Industries is proud to announce availability of new OER® Authorized stainless steel replacement fuel tanks for 1964-76 Mopar A, B and E-Body models. These fuel tanks are made from stamped stainless steel for excellent durability and resistance to the elements, and have a capacity of 15 through 19 gallons (depending on model). Each includes fuel sender lock ring and o-ring gasket for easy installation.
 
Every OER® Authorized fuel tank is manufactured to precise factory specifications, just like the original. However, these reproductions are made from stainless steel, offering superior corrosion resistance with an attractive polished finish—the perfect addition for a detailed restoration. Hardware and mounting straps are available separately if needed. Fuel tanks may be viewed online via the following part numbers:
 
FT6005C – 1971-76 A-Body 16 gallon with EEC system with 1 vent pipe (front)
FT6007C – 1964-65 B-Body 15 gallon without vent pipes
FT6008C – 1966-67 B-Body 19 gallon without vent pipes
FT6009C – 1968-70 Charger 19 gallon without EEC system without vent pipes
FT6011C – 1968-70 B-Body (except Charger) 19 gallon with 2 vent pipes (front)
FT6015C – 1970 Challenger 18 gallon without vent pipes
FT6016C – 1971-72 Challenger 18 gallon with 4 vent pipes (side)
FT6017C – 1972-74 Challenger (produced after April of 1972) 18 gallon with 4 vent pipes (front)
FT6018C – 1970 Barracuda 18 gallon with 1 vent pipe (side)
FT6019C – 1971-72 Barracuda 18 gallon with 4 vent pipes (side)
FT6020C – 1972-74 Barracuda (produced after April of 1972) 18 gallon with 4 vent pipes (front)
 
These fuel tanks may have never been available before, but thanks to Classic Industries, there are plenty in stock and ready to ship immediately.
 
Interested parties may view the new fuel tanks and place orders online at www.classicindustries.com or by calling 1-855-35-PARTS (1-855-357-2787).