Coker Tire is dedicated to making sure Mopar enthusiasts have the correct tires for their beloved classic Mopar. The company has served the muscle car market for decades with their fantastic line-up of authentic bias ply tires, specialty radial tires and high quality steel wheels.
Last year, Coker Tire released a killer new tire; the Firestone Wide Oval Radial, which gave Mopar owners the classic look of a bias ply tire combined with the modern performance of a radial. Designed and manufactured in the USA, the Wide Oval Radial features the authentic appearance of a bias ply tire which having the complete comfort, safety and tread wear of a modern radial tire. It's truly the best of both worlds.
You no longer have to choose between having authentic bias-ply tires that ride like square blocks or modern not-so-correct looking radials. If you truly do want a bias-ply tire though, Coker Tire will continue to produce the original-style bias ply Firestone Wide Oval tires in addition to these new tires.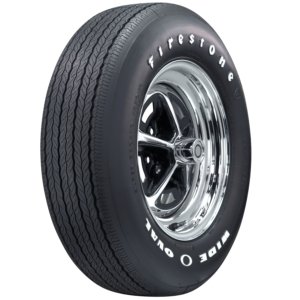 Firestone Wide Oval Radial tires are available in six sizes to fit 14- and 15-inch wheels. The six sizes include ER70-14, FR70-14, GR70-14, FR70-15, GR70-15 and FR60-15, which were popular sizes for the 1960s and 1970s Mopars. Five of the sizes, excluding the FR60-15, are available with either raised white letters in original script or 3/8-inch redline sidewall.
The FR60-15 is available only with raised white letters with the authentic letter design to match the F60-15 tires that came from the factory. They start at $236.00 per tire and go up to $323.00 per tire depending on the size.
To find out more about how you can order Coker Tire's new Firestone Wide Oval Radial tires, speak to a tire expert by dialing 1-800-251-6336 or browse the website at www.cokertire.com. You can also stop by Coker Tire's headquarters at 1317 Chestnut Street, Chattanooga, Tennessee, 37402. Showroom hours are 8am to 5pm EST, Monday through Friday and 8am to noon on Saturday. Free tours of the facility are provided Monday through Friday at 10am and 2pm.