As a music lover, there are just certain locations you need to see in person before you die: The Grand Ol' Opry, Carnegie Hall, The Apollo Theater, Sun Studio, and of course, Graceland; the latter two both being found off the Mississippi in Memphis, Tennessee. As a car enthusiast, you don't have to venture too far to tour the Competition Cams, Inc. headquarters, also found in The River City. Still standing on the same plot of earth where it was first started in 1976 by John McWhirter, Ivars Smiltniks, Tom Woitesek, and Bob Woodard, COMP Cams' "wrong side of the tracks" appearance belies the ingenuity and technology hidden beneath its corrugated steel roof.
Under the direction of Paul "Scooter" Brothers, co-owner and Chief Operating Officer of COMP Performance Group (CPG), the main building grew nearly as fast as the business, becoming a labyrinth of corridors, cubicle centers, offices, storage rooms and conference halls. Inside its Winchester Mansion-like additions, the main building houses one of the largest collections of highly trained engineers in the industry.
We were greeted by Trent Goodwin, Marketing & Media Coordinator for the COMP Performance Group who briskly walked us through the winding route, passing by the offices of engineers, technicians, designers and the like, their desks littered with prototypes, their computer screens flickering with new CAD designs. In one corner, a pair of state-of-the-art 3D printers were flanked by shelves of plastic models for various intake manifolds and TCI shifters. Two cubicle farms staffed with sales representatives buzzed with sounds of commerce, while another, and far larger call center beckoned for our attention.
"We've got 20 COMP Performance Group techs here," Goodwin introduced. "They answer anywhere between 800-to-1200 calls a day." The high tech center had technicians wearing modern Bluetooth headsets, cradling traditional telephone receivers on their shoulders, flipping through traditional catalogs, our scouring the internet for a specific part number. "Our technicians need to be familiar with pretty much everything that's out there because often, the guy calling in doesn't know what they've got already and whether it'll work with one of our products," Goodwin continued.
Obviously, COMP is most known for its camshaft and valve train products for a variety of applications; be it motorcycles, automotive, diesel, and even stationary power plants and medical. Yet, with the continued growth of group, product development of many products keeps its teams of designers and engineers continually busy. Besides its Memphis headquarters, CPG maintains facilities in Mississippi, Illinois, and Michigan, both full production facilities for large runs of products or short-run facilities for the more custom and time-sensitive orders (for race teams requiring a smaller volume of unique parts).
Interestingly enough, CPG had to relinquish one Memphis location for good cause. "Believe it or not, back when we still offered crate motors, we used to assemble all of them out of the original Sun Studio here in Memphis – y'know, where Elvis, Jerry Lee Lewis and Johnny Cash recorded," Goodwin retold. "It was pretty cool to go in there and think about the history that was made there." Of course, CPG has made its own mark on history over its 40 years, and works diligently to keep that legacy going. The vast volume of product produced, packaged and shipped every day is staggering:
"We ship anywhere between 600-to-800 small parcels a day and at least 15-to-20 freight pallets a day," Goodwin explained as we walked through the new-but-temporary shipping department. A new building was being fitted as Mopar Connection toured CPG that day, and was warned that things will look "much different" in the coming months. With several millions of dollars in inventory on hand at all times, COMP's warehouse is well-stocked.
"It's how we weathered the recession," Goodwin explained, walking us through rows of rough-cut camshafts, and uncut raw material. Every camshaft begins as a simple round bar of material – be it cast iron, billet or steel (5160, 8620, tool steel, M4 9310, etc.). "When others were slowing down because of a lack of raw materials, we were producing more than we ever had. We were able to ride the storm and come out stronger than before. Now, we'll always be this well-stocked, just to be safe."
Of COMP's 250 employees, it takes roughly 20 hands to take a camshaft from a design to the final product. And in just 30 minutes, a raw steel bar can be ground into a complete, roughed-out camshaft. To do so, COMP employs one of fifteen CNC's (of them, ten Akuma CNC machines, three Landis CNC's, and an estimated 25 manual machines, as well as a massive re-tooled WWII gun drill lathe) for production of their camshafts. The uncut core is carved into what is called an "UGL" (unground lobe) camshaft via a computer-controlled seven-axis mill that carves two different sides simultaneously.
The UGL resembles that of a recognizable camshaft but has large, oversized lobes that have yet to be ground into a specific profile. In fact, CPG cuts their cores with enough extra material on the lobes that four-or-five different finished profiles could be made from it, thus saving waste and material. Next, each UGL is heat-treated and straightened before being placed back on the grinder where the journals and face cuts are made. Then, the lobes are ground into the pre-programmed profile. Finally, each camshaft is hand polished to a smooth, flawless luster.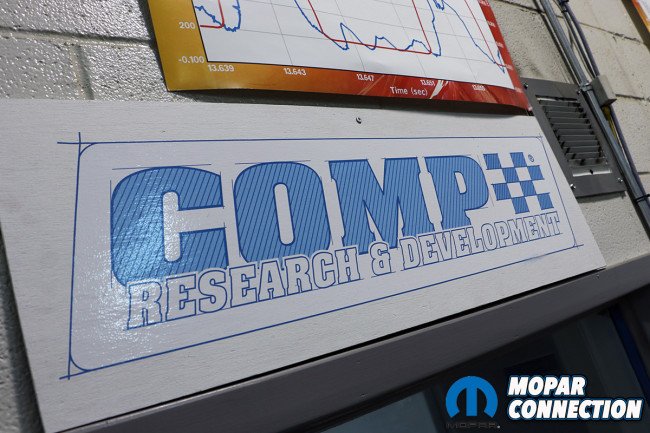 Once complete, each and every camshaft goes under the microscope at CPG's quality control department. A bank of digital CMM's (Coordinate Measure Machines), surface gauges and hardness testers verify that the camshaft is up to CPG's requirements. COMP is a 24-hour outfit, running its shop all day with two 12-hour shifts. The toll is less on the machine than the worker, as each cam spec machine needs only one hour in 24 to be shut down.
Finally, the camshaft is taken to the shipping department (where we began our tour). There, the cam is bagged, boxed and packaged with all of the paperwork and any included items (such as decals). For those high volume catalog grinds, the packaged camshaft will then go on the shelf, awaiting later distribution to a large retailer. For the short-run, specialty-ordered camshafts, they will be immediately shipped out. "From here, we can have it on a FedEx truck and on a plane within 45 minutes," concluded Goodwin. Through this process, COMP can produce and ship several thousand camshafts a month.
But again, the COMP Performance Group is much more than valve train. Goodwin took our tour further, "Not too many people get to see this side of COMP," he prefaced, unlocking the sound-deadening doors to the Research & Development department. Rows of engines, be them test mules for the engine dyno, or customer's powerplants destined for competition, sat on engine stands throughout, interspersed with work benches littered with prototypes we were asked not to photograph. The expected ratio of GM and Ford engines-to-Mopar was found, but we noticed two all-aluminum Gen II Hemis, a faded-orange 440 HP Wedge and a 6.1L SRT8 Gen III, ensuring that COMP was busy working on new performance parts for the fabled elephant.
Next door to the engine dyno was COMP's own Spintron engine testing system. A windowed engine block sat on a stand; piercing the hole was an arm outfitted high-speed sensors and cameras to record valve-spring seat pressure, coil dynamics, camshaft/pushrod flex, and lifter movement as a high-torque electric motor drives the engine well past conventional rpms. Opposite the room was a chassis dyno with two test vehicles used for a variety of tests, near it, a row of differing crate motors – Coyote 5.0s, LS plants, big block Chevrolets, etc.
While COMP and its valve train components constituted the core of our tour, the vastness of the expanding COMP Performance Group remained unseen. The Olive Branch, Mississippi building houses much of the TCI Automotive division as well as a new studio for in-house tech videos. With the ever-growing popularity of self-learning, adaptive fuel injection, FAST (Fuel Air Spark Technology) continues to set new benchmarks for the industry.
Sure enough, the COMP building has grown by several thousand feet since its early days, both by expansion and erecting new and auxiliary divisions, but it is still just a rock's throw from the crushed granite berm of those same railroad tracks where it started. And we suppose that speaks to the spirit of the company as well: while it too has grown to encompass a far larger sphere of the industry, COMP Cams (and CPG) is still very much rooted to its tradition of top quality performance parts and superior service.