A few weekends ago we had a chance stop by a couple of our favorite spots and check out a lot of cool cars. Our pals at Big 3 Racing hosted their annual dyno day and car show at their shop. While attending the show we learned that Mopars at Summit Racing Equipment was going on the same day. We were lucky enough to be able to attend both shows and catch all the action.
Our first stop was Big 3 Racing (B3R) for their car show and dyno day. This was the second day of their 7th Annual Ahmed Saleh Memorial. The first day was spent at Dragway 42 which Big 3 Racing rents out for the whole day. Due to poor weather we did not attend the first day but we talked with the guys at B3R and they said it was still a good turnout.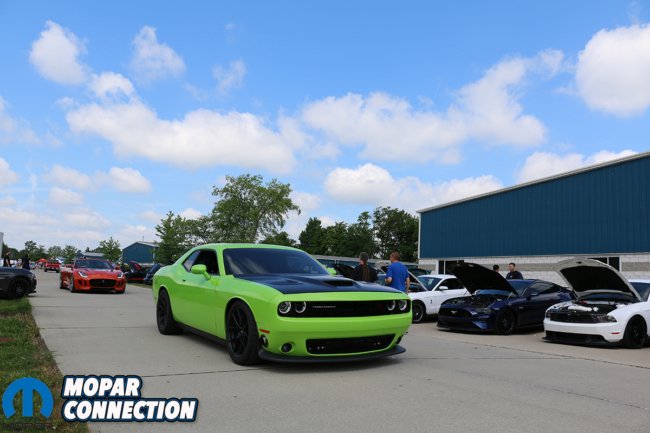 B3R is no stranger to high horsepower cars and thats exactly what showed up. We rolled in our 2013 Charger Daytona and felt out of place because we only have minor modifications on the car. Majority of the cars had some sort of forced induction. Turbos and superchargers were stuffed under what seemed like every car there. Although not everything fell into the Mopar category, it was still exciting seeing the different motor combinations. 
Most of the cars were worked on by B3R. Anything from just a tune to complete motor builds and custom turbo setups. B3R has the capabilities to do just about anything you need when it comes to suspension, tuning or engine building. Everywhere you looked you found small B3R badges marking their work. Turbos and superchargers is where B3R excel whether it is tuning or building a one off twin turbo kit. 
While walking the various cars we noticed a large group of Dodge Vipers. We are still in disbelief that Dodge quit producing them but at least we got to drool over a few. The Vipers ranged in years and styling. A few were still supporting all stock trim while others had a few more modifications. Our favorite was the GTS-R Edition ACR which was one of 100 produced to pay tribute to the 1998 GTS-R GTS Championship Edition.
During the show you could sign up to make a few passes on the dyno to show off your muscle and compete for the top spot in a horsepower war in either domestic or import category. B3R recently installed an AWD dyno which came in handy for a few of the participants and allowed B3R to run two dynos all day. This year a 1979 Firebird won highest horsepower for domestic at 870hp and a Supra in the import division at 872hp. 
The show had a great turnout and weather. We grabbed some food from the concession stand and watched the live band play for a bit. We stopped by B3R booth to grab some swag, shook some hands and then we had to head off to Summit Racing Equipment to check out some Mopars.
From B3R we had a 40 minute drive across some back country roads to reach Summit Racing Equipment. We were able to stretch the Daytonas legs and let the Hooker Blackheart exhaust sing. The exhaust is incredible and the more we drive it the more we love it. We are still in disbelief that cruising at 70mph there is no drone inside the car but when you step on it or drop gear it comes alive. 
When we pulled into the Mopars at Summit Racing show we turned some heads. Not only were we the only 2013 Charger Daytona at the show but the exhaust note really grabs everyones attention and lets them know we have arrived. As we pulled in we noticed there was a good variety of modern and classic Mopars.
We found a parking spot and started to make our rounds. The weather was a little hot but a beautiful day for a show. We grabbed a bottle of water from our cooler, grabbed our camera and started navigating the show. 
Summit Racing Equipment store is located in North East part of Ohio in Tallmadge. We are not normally around the area and were not familiar with how many Mopars might show up. We were pleasantly surprised to see so many Mopars attending a low key show and still pack the lot. The modern Mopars did outnumbered the classics but there was still a nice variety.
The modern Mopar crowd ranged form full custom to slightly modified cars. We expected to see Chargers and Challengers but we did not expect to see a new Demon and not only one but two. Of course this was not the first time seeing one in person but the last time was not roaming the streets yet. The fact they were both driven to the show and were out terrorizing the streets made both of them that much cooler to see. It is still crazy to believe that we are in the middle of another muscle car era and that from the factory they are producing 840hp.
The Demons might have been the fastest factory production car at the show but there were a few other cars that we think could rival it in the quarter mile. The Born to be Wild Viper sure looked like it was packing some horsepower. Also the 1970 'Cuda was an outstanding car that definitely was packing some goodies. 
Between Big 3 Racings dyno day and Mopars at Summit Racing Equipment shows we had a day full of high octane and horsepower. We ended up driving our Daytona over 300 miles and hope to do it again soon. We look forward to Big 3 Racings annual event next year and hopefully make it to Mopars at Summit Racing within the same weekend. Enjoy our gallery from both shows.