When it comes to true street legal drag racing, it's no doubt that Hot Rod Magazine's Drag Week presented by Gear Vendors Overdrive is one of the most popular events out there. Since 2004, Drag Week has grown into a massive multiple-day event and truly tests every car that participates. Besides five days of drag racing at four different drag stripes, participants must drive their cars to each event, racking up over 1,000 miles. This event really is a true test of both driver and vehicle.
The event started at Virginia Motorsports Park in North Dinwiddie, VA on September 8th with tech and registration, followed by racing the next day. After that, participants made the drive to Cecil County Dragway in Rising Sun, MD on the 10th for more racing followed by Atco Dragway in Atco, NJ on the 11th, Maryland International Raceway in Mechanicsville, MD on the 12th and then back to Virginia Motorsports Park for the final day on the 13th.
For Rick Hardee, 2019's Drag Week was the third Drag Week event that he's participated in. In 2017, he and his wife took a 1971 Dodge Dart on the trip and although they did not place in the event, they did finish the entire week. The next year, they took his 1971 Plymouth 'Cuda.
"Both years were challenging but 2019 presented a new challenge as I went as a passenger this time, better known as a "trunk monkey" to support my young friend Billy Gebhart Jr who would be taking his 9-second 1976 Plymouth Duster known as "The Ruster " to complete in his first Hot Rod Drag week at only sixteen years old. Billy's dad bought the Duster when he was fourteen years old and made it his first race car. Billy's dad gave him the car when he was fourteen so this car is rich in family racing history," shares Rick.
For the 2019 event, we step into Rick's shoes and enjoy the event as told by him. Buckle up because it's a wicked ride!
Rick says, "Our Drag Week started out with taking a big risk by driving over 1,100 miles from our base in Tulsa, Oklahoma to Virginia Motorsports Park in hopes that they would accept a few racers on the waiting list once all of the pre-registered cars had completed tech inspection. We got lucky and got accepted, completing tech inspection after 7pm on the Sunday night.
"Once that was done, we headed out to a local hotel parking lot to help celebrate a fellow racer and past Spirit of Drag Week winner Jesse Madaffari Jr. We were lucky enough to be there while he was presented with over $8,000 and many parts and promises of labor from fellow racers to help build his "Truckter"; which has been a long time dream for Jesse to build a tractor cab on a chassis but life and finances would never allow it."
"Monday morning, we awoke to pouring down rain and little hope of completing a pass down the track. After a lot of hard work from the track crew to dry the track, cars started going down the track. We were finally able to make a pass and Billy laid down a respectable 9.52 at 147 mph.
"With that day of racing wrapped up, we headed out towards Maryland to Cecil County Dragway with a group of cars being driven by family and friends. A fellow racer was having engine problems that would not allow him to pull his small race utility trailer so Billy took on the task. We spent time on the side of the road to modify Billy's Duster to pull the trailer but managed to make it work," he continues to say.
Rick says, "After getting back on the road, we stopped at a local shop called Masi's Muscle Car Garage where the owner was more than willing to help out and allow them to use his shop and tools and gave them parts off of his own wife's race car to get them back on the road. Everything was going fairly good that night and we were excited thinking we would get a full night's sleep.
"Nothing ever goes as planned though as shortly after, Billy's dad Dale lost an axle in his Gremlin on the side of the road. Being as we are all a true team of family and friends, if one goes down, we all stay and help get each other through whatever comes our way. We received help again from another local shop called Bowman's Auto and Towing Service located in Grace, MD. Dave the owner machined the axle race surface and pressed on a new bearing and tack welded it in place so we could continue on the journey."
He continues to say, "Running on only an hour and a half of sleep, we started the next day. With the arrival at every new track, there are the daunting tasks of loading and unloading the cars and trailers as well as all of the usual pre-race things, such as checking tire pressures and checking fuel and NOS bottle levels. Day two of Drag week would give us challenges that pushed the timeline. Billy and I replaced his fuel pump, cleaned his filter and found remnants of a blue shop towel inside the filter.
"Billy made his first pass down the track that day but the car was popping and pushing 9 lbs. of fuel pressure rather than the usual 7 lbs. We made the adjustments to the fuel pressure and pulled the plugs, wrapping everything up just in time to make a second pass before the end of the day. Billy laid down a 9:64 at 138 mph. With the pass completed, it was time to pack up and load everything and head towards Atco, NJ. Being as New Jersey does not allow you to pump your own fuel and most stations being closed late at night, it became a challenge running out of fuel trying to make it to the next open station."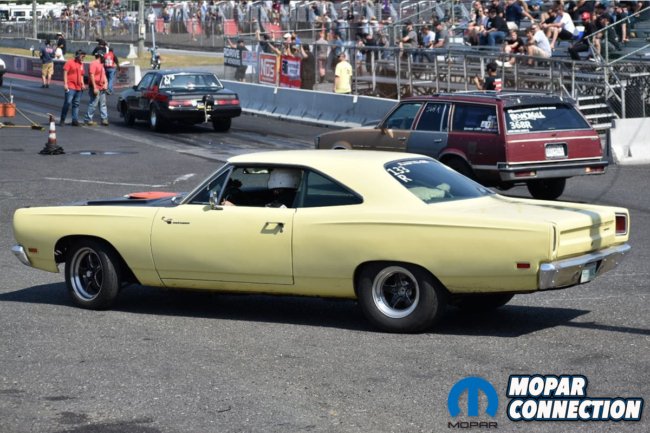 "Day 3 would almost put Billy on the trailer and send us home. When we arrived at Atco, we drained the oil to find large particles of bearing material. He still made a pass and ran a 10.15. When he pulled back into the pits, he discovered the Duster was dumping fluid from the front pump seal. We jacked the car up and pulled the transmission out. Once it was out, we were able to see that the torque converter was broken. Fellow racers helped us out and found a converter. They drove to get it from over two hours away. While we waited on parts for the transmission, another racer thought they may have a local friend that had the main bearings we needed. We pulled the oil pan and shortly after, the bearing showed up.
"Billy, Dale and I changed the bearings out and got the engine back together while we waited on the converter. We got the oil leak fixed and transmission back in the car at 1:30 am before hitting the road. Less than eighty miles down the road, Billy's dad lost a rocker however that was a fairly quick fix at 4 am in the morning. We traveled until around 8 am. During our travels, we realized we made a wrong turn so we pulled over to look at a map to get us back on track. When we went to leave, a racer in our convoy driving the Barn Yard Viper (Billy's uncle, the late Billy Gebhart's truck) couldn't get the truck to start. We managed to get the truck going with a temporary fix but shortly after, Billy lost a rocker 40 miles from the next track. Once we got it fixed and tried to head out, the truck wouldn't start again," he shares.
He explains, "We went to town, got a starter and fixed the truck again. Running on zero sleep, we pulled into the track at 1 pm with only an hour left to make a pass down the track. We threw everything out on the ground and got Billy up there to make his pass before the lanes were shut down. After a few hours of sleep on the hot asphalt at the track, we loaded up and headed to a hotel and took a couple hour nap and ate some dinner. When we finished eating, it was pouring rain again. We made it back to Virginia that night and got a little sleep.
"Friday morning, we awoke to nothing but rain again. By this time we realized if Billy could lay down a decent pass and not break, he would win his class. He ran a decent pass, but didn't want to leave with a ten second average, so he pulled back into the staging lanes and ran a 9.91 at 139 mph. That gave him a Drag Week average of 9.88, which made him the Super Street Big Block Power Adder class winner and also the youngest champion ever for Drag Week."
"Billy also won a third award which was by far the most important to him. The final award was in honor of Billy's uncle who was sadly lost to cancer earlier this year and is the reason the Gebhart family is still running this race today. I know he would be proud to know his nephew Billy was the first Gebhart to ever win in fifteen years. I know Billy has been an amazing trunk monkey to both family and friends over the years and it was an honor to share this moment with him.
"Overall, it was a fantastic time and I loved every second of it, even with all of the mechanical failures and lack of sleep. Drag Week will challenge you as a driver or a passenger and leave you exhausted, hungry and spending the whole trip home planning the next year of Drag Week! We can't wait for 2020!" Rick says in closing.