So exactly what is a "Makacken?" Is it a type of bird? Or maybe a new dinner dish with cheese and pasta? Could it be the sound people make when they are sick? No. It isn't any of these things. It is what people call the Muscle Car and Corvette Nationals, y'know "MCACN!"
Every year, on the weekend before Thanksgiving, at the Donald E Stephens Convention Center in Rosemont, Illinois, one of the biggest-all make indoor show happens. The attraction is not just the 500-plus cars that attend, but the quality of these cars. From mega-dollar professional restorations to as-found barn finds and everything in between. So, we decided to attend this year's show on November 23-24 to see firsthand what all the buzz was about.
While other magazines just came and snapped some pictures bragging about how they had exclusive rights to take them after hours, not only did Mopar Connection Magazine come to attend and take pictures, but our very own project car, the "Comeback Cuda" was entered to be judged and yours truly joined one the judging teams. We at Mopar Connection always go "all in" so why change now?
MCACN has something for everyone. There are plenty of vendors, restoration shop displays, and oh yeah, cars; "muscle cars, Dealer-built Supercars and Corvettes," to quote their show flyer. MCACN has 1,000 point judging sheets in three main classes: 1. Concours/Factory Stock, 2. Concours Day 2/Period Correct and 3. Street Stock/Modified. It took over 150 judges all day on Friday to get the cars judged and all the sheets turned in to be tabulated.
So, since it was our first year to attend, display, and judge we had to learn the ropes. The first thing we learned is if you are a show sponsor, have a restoration shop with a big display, or somehow you are connected enough to get VIP status, you get into the show before all the average Joes do. We definitely appreciate the logistical nightmare of running a show of this size and the communications before the show of where and what to do can be.
Our advice is if you're going to show a car, be sure and follow all the instructions you get in the mail. We followed them exactly and even after doing that and arriving at the correct spot at the right time, we waited in line in the staging parking lot for 3-and-a-half hours just to get in another line to unload the car in the building. So, you must be patient and eventually you will get your car in place.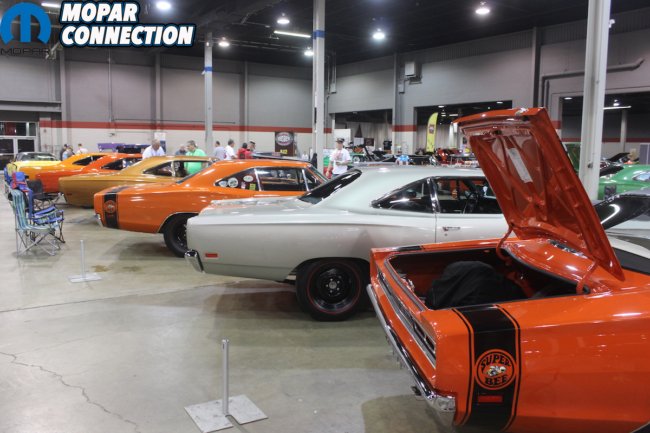 Our judging experience was a good one. Our team judged 9 of the 30-plus mid-1969 A12 cars located mainly in one big room. It took from 7:30am until almost 5pm to get them all reviewed. Coincidentally, we ended up judging a car we had previously judged in the OE class at The Mopar Nats in Columbus. One different process at MCACN is after you judge a car you have to go over the deductions with the owner and he has to sign the sheets whether he agrees or disagrees with the results. We knew right away that the owner of the car we judged at The Nats would disagree with us.
Fortunately, we alerted the head judge before we even started of the situation, and none other than Dave Wise came over and talked to us about it. He then went over another car we were judging, and we had about 45 minutes to pick his brain and confirm with the "Godfather of Originality" tons of information we were 99-percent sure about. (Now we're 100-percent sure.) So, with the backing of Dave Wise, Frank Badalson, Joe Gilardi (head judge at The Nats) and myself, the owner finally got the message that he was incorrect with his car.
On the other end of things, showing the Comeback 'Cuda was a blast. We have seen many different posts of pictures of the car on the internet from people we don't even know. Since we were judging, good friend Chet Biggers (and the owner of the '70 AAR 'Cuda we featured recently) sat with the car and was kind enough to sign my judging sheets. We scored 990 out of 1000 points and received the highest level of a Blue Ribbon Award that was available. (For those wanting to know, most of the deducted points were for dust here or there). If I hadn't judged I would have been able to cleaned most of what I was hit for.
So there it is! We hope you enjoy the pictures – although we could only grab a snippet of all of the cars on display. And by the way all the pictures in the world can't do this show justice so you just have to attend in 2020! Get your hotel reservations now because one hotel across from the Convention Center is already sold out!