Boy was it great to get out of the house a few weeks ago and attend a car show, in this instance the annual Mopars In May Show. This long-running show, in the past held at the California School for the Deaf (a California state institution that after skipping last year, would not grant the necessary permits to hold it at the CSFTD in May), moved to a new location, at the Southwest Carpenter's Union Training Center in nearby Ontario.
For whatever it counts for, your reporter's four favorite cars at the event were Doug Vura's one-family-owned, 27,000-mile, 1973 Plymouth Duster 340 that I've profiled for the German monthly, Chrom & Flammen, Rosalia Batanero's 1970 AMC AMX (she went home with two class awards, the AMX and her A-Body Modified Class, 1973 Plymouth Duster), and Steve Graves 1955 Plymouth Belvedere, which is equipped with an adapted (modern compressor), trunk-mounted, factory-installed Airtemp air conditioning system.
Among the Modern-day Mopars, I felt the most noteworthy was Michelle Rumpella's 2015 Dodge Charger, dubbed Survivor, testimony to its owner beating back cancer. Several hundred Mopars, predecessor marques like AMC and Kaiser, along with a few non-Chrysler products showed up on May 23, in its traditional spot on the Southern California car show calendar.
The show benefits the club's charity as club president Ken Hamer told us that proceeds from this show go to purchasing toys to support their annual toy drive for soldiers' kids at nearby Fort Irwin, California. If you would like to make a donation or contribution, contact Ken Hamer, President of the event's sponsor, the Inland Mopars Car Club. Visit the club's website HERE. There you can download the club's outstanding monthly newsletter.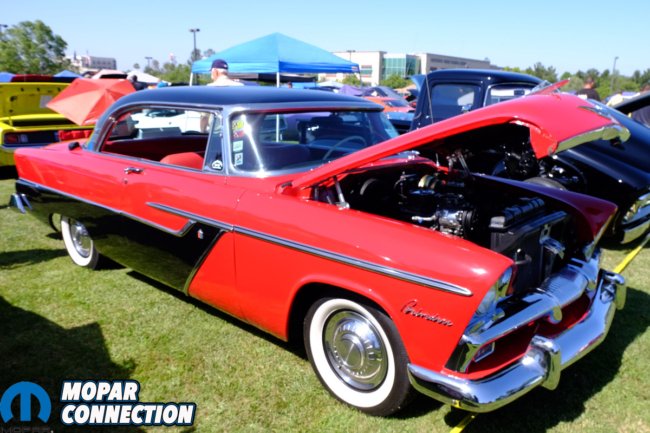 Here is a list of the 16 class winners:
Class 1: Pre-1960 Howard Canter, 1932 Chrysler Cabriolet
Class 2: A-Body Stock, Doug Vura, 1973 Plymouth Duster 340
Class 3: A-Body Modified, Rosalia Batanero, 1973 Plymouth Duster
Class 4: B-Body Stock, Bob Glaspie, 1969.5 Dodge Super Bee 440
Class 5: B-Body Modified, Larry Harris, 1965 Plymouth Belvedere
Class 6: C-Body, Scott Maclean, 1965 Plymouth Fury III
Class 7/8: E-Body, Ronnie Forbes, 1971 Plymouth Cuda
Class 9: No entries
Class 10: Modern Charger: Jason Judkins, 2016 Dodge Charger Scat Pack
Class 11: Modern Challenger: Carl Ashworth, 2011 Dodge Challenger
Class 12: Magnum/300: Bobby B., 2006 Dodge Magnum
Class 13: Hellcat/1320: Christina Conlon, 2018 Dodge Challenger Hellcat
Class 14: Dodge Viper: Peter Nyguyen, 2008 Dodge Viper ACR
Class 15: FWD: Tom Lavello, 2004 Chrysler PT Cruiser
Class 17: AMC/Jeep: Rosalia Batanero, 1970 AMC AMX
Class 18: Non-Mopar: Brandon Floyd, 1933 Plymouth (Chevy Engine)
Class 19: Carpenters Union Award: Jason Cortez, 1964 Chevrolet Impala