You folks know us here at Mopar Connection Magazine, we don't rehash articles, and we don't pedal mindless, boring "click bait" content driven by big bucks and guys in suites with their own office and a view of a minuscule parking lot. Quite the contrary actually; we involve some of the baddest Mopar parts suppliers in the world, and we're proud to work alongside them.
It's this passion we have that brings our content to you from this year's SEMA Show in Las Vegas, Nevada, that allows you to indulge in some of the coolest products this season for your early or late-model Mopar. So without further interruption, here's ten of our favorite products from this year's show. Keep in mind, these aren't in any particular order either. We hope you enjoy them!

VHX Analog Instrument System For '70-'74 Mopar E-Body Rallye Dash From Dakota Digital
Mopar and car enthusiasts alike will know just exactly who Dakota Digital is. They've supplied the aftermarket with high-quality instrument clusters and panels for more than a decade as one of the most well regarded names, and this product for early Mopar models is no different. For starters, this unit direct-fit piece; meaning no cutting or welding is required for installation. But Dakota Digital takes customization a step further, allowing enthusiasts to LED backlighting choices of red, white, and blue. The supplied central control box allows for integration with virtually any engine and drivetrain (as well as the use of an OBD II integration for modern engines). The cherry on top of this sunday? Well, it's the modern high-contrast LCD center message screen if you ask us.
Early Mopar 4-Bolt Flange Remastered Brake Master Cylinder From Baer Brakes
Another heavy hitter pumping the brakes in the industry is of course Baer Brakes. They've been producing braking components for early to late-model Mopars for quite some time. Their latest offering for Mopar enthusiasts? The Baer Billet Remaster for early 4-bolt flange Mopar cars. Remaster being the term for Baer's brake master cylinders, this specific content is a direct-replacement for early Mopar cars design specifically for this application. Constructed from billet, these units charter fitment and performance issues commonly associated with the early manual brake setup found in Mopar cars from E- to B-Body cars. The only question you should be asking yourself now is, what color will I choose to match my Baer Brakes?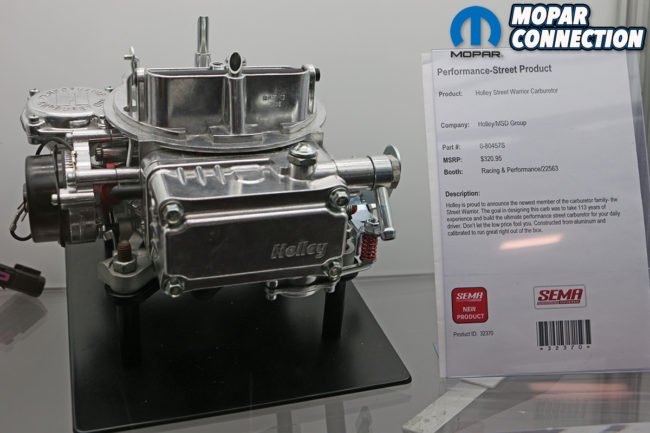 High-Performance EFI/Carburetor Duo In A Classic Package From Holley Performance
Holley Performance debuted two absolutely mean fuel systems for classic Mopars, but with a vintage carburetor twist. The folks at Holley understand we want to keep things period-correct under the hood, but who can resist the temptation of a modern EFI system? The first package on the list is the Terminator Stealth Classic. This unit beckons back to the days of unleaded fuel, but with a high-octane twist using its dichromate gold finish. If EFI isn't your game, Holley has you covered with the also new for this year Street Warrior Carburetor. This is the one that takes the cake if you ask us, as Holley integrates more than 113 years of experience for the best street/strip carburetor around. Constructed of lightweight aluminum? You bet.
Performance Air Intake System For '14-'16 RAM 1500 3.0L V6 Diesel From Spectre Performance
As an entity of K&N Engineering, Spectre Performance has been providing Mopar and car enthusiasts alike with air intake solutions for virtually every application. Its latest iteration is for a certain Mopar, but not the classic or late model you're accustomed to. Today's segment features an air intake system for the rather recent '14-'16 Dodge Ram 1500 3.0-liter diesel V6. Since 2014, this small package, V6 equipped diesel-powered Mopar truck has proven its worth thanks to its older brother, the Cummins engine series. This unit includes a massive heat-sheild for the short-ram intake, and it's guaranteed to put a smile on your face with an assortment of new turbo soundtracks and increased power.
Shaker Intake Tube From Mopar
Mopar recently introduced its direct-replacement cold-air intake Shaker tube for the Shaker Edition Dodge Challenger equipped with a 5.7-liter HEMI V8 engine. While the Shaker Edition Dodge Challenger adds a respectable amount of style and performance on its own, enthusiasts can take those features on step further by adding the addition of this OEM crafted and quality cold-air intake tube. The unit appears to be constructed of a one-piece lightweight aluminum mold like the previous iterations, so you can expect just about the same horsepower gains as early late-model HEMI engines from the past.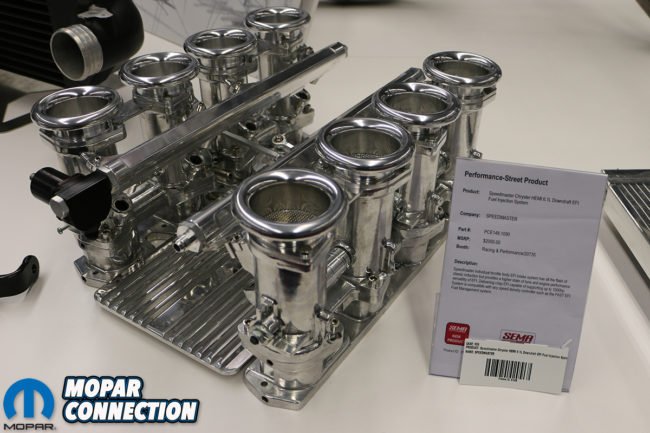 Downdraft EFI System For 6.1-Liter Hemi-Equipped Mopars From Speedmaster
This had to be one of the coolest products we saw at this year's SEMA Show. Individual throttle body intake setups have made a comeback as of recently, and Speedmaster wasn't going to leave us Mopar fans out of the game. This system is designed to appear as a classic ITB setup, yet achieves the modern amenities of a modern EFI system. The package is capable of supporting more than 1,000 HP, and is designed to be used in conjunction with a virtually any speed density controller, like a FAST EFI fuel system management.
Billet Plus Pistol Grip Shifter For '09-'16 Manual-Equipped Challengers From Hurst
When you have a shifter-equipped from a company like Hurst on your manual equipped Challenger, you know you're in business. Designed specifically for this application equipped with a factory Tremec TR-6060 six-speed manual transmission, the Hurst Billet Plus Pistol Grip shifter features a sleek black Nitro style stick, and also reduces shifter-throw by 30%. Like many other Hurst units on the market, these components include the use of a deflection-proof polyurethane bushing kit for optimal shifting. Pair one of these billet shifters with a sleek Hurst black pool ball style shift knob, and you've got yourself one baaad shifter.
Stage 4 Boost Cooler Platinum Water-Methanol Injection Kit From Snow Performance
Designed specifically for '09-'16 Challengers and Chargers equipped with a 5.7-liter, 6.1-liter, or 6.4-liter Hemi V8 with forced induction, this water-methanol kit from Snow Performance is one you're going to want to run for the lowest IATs possible on the street and at the track. The kits include everything you need necessary for the installation, like the vehicle specific injection map, injection plate, stainless-steel braided line, and of course the Snow custom tuning software. Quick tip: water-methanol kits are an excellent safeguard for cars with forced induction running on E85!
Gen III Hemi Victor EFI Intake Manifold From Edelbrock Performance
Coming across an OEM or aftermarket intake manifold for late-model Gen III Hemi-equipped Mopars are tougher than finding a sober person at a Woodstock festival; but the folks at Edelbrock Performance have once again come through for us Mopar enthusiasts with its latest high-performance offering. The Victor EFI intake manifold uses Edelbrock's latest air induction technology to produce more than 25 horsepower over the factory unit, and Edelbrock said that this unit will even clear most hoods on Mopar cars. We'd love to pair this bad-boy to a big fat turbo-wouldn't you?
High Output Intercooled Supercharger System For '15-'17 6.4-Liter Equipped Charger And Challenger From ProCharger
We admit it; we're suckers for centrifugal superchargers, and ProCharger has a special place in our hearts because of that. Their latest offering for 2015-2017 Dodge Chargers and Challengers equipped with a 6.4-liter Hemi V8 has us tingling in our finger tips and itching to get one for ourselves. With gains of 200-plus HP, this kit includes all of the hardware necessary, tuning calibration, fuel system components, intercooler, bypass valve, belts, and step-by-step instructions for a seamless installation you can perform on a weekend afternoon in your garage. More than 200 HP for our late-model Mopar? We think yes!