Continuing our tradition of bringing you folks only the best content from this year's SEMA Show out of Las Vegas, Nevada, we're counting down ten of our favorite classic and late-model Mopar rides we had the pleasure of viewing this year.
In this segment, we'll be giving you some highlights on the builds and discussing what attributes and features make them unique and why. So, sit back, grab yourself an ice cold beer, and checkout some of these just-plain bad ass builds for yourself. Keep in mind, while these are ten of our favorite Mopars, they aren't in any particular order.
1961 Chrysler Imperial Custom
First up on our list is this beautiful '61 Chrysler Imperial Custom. This big-bodied Mopar has an interesting background as well. The car was stripped to bare metal and the builder, Max Grundy, discovered a bit of rust and bondo underneath its original armor. Not to be discouraged, as Grundy moved forward in the build with an elapsed 30 day time-frame to complete it. After designing the American Racing wheels himself, Grundy decided the original two-tone paint wasn't the right move for this coupe-painting the car this awesome shade of light blue before us. The car was built for a TV show (which Grundy couldn't disclose at the time) and is powered by the original 361 cubic-inch V8. Keep an eye out on TV for this one folks!
1971 Dodge Challenger "Shakedown"
One of the baddest classic Mopars on display was at the Dodge booth this year. This early Challenger has it all folks. Boasting more than 485 horsepower thanks to a modern GEN III 392 Hemi and backed by a Tremec TR-6060 6-speed manual transmission, this Challenger takes its design cues from the SRT Hellcat, Viper, and original Challenger models. As a true "body on frame" car, this classic Mopar has has an absorbent amount of modern DNA found throughout its true chassis. Dodge commented that this well-bred Challenger was built for the track, as it sports 6-piston Brembo calipers borrowed from the SRT Hellcat, a Viper steering wheel featuring Alcantara inserts and red stitching-as well as a custom roll bar and rear seat delete replaced with netting and a console shelf. Did we mention there's an assortment of carbon fiber in the interior too?
1947 Chrysler Town And Country
We had the pleasure of speaking with Tyler Cartwright in the AXALTA booth at this year's SEMA, and did they sure have one awesome Mopar on display. Powered by another GEN III 392 Hemi from a '10 -'13 SRT8, this modern power-plant sported a pair of vintage valve covers and an overdrive automatic transmission. The build took about a year and a half to complete, and the owner built it for his daughter as a wedding present and for their wedding photos. The car features a full custom chassis, Wilwood disc brakes on all four corners, and a completely custom oak and cherry wood blend featuring a matte clear coat over it for an ultra-smooth finish.
1990 Dodge Ram 250
Spotted in the Nitto Tire booth at this year's SEMA Show, this '90 Dodge Ram was surely a treat to see with its incredible stature and bright hue to match. This long-bed crew-cab Mopar muscle truck featured a 12-valve Cummins diesel inline-six engine, a set of Nitto Terra Grappler GTS off-road tires on all four corners, as well as Fox Bypass shocks on the front and the rear suspension to match its massive lift kit. One could assume from the rear differential cover that this larger and in-charge Mopar truck was sporting a Nitro-Gear rearend, too.
1971 Plymouth Barracuda "Orangasm"
Done-up as a full rotisserie restoration, this '71 'Cuda dubbed "Orangasm" was re-worked from the ground up using a modern 6.1-liter Hemi from a SRT Mopar, backed by a Tremec TR-6060 6-speed manual transmission respectively. "This project started off with a lot of creative ideas and one very rusted 1971 Cuda. Firewall, floor pans, trunk pan, rear frame rails and quarter panels all had to be replaced," Manns Restoration & Maintenance said about its 'Cuda. The car also features layers upon layers of hand-laid carbon fiber and fiberglass under its Sherwin Williams Big Bad Orange hue, as well as a four-link Dana 60 rear-end. More than six individual wiring harnesses were integrated to operate the car with all of the modern conveniences.
1941 Dodge Powerwagon "The Bootlegger"
Dubbed "The Bootlegger" (and for good reason), this '41 Powerwagon was built for "Whiskey And Wheelin" with the help of Ian from Xtreme 4×4. This 720 horsepower supercharged LS3 swapped wagon was designed to be like a moonshine runner that can tackle anything, and even went through 4 distilleries and 3 offroad parks. The build also features a Dana 60 front with an ARB locker, a set of 42-inch Interco Super Swampers on Hutchinson beadlock, Skyjacker leaf springs and Daystar Scorpion shocks, a double-wall copper bed, and a Corporate 14 bolt rear with ARB. The best part is? This muscle truck was built by five guys after work nights in just fifty days. How cool is that?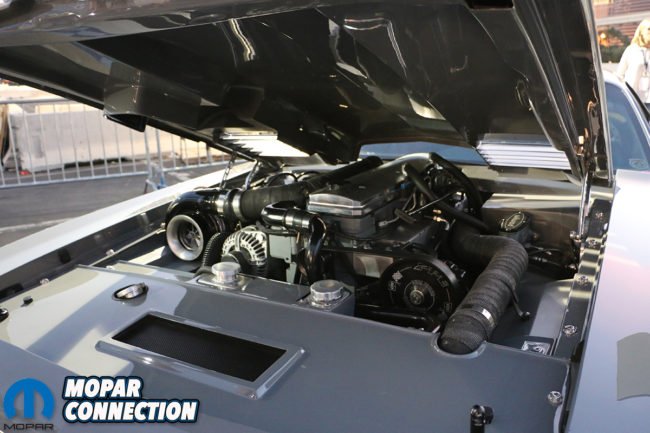 1970 Plymouth Barracuda "Torc"
If there's ever been an appropriate name dubbed to a vehicle, it's gotta be this '71 'Cuda. Named "Torc" for reasons you'll soon find out, this classic Mopar is owned by Len Elfervig out of Sandy, Utah. The car was built by Weaver Customs also out of Sandy, Utah, and was painted by Rander Weaver. A custom mix of Cromax ChromaPremier gray paint and clearcoat was used to finish this 'Cuda's hue, and the car is powered by a massive 6.7-liter Cummins diesel engine boasting more than 1,500 HP and 3,000 lb-ft of torque. Yes, you read the correctly; more than three thousand pound-feet of torque.
1958 Plymouth Belvedere
What do you get when you cross a 1983 Halloween thriller with a pro-touring vibe? This 1958 Plymouth Belvedere inspired by the movie Christine and powered by a modern dose of 6.1-liter Hemi, of course. Rocking a ProCharger P-1SC-1 kit and backed by a NAG1 transmission, this Belveder transfers power smoothly thanks to a Moser 9-inch rear-end to a set of American Racing wheels while screaming through a Magnaflow exhaust. But of course that power is nothing without the much-needed Wilwood disc brakes on all four corners. In case you're wondering what shade of Red that is, this particular color is appropriately named "Pull Me Over Red" and is finished with a touch of Brilliant White, Fine Aluminum Silver, and a High Solids primer and clearcoat from ProSpray.
1975 Dodge Dart Sport
Speedhunter's Mike Garrett debuted his Japanese inspired '75 Dodge Dart Sport at this year's SEMA Show; and for some reason, we couldn't keep our eyes off of it. Dubbed Project Yankee, this bad boy sports a 5.7-liter Hemi V8 in-conjunction with a full Mopar Performance plug-and-play ECU and harness kit that allows Garrett to drive it on the street. If you ask us, this Dart is a perfect blend of classic Japanese '70s racing heritage and modern American performance. The ultra-fatty Toyo Proxes R888 tires and bronze Volk TE37 wheels might seem out of place at first, but the side-exit exhaust and V8 growl remind you that you're still in a classic-yet-modern Mopar muscle car at heart.
1971 Plymouth 'Cuda "Striker"
Concluding our segment is this '71 Barracuda known as the "Striker." Surely an appropriate name for this Mopar, as it struck our attention right away with its red Matrix custom paint job. Powered by yet another 6.1-liter Hemi from a SRT car, this 'Cuda is flexing a Magnuson TVS supercharger under its hood, along with a ton of other components. A fully custom body, as well as a Rick's tanks aluminum gas tank, Brembo brakes on all four corners, Ride Tech air suspension, Spin Tech mufflers through a full custom exhaust, and custom headlights and taillights from Epic Lighting are just the beginning for this fusion of classic and modern Mopar muscle. Did we mention the massive 20×15-inch Foose Nitrous II wheels in the rear?